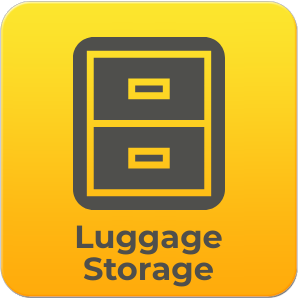 Sometimes when on the bus to your destination, there are many interesting places to see. A mini city-break to stretch your legs is a great way to break up a long bus trip. The only downside? You have to bring your luggage with you. Of course, having to lug around heavy suitcases can easily put people off from these types of detours. However, there are now more and more luggage storage options for travelers to safely secure their belongings while seeing the sights.
Luggage Storage Companies


Available in the USA, Canada, UK, Ireland, France, Spain, Germany and locations throughout Europe.

Specifics:
Only $1.00 plus a one-time processing fee of $2.00 and never more than $8.00 euros per day per piece of luggage.
From the second day onwards, each piece of luggage costs a maximum of $5.00. If you have more than 10 pieces of luggage, it is best to contact LuggageHero directly.
Each piece of luggage is automatically insured for up to $3,000.00*.
*Please note: the luggage insurance only applies if you pay with a credit card! Unfortunately, the insurance does not cover bookings that are not paid directly to LuggageHero.


Available in over 350 cities across 70 countries, including the USA, Canada, United Kingdom, Australia, South Africa, Malaysia, Spain, Netherlands, Italy and many others

Specifics:
Available in locations in hundreds of cities all over the world
Choose the drop-off point nearest to your live location or search for a specific spot
Book online with prices from $6.00 per day and enjoy quick check-in times


Available in over 250 cities with locations in the USA, Canada, United Kingdom, Australia, New Zealand, Brazil, Israel, Japan, South Korea, Russia, Singapore, Thailand, Turkey, United Arab Emirates and throughout Europe

Specifics:
Only $6.00 per item stored with insurance included.
Discounts are available for long-term bookings.
A convenient alternative to storage lockers.


Available in locations throught the USA, Canada, United Kingdom and Australia

Specifics:
Pay $1.50 per hour or $5.95 per day for each item stored
Save up to 60% for longer term bookings
Free insurance included up to $1200 per order
All bookings are made online via the storage company's website. 
Send us your comments and questions. We're here to help!

Luggage Storage: Frequently Asked Questions (FAQ)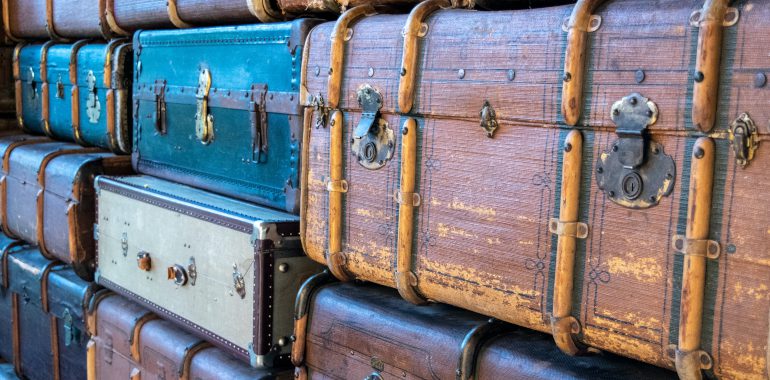 When would luggage storage be useful?
Whenever you're booking a long bus ride, it's always nice to break up the trip and explore any interesting places along the way. If you have some time to spare and would like to visit a city, then finding a place to store all your luggage is a must to make the most of your trip. Luggage storage is also great for when you have a long wait at a city's bus station before the connecting bus arrives. Why not make the most of your time by checking out the city rather than wait at the bus station for several hours? It's also perfect for flight layovers!
How safe is it to use a luggage storage locker?
The above luggage storage companies assure maximum safety for their customers. Furthermore, some even offer a comprehensive insurance policy which is included in the base price. Storage points are generally located in secure areas which are carefully verified and approved by these companies to give travelers peace of mind. In addition, you can often read customer reviews for each station to help set your mind at ease.
How can I find luggage storage points near me?
Once you're redirected to the company's site, you select the city you'd like to store your luggage in. Then, a map of the city with a list of storage locations will appear. Finally, all you need to do is select the available station in the most convenient location for you to secure a time-slot for your trip.
Is there a size limit for what can be stored?
Size restrictions vary from company to company. Some are very lenient with larger luggage as long as you give enough notice before the drop-off date.
What types of things can I store?
While most storage companies specialize in suitcases, backpacks and carry-on luggage, many also allow for items, such as sports equipment, bicycles or strollers. If you have any particular request with what you would like to store, then you should email the company in advance.
Can I store my passport or other travel documents?
We always advise travelers to keep all important travel documents, such as a passport, driver's license, residence permit or identification on hand at all times during their travels.
How is the storage fee calculated?
Pricing models vary depending on the storage company. However, fees are not usually based on how much your luggage weighs or its size. Typically, there is a fixed price for each piece of luggage or an hourly rate.
Do I have to book in advance?
Some luggage storage companies require all customers to book online before their trip. On the other hand, some allow travelers to book on the day. However, it's always a good idea to book online. It's the best way to make sure you'll be able to secure storage space when you need it.
What do I need to bring with me on the day I store my baggage?
Most storage companies only require proof of booking (such as a confirmation email on your phone), a copy of your photo identification as well as all your bags. When booking your storage, all information about what is needed should be provided before your trip.
Download the CheckMyBus App
When exploring a new country, you can plan your next adventure with CheckMyBus. All you need to do is enter your desired bus route then pick your travel date to get all available connections. Finally, you just need to select the best bus for you and click "view deal" to make the booking!