megabus $1 Tickets and Promo Codes
Current megabus promo codes, coupons and deals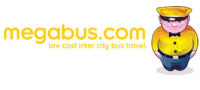 The American company megabus serves an important amount of routes across the USA. megabus became one of the first big players to offer "megadeals" starting from $1.


But how can you actually get a hold of one of megabus' 1$ bus tickets?
Book in advance
megabus' cheap tickets are available starting from two weeks before your departure date. But you're better off checking three to four weeks in advance.
If you are flexible you can check specific bus routes on CheckMyBus as we always show the best deals within the next couple of weeks. That way you'll always see the cheapest tickets first; and there are hardly ever cheaper tickets than $1. An example of the Boston – New York bus route:
Some of our most popular routes:
Bus from Washington, DC to NYC
Even if there are no $1 tickets available, megabus also offers tickets from $5.
Found a new megabus promo code?
Tell us about the latest megabus deals and share them with other travelers!

Write Comment