FlixBus Promo Codes
Current FlixBus Codes, Discounts, and Deals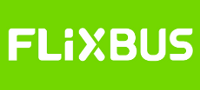 The German intercity bus company and one of Europe's leading providers is knwon for offering great deals. For example, passengers can use promotional codes and coupons as well as time-sensitive sales for certain routes. FlixBus is also known for its promise to offer connections for as low as 99 cents, particularly when new routes are launched, which happens quite often. At the moment, FlixBus has connections in more than 20 countries, including the United States.

Found a new FlixBus promo code?
Tell us about the latest FlixBus deals and share them with other travelers!

Write Comment

FlixBus: Pumpkin Spice Fall Travels – valid until October 26, 2018
Published on October 5, 2018
FlixBus is celebrating the season with cheap tickets starting at 99 cents. Some suggestions include:
Las Vegas – Tempe for as low as $0.99
Los Angeles – San Jose for as low as $4.99
San Francisco – Los Angeles for as low as $4.99
San Diego – Anaheim for as low as $4.99
*Please note that a booking fee of $2.00 still applies

FlixBus: 99 cent California Trips – valid until August 9, 2018
Published on August 8, 2018
FlixBus is celebrating its California connections by offering 99 cent trips for routes between 28 cities within the state through the 9th of August for all bus trips through September 5.

FlixBus: 200 Free Trips to Local Las Vegas Travelers – valid until May 16, 2018
Published on May 15 2018
To celebrate its first US bus connections, FlixBus will be giving away 200 free trips, from 10 a.m. to noon on May 16. The coupons will be on a first come, first serve basis for people over the age of 17. One voucher will be available per person.