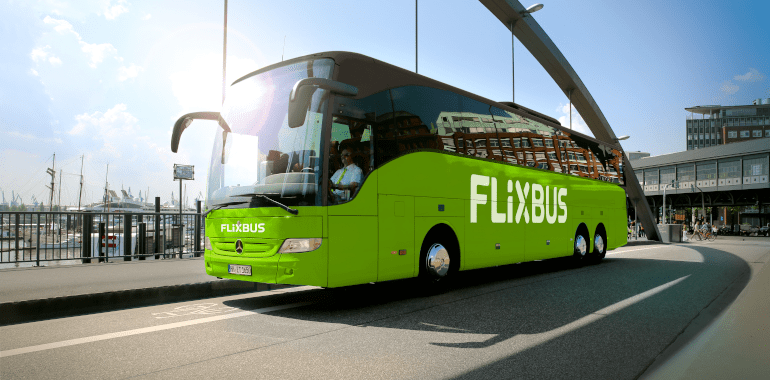 The German intercity, FlixBus, bus company and one of Europe's leading providers is known for offering great deals. For example, passengers can use promotional codes, FlixBus voucher codes and time-sensitive sales for certain routes. FlixBus is also known for its promise to offer connections for as low as 99 cents, particularly when new routes are launched, which happens quite often. At the moment, FlixBus has connections in more than 20 countries, including the United States.
Have you found any FlixBus promo codes?
Tell us about the latest FlixBus deals and share them with other travelers!

You can find promo codes, seasonal offers and special deals on certain routes. The best places to look are on FlixBus social media channels and coupon sites. Once you find a code, you can apply it to any FlixBus routes you find when searching with CheckMyBus!
Discounts on popular and newly launched bus routes
FlixBus likes to celebrate milestones, such as opening new routes, with limited time discount prices. So, if FlixBus announces a new bus route, it could be a good chance to score some really cheap tickets!
To stay competitive, FlixBus also often offers extremely cheap bus tickets on popular routes. This is especially impressive for longer distance, bus routes, such as Las Vegas to Los Angeles.
Secure Bus tickets with FlixDeals
Whether you know a travel fanatic or are thinking about your own trip, FlixDeals are a great way to plan ahead. You can use these prepaid coupons towards any FlixBus or FlixTrain trips.
How long are the vouchers valid for?
Each voucher is valid up to three years from the date of purchase. Please note the vouchers can be redeemed for rides happening from January 12th 2021. In the period from June 16th up to and including September 12th of the respective year, they cannot be redeemed.
How do I use FlixBus voucher codes?
You will receive the voucher code(s) at the e-mail address you entered at the time of purchase. To redeem it, you simply need to:
Enter your desired route and travel date in the CheckMyBus search engine
Select a FlixBus route
Enter the voucher code under "Redeem voucher" once redirected to the FlixBus page
Complete your booking
How do I get the vouchers?
After receiving your payment confirmation, you'll receive an email with the voucher code. If you don't see it in your inbox, then check your spam folder. You can pay for vouchers via PayPal or credit card. However, please note you can only buy up to three at a time.