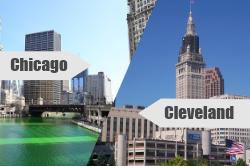 Spring is finally around the corner, and as it slowly starts to get warmer outside, planning a long trip can seem like the perfect way to shake off those winter blues, especially with St. Patrick's Day coming up. Cities all over the country host massive parades, pub parties, live music as well as incorporating unique regional traditions to celebrate the time of year. Chicago, Illinois is known for dyeing its river a spectacular green hue each year, while Cleveland, Ohio is home to one of the largest and oldest parades, dating back to 1867.
Traveling Between Chicago and Cleveland
Both midwestern cities can be reached from one another via bus companies, such as Greyhound or megabus.

How to get there: Chicago, IL – Cleveland, OH with megabus, starting from $29.00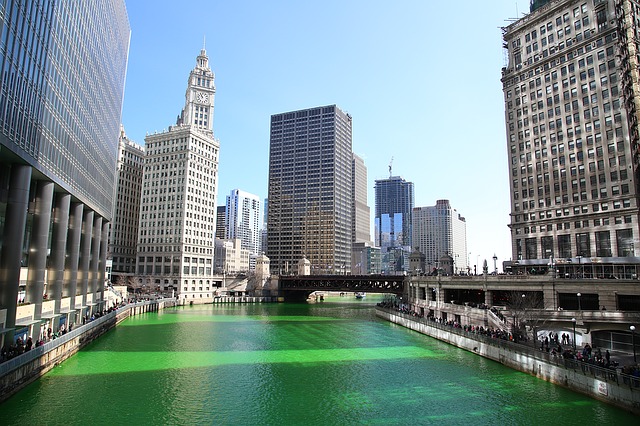 Witness Chicago's Emerald River
Going back to 1961, dyeing the river green became an annual tradition in Chicago when the manager of the city's local plumbers' union, Stephen Bailey, noticed the shade of green stained on a worker's white overalls after using the dye to detect sanitation leaks. Shortly after, Bailey suggested using the dye to create a spectacle for the city's St. Patrick's Day celebrations and the idea stuck, attracting thousands of spectators year after year. Despite the dye's initial orange coloring, it quickly turns into an emerald green as it sinks beneath the water's surface, an effect which lasts for approximately five hours. The formula for the magic dye is still a well-kept secret to this day and hasn't been easily replicated.
Chicago also boasts one of the country's largest St. Patrick's Day celebrations, with three separate parades. The main parade takes place downtown with colorful floats, traditional Irish step dancers, marching bands, bagpipers and waves of Irish flags. Visitors can also get a glimpse of life in the Emerald Isle by visiting the festival at the Irish American Heritage Center with traditional food, drink, music and activities to enjoy. The local library, art gallery and museums will also feature special exhibits for the holiday as well as Gaelic language lessons and genealogy workshops.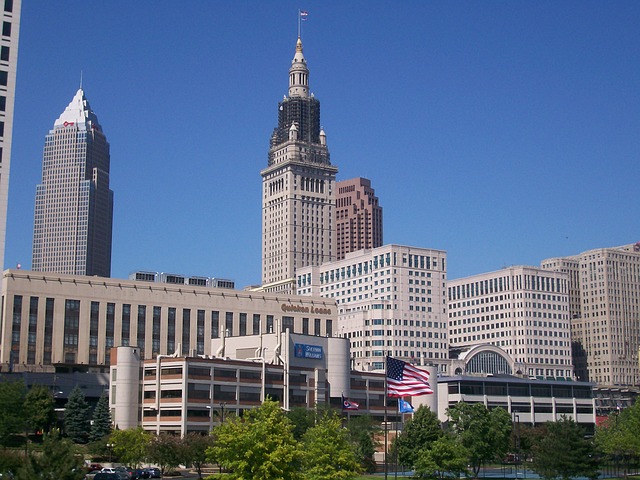 Celebrate Saint Patrick's Day as well as Literature in Cleveland
Cleveland is home to one of the oldest Saint Patrick's Day parades in the United States, and the tradition has only gotten stronger over time and has over 10,000 participants this year. In addition to the annual parade, tourists can enjoy the city's special green beer in one of Cleveland's many Irish pubs, such as Flannery's Pub, Moriarty's, or Parnell's Pub.
Aside from seasonal festivities, literary fans who are familiar with the work of Neil Gaimen, famous for American Gods, Stardust and Coraline, can see the author read from his works at Playhouse Square on March 9. On March 9-11, ConContion, an annual convention that celebrates science fiction, comic books, gaming and other similar topics, will be taking place at the Bertram Hotel. Special guests at the event include various authors and of course, cosplayers. Similarly, the Cleveland Comic Book and Nostalgia Festival will take place March 18 at the DoubleTree hotel and will be the perfect place for collectors and fans to find the best comic books and vintage items from around fifty vendors.
Share this post: