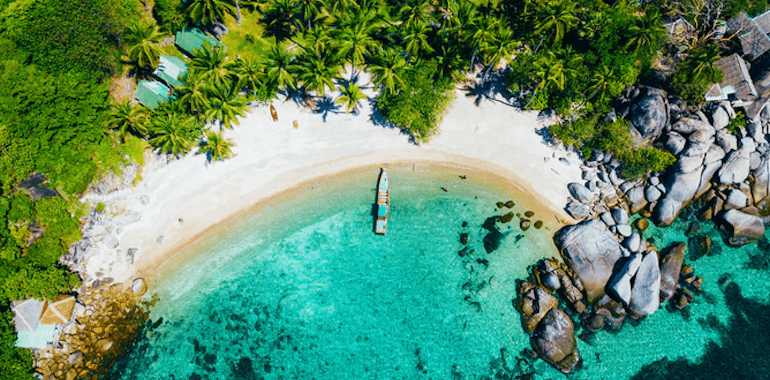 While in Thailand there is no shortage of amazing locations to enjoy jaw-dropping landscape, we're here to help you narrow down your options. From diving to rock climbing, boost your mental and physical health while spending little money for the ride. Check out our Thai top bus trips to reach those picks for outdoor activities.
Koh Tao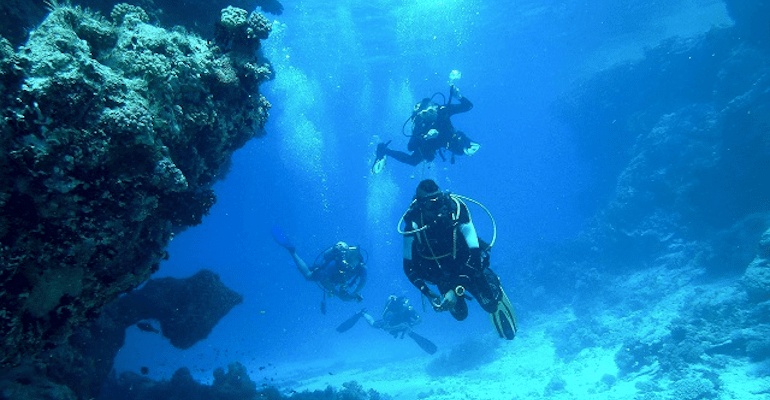 The smallest of the Islands in the Samui Archipelago, Koh Tao offers the best dive sites in the Gulf of Thailand and is especially renowned by divers and snorkelers for its vibrant underwater world. In fact, many visitors in Koh Tao complete their Dive Master or other diving licenses in these waters. There are plenty of options, on average, an open water course will cost somewhere between 9,000 – 11,000 baht ($260 – $330 USD), which typically includes 4 nights of accommodation.
Above the water, you'll also find some amazing nature and activities to take full advantage of it. Made up of large boulders, cliffs, and awesome views of the Gulf of Thailand, you can practice or learn here also how to rock climb. Never rock climbed before? You can take classes with expert instructors that are also suitable for intermediate climbers.
If you're looking to get back to the water, kayaks and Stand up paddle surfing are common sights all around the area. It's the perfect way to enjoy the tranquil waters, especially during the sunrise on the Gulf of Thailand.
How to get there:
from Bangkok via Chumphon there are several daily connections by bus, train or airplane as this is a particularly popular route in Thailand. The route takes from 2 to 7 hours starting from about 14 dollars. Then use our search to find the best deals from Bangkok to Koh Tao and take your pick between the offers.
from Surat Thani, you can take ferries, including overnight trips. The trip can take from 6 to 7 hours. There are different options from Catamaran or high speed Ferries, including routes leaving from the Surat Thani Airport. Find the best routes in both directions.
Krabi:
Known for its wildly popular beach destinations, such as the Phi Phi Islands, here you will find a paradise spot for rock climbing. Adored by climbers of all levels, this place can really push your body to its limits. Krabi has more than 600 bolted routes graded from F4 (easy) to F8c (pros) and a course will cost somewhere between 1,200 – 7,000 baht ($40 – $200 USD) with different packages depending on your expertise and time to invest.  The Railay beach walls are especially recommended for visitors and a great starting reference.
Need to rest those muscles? You can relax at the Phra Nang Beach or visit the Wat Tum Sua Buddhist Temple for deep meditation and the Tiger Cave Temple is an amazing spiritual site.
This wonderful coast offers breath taking scenery, soft white-sand beaches, and beautiful caves. It's the perfect spot also for swimming, fishing, sunbathing and hiking.
If you still not happy and want a life-changing experience, you should learn Diving! Especially if you're travelling between January and March, you will find plenty of schools and dive sites to explore Krabi's amazing soft corals and marco-marine life.
How to get there:
from Bangkok there are comfortable night buses leaving the capital in the afternoon/evening and arriving before noon. The route takes 14 to 16 hours and can be a good option for those looking to save time and money by not booking a room at a hotel or hostel. Flights are also affordable and can take around 2 hours. Find easily all available connections.
from Phuket to Krabi you can find minivans that travel this route for less time than going by ferry. It's especially a smart option for larger groups. The van costs around 100 dollars for 9 people, which evens out to about 11 bucks per person.
from Surat Thani takes roughly 3 hours and costs around 9 dollars by bus. The earliest bus departs around 8:00 AM and booking in advance can save you time and hassle.
Find further buses to Krabi with just one click.
More on Thailand

No trip to Thailand is complete without experiencing an authentic city break in Bangkok or Phuket. Enjoy some unique local treats such as shopping, thai food and massage.