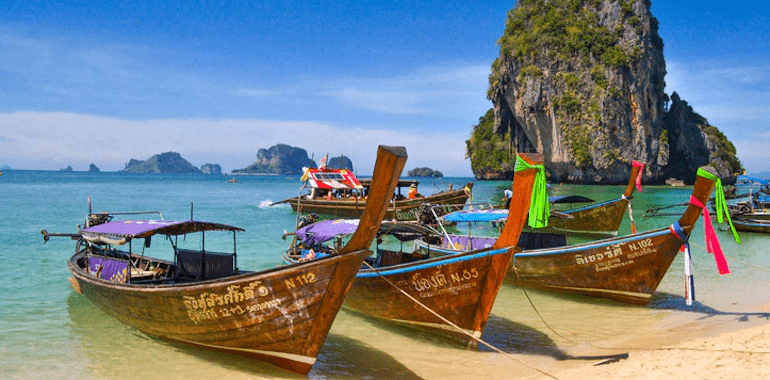 Thailand is a backpacker's paradise with affordable activities that combine relaxation with exploring awesome destinations. Save money and plan an unforgettable trip by travelling by bus for a time-effective and comfortable backpacking journey! We have prepared a list of incredible destinations, appealing to a variety of interests.
Relax by the beach, learn how to cook your favorite Thai cuisine or try out a new water sport. No matter how you spend your time, you're sure to create lasting memories. We help you find the best deals by bus online to get you where you want to go!
Why you should travel by bus in Thailand
1. Easy Travel:
The whole country is well connected by an extensive bus network. Travel to Thailand's most exciting cities, sunniest beaches and most beautiful landscapes. You can find all cheap buses, routes, schedules and best deals online with just one click.
2. Budget-friendly:
Express class buses in Thailand are relatively comfortable, and buses from Bangkok to Chiang Mai, or from Bangkok to Phuket allow you to carry as much luggage as you need and will cost you 700-850 baht (or about $22.00 USD) with a meal included. Backpacking and travelling by night bus will save you a couple bucks that you'd otherwise spend on accommodation.
3. Plenty of options:
Numerous bus connections depart from Bangkok. Whether you're travelling to the north or south, you're guaranteed to find a direct bus, even to destinations "off the beaten track." There isn't a single province in Thailand, where you won't find a direct bus ride to and from the capital.
4. Comfortable:
In Thailand, VIP buses [1st class] have fewer seats so that they can recline further back; most offer an individual entertainment system, wifi, charger and a meal. Express class buses have 40 to 54 seats with less legroom but are still a comfortable and more cost-effective option. Furthermore, all long-distance buses in Thailand are equipped with air-conditioning, onboard toilets and soft reclining seats. Fleece blankets are handed out during overnight trips.
5. Ecological:
One bus transports 24 to 54 people, decreasing the number of cars on urban roads and emitting less CO2 into the environment compared to an airplane.
Affordable activities and the best deals by bus online