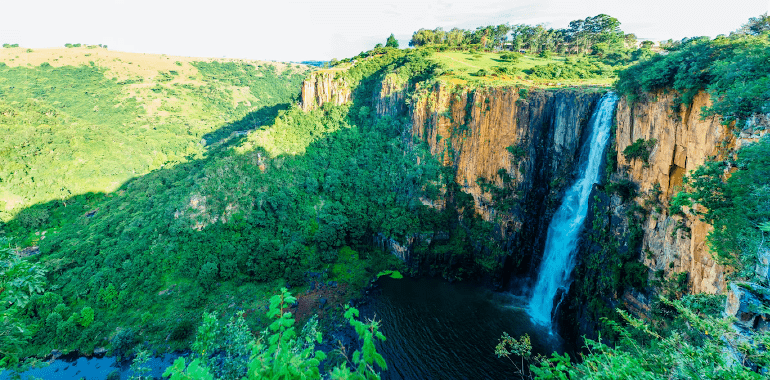 Explore and experience South Africa's dramatic waterfronts and coastlines in Cape Town and Durban, to its towering peaks and scenic hiking trails in Drakensberg. Many South African national parks are perfect for hikers, climbers and backpackers. Likewise, those who prefer a relaxing trip to explore its landscapes and natural wonders will have no shortage of choice.
Here are some of our recommendations when visiting!
1.South African National Park: Table Mountain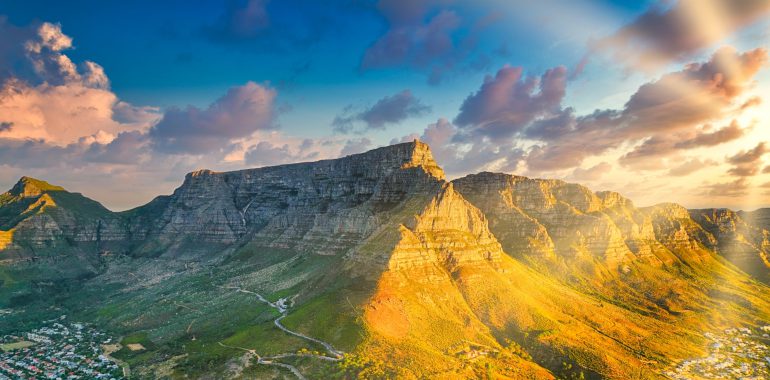 One of the top things to do when in Cape Town is to visit its prominent landmark, Table Mountain. The flat-topped peak offers a spectacular overview of Cape Town. Furthermore, it's a wonderful place to escape into nature from the hustle and bustle of the city below. You can either hike or take the cable cars all the way to the summit.
Moreover, nestled in the eastern foot of Table Mountain is the magnificent Kirstenbosch National Botanical Gardens, which is adjacent to the Table Mountain National Park. Both lie within the UNESCO World Heritage Site.
Are exploration, natural beauty and magnificent views your cup of tea? Then a visit or hike up Table Mountain should definitely be on your bucket list.

2. Drakensberg and Injisuthi National Park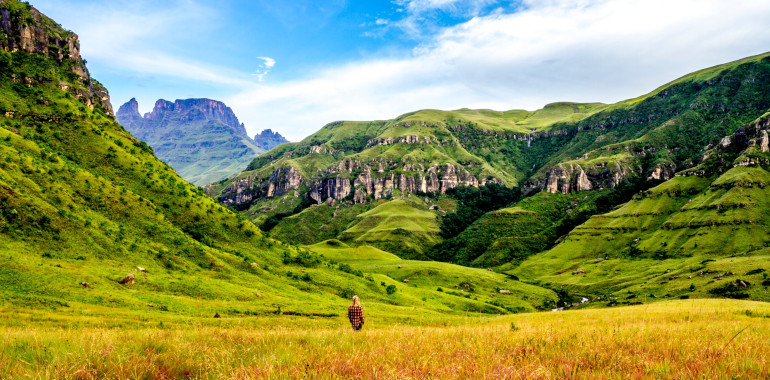 Drakensberg ('Dragon Mountains' in Afrikaans) is the main mountain range in southern Africa with peaks up to 3,482 metres. The Zulu people know it as uKhahlamba, meaning "Barrier of Spears'. The Berg, as locals call it, is also famous for its hiking routes, abseiling, rock climbing and the rock art of the San people. This mountain park was declared a UNESCO World Heritage Site in 2000. This place is one of the best South African national parks.
The region is made up of the Southern, Central and Northern Drakensberg with a chain of seasonal snow-capped peaks, deep gorges, sheer cliffs forming a semi-circular border between KwaZulu-Natal in South Africa and the inland mountain kingdom of Lesotho. From the impressive Amphitheater of the Royal Natal National Park and the Tugela Falls (948m) in the North, tons of rock art from ancient San people dating back to 2400 years in the South to a mix of outcrops and pinnacles like Cathedral Peak (3000m) and Mike's Pass with an impressive overview of the Central region, there is definitely something to do and see here for nature lovers!

3. Boulders Beach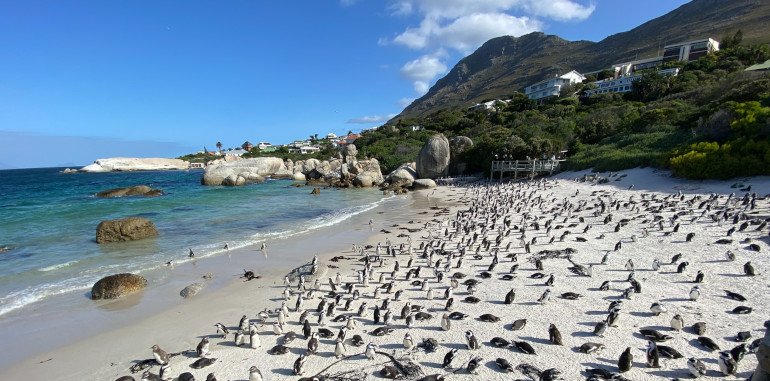 Boulders Beach, located just outside of Cape Town, falls under the Table Mountain National Park Marine Protected Area. It's a popular family-friendly swimming beach. You can have a lovely time here from enjoying a picnic to scuba diving at some amazing diving spots and taking part in amazing water-sports. However, the major attraction and reason why you should come here, besides its beautiful beach and ancient granite boulders, is to visit the adorable African penguins. You can get up close to the penguins for a photo or watch them from a viewing area as they go about playing and swimming around. You definitely can't miss this experience, so ensure that Boulders Beach is part of your itinerary!