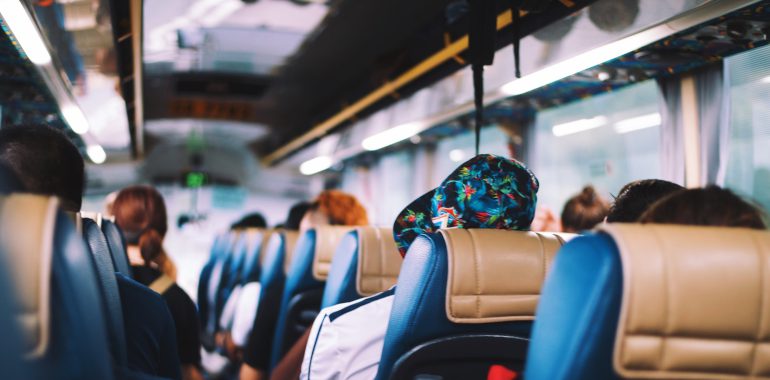 Which features are offered on the bus?
Are you looking for more information about the comfort and services available on the bus? Do you want to know if WiFi or electrical outlets are available to use? With CheckMyBus you'll learn all about the amenities available on the bus – from the air-conditioning to restrooms, to leg-room and accessibility.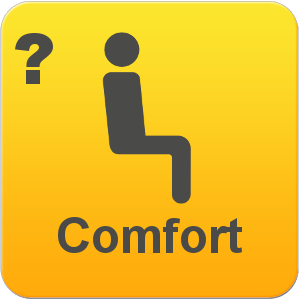 Is there a Media Center available? Are snacks and drinks available to purchase and is a seat- reservation possible?
Send us your comments and questions. – We're here to help!

Comfort and Service on Board Intercity Buses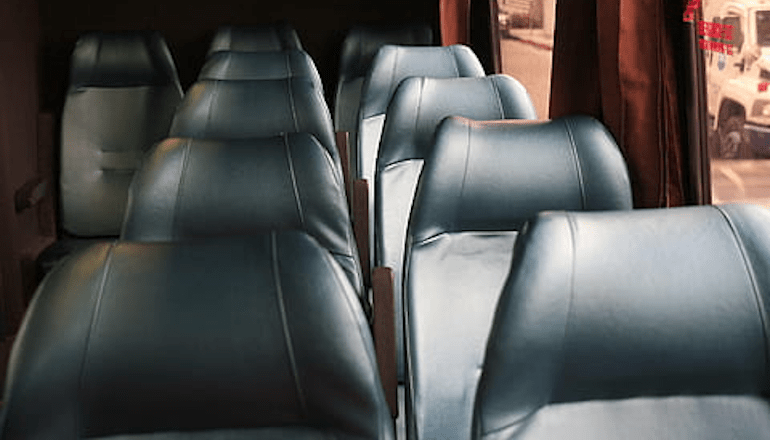 When motor coaches started to serve intercity connections in the USA several decades ago, it was basically just an inexpensive way of traveling from A to B. Nowadays, however, it is not only a cheap travel option but also a highly convenient and comfortable one. The days of boredom on long bus trips are over as free WiFi and a vast amount of power outlets provide non-stop entertainment on board.
What Ameneties Can I Expect On the Bus?
Being inside a bus is not really different from being inside a plane. The vehicles are no longer old and rusty but are mostly equipped with comfortable seats and enough leg space. The bus company Greyhound Bus, for instance, offers reclining leather seats on their new fleet. Old vehicles, which are still in use, have been updated: A whole row of seats was taken out so that passengers can enjoy more space and thus a heightened level of comfort.
If you like a good view while riding the bus or you're simply very picky when it comes to choosing the perfect seat, then taking a megabus is a good option. The bus company allows you to reserve the seat of your choice on many connections. So if you want to sit at the very front of a double-decker bus, then an additional $5 per ticket is charged. If you're a family of four and enjoy playing card games or doing jigsaw puzzles, then you can opt for four seats around a table. This only costs $1 per ticket extra.
What Entertainment Options are Available on Board?
Numerous bus companies in the US offer entertainment options and facilities on board their vehicles. Greyhound, FlixBus and megabus, for instance, provide free WiFi on their bus journeys so that passengers can browse the internet or upload travel selfies on Facebook and Instagram. Greyhound boasts power outlets on nearly every single seat. On selected buses, Jefferson Lines, customers can even make use of a DVD player or an XM radio in addition to free WiFi. Boredom is a thing of the past thanks to these entertainment options!
What Additional Services and Facilities are Available?
A bus is no longer just a bus. There are numerous additional services that customers can make use of. If you travel via Greyhound or megabus, you can use a parking service called Parking Panda. This helps you have a reserved parking space close to the bus stop. If you want to reach your destination as quickly as possible, then the Greyhound Express is the right option: On selected routes the bus company offers non-stop or few-stop bus routes reducing the duration of your journey considerably. But buses are not only useful for people who want to travel: Some of the bus companies also offer parcel services allowing you to ship larger packages for little money.
One of the most well-known ones is certainly the Greyhound Package Express service. But Jefferson Lines, for instance, also allows you to send packages. If you want to send a 50lbs. package via next-day delivery from Minneapolis, MN to Billings, MT it will only cost you $68, which is much cheaper than shipping something via plane. Sometimes you can also benefit from a discount if you are on the same bus as your parcel. That way, taking over-sized or overweight luggage is no problem at all!
Get on board and enjoy the comforts of a bus ride!