How can I find the cheapest bus?
Looking for more info about our search engine? Do you want to know how to find the best offer for your bus trip? Are you looking for a specific bus route? CheckMyBus helps you organize your travels in the simplest way. Using our search engine you can find and compare long-distance bus companies all over the world.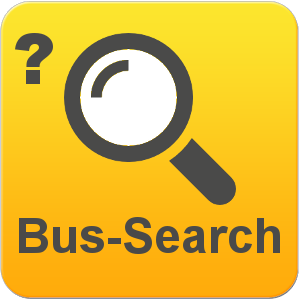 CheckMyBus helps you find the bus that best suits your needs. Find the bus that's right for you with just a few clicks. Enter your departure city and desired destination in our search engine. Then, select the date you would like to travel on and click "Find now." Finally, within a few seconds, you will find all the available options.
Send us your comments and questions. We're here to help!

Find the bus that's right for you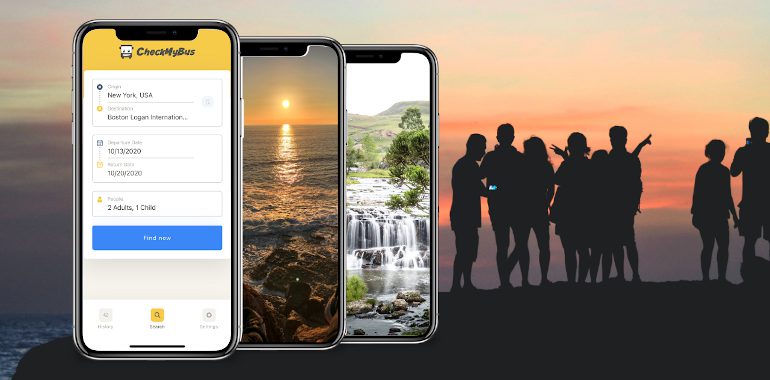 Are you looking for a long-distance bus and don't know where to begin? The CheckMyBus search engine is the perfect place to start. CheckMyBus allows you to compare the availability of different bus routes with just one click. You will save time and, above all, money! Choose the perfect offer!
The CheckMyBus international search engine is very easy to use. Furthermore, it will only take a few seconds to check the availability of a route and choose the option that suits you best. Finding a national or international route is simple! Enter your departure city and destination in the CheckMyBus search engine, then indicate the day you want to travel on. In a few seconds, you can check available buses.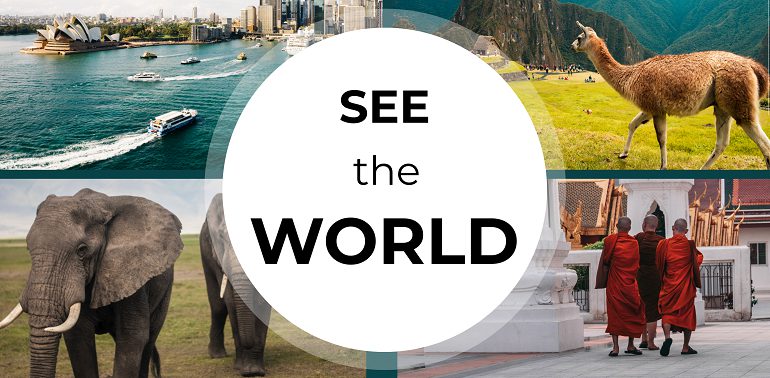 With the CheckMyBus app, you will always have all the information about your bus trip at your fingertips! Check available seats, departure and arrival times, the address of the bus stations and stops or simply check which on-board services are offered by each bus. The CheckMyBus app allows you to find all this information with a single click. You can also buy the ticket for your bus journey wherever you are!

The CheckMyBus application is completely free!
How can I find the cheapest bus with CheckMyBus?
Enter your departure and destination cities, your travel date and the number of passengers you plan to travel with. Click on "Find now", and in a few seconds, you will have all the buses available for the selected route as well as the information relating to each option at your fingertips.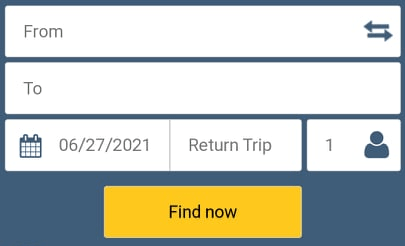 On the left, you will find a drop-down menu that will allow you to filter your results and sort them according to your needs. View the cheapest bus routes, sort them by price, departure time or route duration. You can do much more too!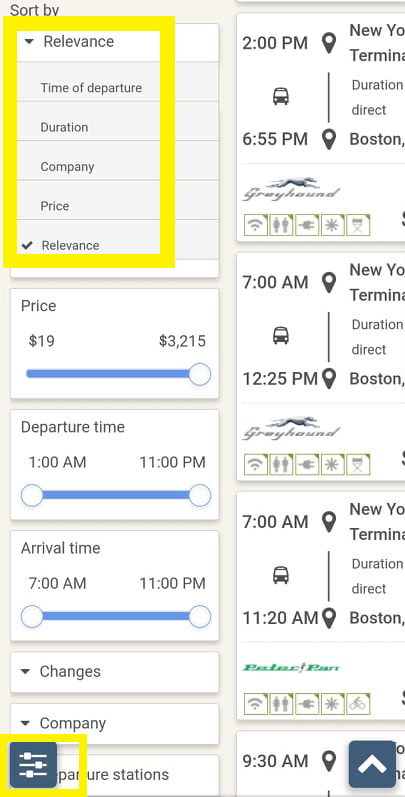 Can't make up your mind? Customize your search so that everything is clearer. How? For example, you can decide to view only certain bus companies or limit your search to only certain stops. Moreover, this will make everything easier.
Using the available sliders, you can also set your price limit and the time slots you want to travel in.
Other information available
Once the search has been carried out, then you will have all the following information on each available route: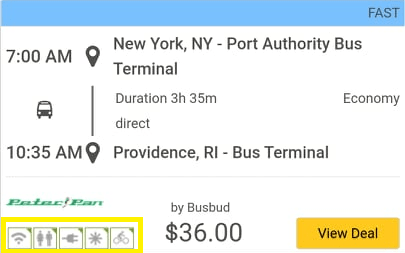 Company name
Departure time
Arrival time
Duration of the trip
Stops or changes
Price
Availability
(number of places still available)
Services
(identifiable thanks to the symbols below)
Choose to compare other means of transportation as well. Buses, flights, trains and carpooling. You can view them all or choose to get the results separately.
How can I buy bus tickets online?
Did you find the bus that best suits your needs thanks to our search engine?


To buy the ticket, just click on "View deal" button, and you will be automatically redirected to the website of the respective bus company. This is where you can finally proceed to purchase the ticket.
Once you have made your reservation you will receive a confirmation by e-mail from the bus company. This will represent the valid ticket for the journey.
How can I find the best bus deals?

Stay up to date to not miss all the savings opportunities! Follow all the news on our blog and regularly visit the bus deals section to find out all the current discounts offered by each bus company.