Are you itching to travel but unable to leave home because of the coronavirus? Check out our guide and discover websites to help you go on adventures right from your sofa! Just because you're stuck at home, doesn't mean you can't get a taste of what the world has to offer. From some of the world's best museums to national parks and zoos, you'd be surprised at all the opportunities to travel virtually right at your fingertips.
Virtual Tours in Museums
While it's true that many museums around the world have closed their doors for the time being, that doesn't mean you can't still enjoy their exhibits! Many world class museums have offered virtual exhibits. Have a passion for ancient Egypt? Then you can dive (literally) into the tombs of the pharaohs and explore them with a virtual tour offered by the Louvre museum in Paris or the Metropolitan Museum in New York.
Google Earth: Visit the world's greatest desinations with the click of a button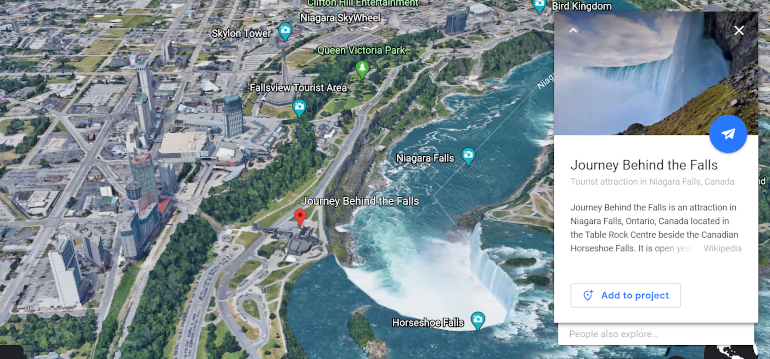 Have you ever imagined visiting a place without being there? Google Earth now lets travellers know with total precision which dream destinations are the best to visit. You can get a nice preview of where you'd like to spend your next vacation once it's OK to travel again. Google Earth even offers recommendations for the places being searched, lets you make personalized travel projects and discover new places while measuring the distance between destinations so you can best plan your future trips. Do you know the distance from New York City to Niagara Falls?
Travel virtually to America's National Parks
Those feeling anxious to get back to the great outdoors, can explore some of America's greatest natural treasures. National parks, such as Yellowstone and Yosemite, are providing virtual tours on their sites and through National Geographic so you can imagine you're going on a hike with all the sounds of nature to keep you company along the way.
Live cameras and virtual tours in zoos

Those who long for the company of animals can also find alternatives to get their fix while in quarantine. Many zoos across the country, such as the San Diego and Cincinnati Zoos, offer virtual tours and webcams viewings of their favorite animals. This way visitors can see the park and animals as if they were really there. Right from your living room you can see pandas, penguins, dolphins and even lions, tigers and bears!
Catch up on some culture with The Kennedy Center
While entertainment venues around the USA are closing down to allow for social distancing, that doesn't mean you can't get your fix of culture. During the quarantine, the Kennedy Center will be posting a video a day, featuring world class musicians, magicians and all kinds of artists. You can enjoy performers, like Sara Bareilles, Gladys Knight and Queen Latifah right from your living room.
Space like you've never seen before
As more and more people stay indoors, cities around the world have gotten quiet. This is especially true at night. Without cars, pedestrians or the odd alarm, many seem like ghost towns.
Darkness and quiet are also provide the perfect environment to marvel at the stars. Galactic Center offers 360-degree photos and videos to help viewers travel virtually through space. It's a great way to appreciate the celestial bodies all around us.
Do you have any recommendations to keep people busy during the coronavirus quarantine? Please share your suggestions in the comments!
Share this post: