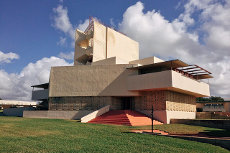 This year marks the 150th birthday of Frank Lloyd Wright, the presumably most famous American architect. While many of his early buildings are predominantly located in the Chicago area, some of his more famous edifices can be found all over the US. Wright's design, which is commonly referred to as organic architecture, was always supposed to be in harmony with nature and humankind and thus frequently adopts natural shapes while also making use of natural materials such as stone and wood.
Here's our Top 3 picks of Wright's architecture including information on how you can easily and affordably reach the famous buildings by bus.
Taliesin Studio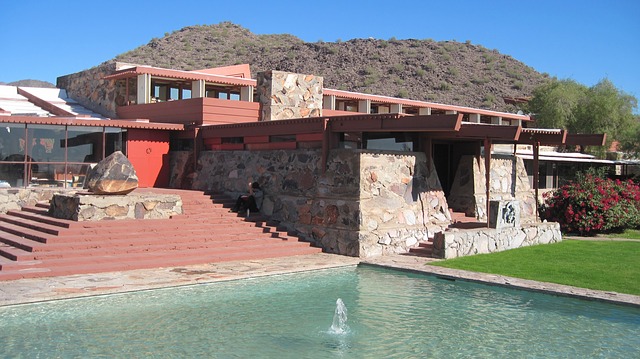 Photo of Taliesin West in Arizona
After Wright divorced his first wife and decided to leave Oak Park, he designed and constructed Taliesin studio close to Spring Green, Wisconsin. The house, which was in line with the principles of the Prairie School by mirroring the flatness of the surrounding area, was supposed to be a home and workspace for him and his mistress Mamaw Borthwick. Its name derives from Welsh mythology and stands for poet, magician and priest. The building gained questionable fame in 1914, when a servant set fire to Taliesin killing seven people. Wright decided to rebuild the house, which is now owned by the Frank Lloyd Wright Foundation. Tours are available from May until the end of October.
Closest Bus Stop: Dodgeville, WI
Fallingwater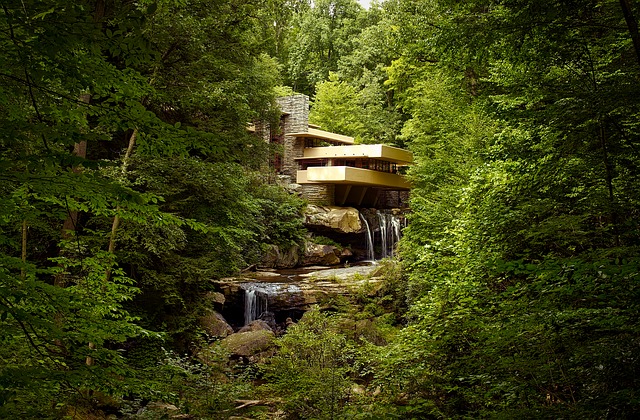 Fallingwater is frequently called the all-time best work of American architecture. It was designed as a family retreat for the Kaufmanns, wealthy department store owners. The house is located in the Bear Run Nature Reserve and it is built on top of a waterfall. It mimics the wood and water surroundings perfectly while simultaneously adopting principles of Japanese architecture, especially visible in its clear lines and the intricate use of horizontal and vertical elements. The building, which is now used as a museum, is often features on "places to visit before you die"-lists – with good reason!
Closest Bus Stop: Morgantown, WV
Solomon R. Guggenheim Museum, New York City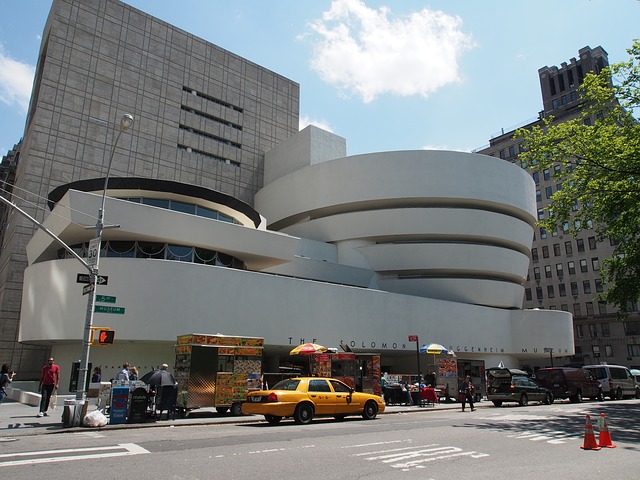 The Guggenheim Museum in New York is without a doubt Wright's most famous building. In total, he spent 16 years working on the project and finally finished it in 1959. From the outside as well as from the inside, the structure resembles a seashell, which is very much in line with Wright's organic architecture. His vision was that visitors could take an elevator to the top of the building and then leisurely walk down passing numerous works of art. The open building also allows for interaction with visitors on the other end of the ramp. The lighting and the floors are meant to mirror the geometric structures of Guggenheim. Wright's ultimate aim was that – after revelling in thousands of paintings and sculptures – visitors would arrive in the atrium of the building, which in itself always features as the final work of art perceived by the art aficionados.
Closest Bus Stop: New York, NY
Cheap Bus Trip: Boston, MA – New York, NY
Share this post: