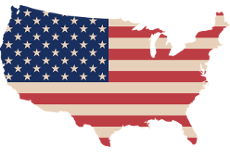 When taking a trip to South America, many tourists think not only of the warm climate, vibrant cultures and delicious foods, but also of the cheap travel fares. However, in terms of bus tickets, the United States offers considerably cheaper prices by a large margin. According to a study by CheckMyBus, bus tickets in the United States are around 40 percent cheaper than their southern neighbor, Mexico and are less than half the price of buses in Argentina and Brazil.
Bus Travel is Cheaper in the USA than in Mexico, Brazil or Argentina
In the study, the most commonly searched connections by CheckMyBus users were considered for each of the countries surveyed. The lowest fares for the selected routes and distance traveled by road were considered in the data and all monetary values were in US dollars to avoid exchange rate discrepancies.
Of the countries examined, Brazil and Argentina both have the highest bus prices, followed by Peru and Colombia. The buses in the United States are among the cheapest, and was second only to Chile in terms of affordability. The average cost of bus travel in the US is $0.03/km compared to Mexico at $0.06, and Argentina and Brazil at $0.07.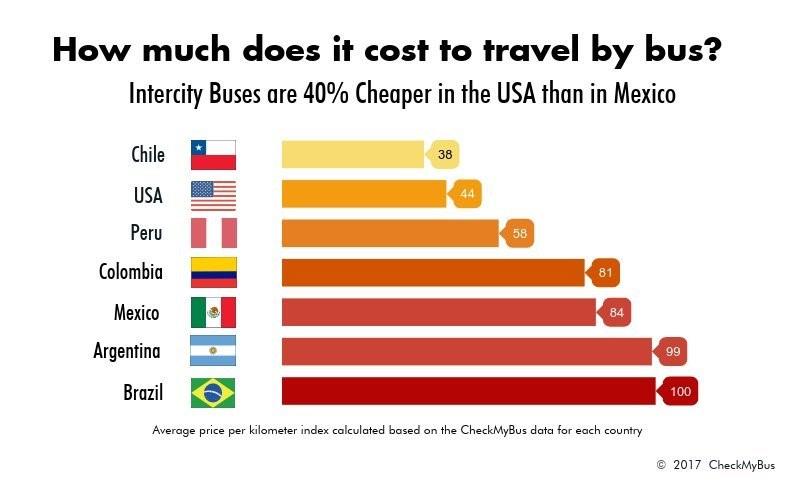 America's Competitive Bus Industry Keeps Prices Down
The competition amongst various bus providers across the country is the main reason travel fares are so low. Since Greyhound split from Peter Pan buses in the Northeast, prices in the region have already dropped. This is compounded by newcomers, such as GoBus and Boltbus entering the picture. Megabus offers extremely affordable fares throughout the country, just as it does in the UK, and Jefferson Lines is one of the leading providers in the Midwest and central US. In the summer of this year, when Europe's biggest bus provider, FlixBus, enters the market, competition is likely to skyrocket and drive travel fares even further down.
Best Value Connections
Some of the most popular routes in the United States are actually the most affordable as well, particularly along the coasts. These include:

New York City – Boston


New York City – Washington DC


Los Angeles – San Francisco


Houston – Dallas


New York City – Philadelphia
Share this post: