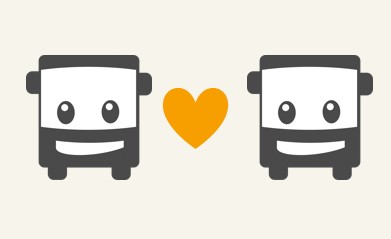 It's only a few more days until Valentine's Day and while some people regard it as an overly commercialized holiday, others use it as an excuse to spark their daily life with a little bit of romance. Apart from flowers, greeting cards and chocolates, a nice getaway for two is one of the most popular presents. If you're still looking for inspiration and don't know where to go, then take a look at our Top 5 of Europe's best Valentine's Day destinations and find out how to get there for little money by bus.
---
1. Venice
If you and your significant other are fans of little alleys, boat rides and the Italian cuisine, then we highly recommend a trip to Venice. Book a gondola for a trip along the canals and find a cosy restaurant at the Piazza San Marco afterwards. It is for good reason that the whole city of Venice is listed as a UNESCO World Heritage site.
Cheap Bus Connections to Venice
➠ Rome ↔ Venice, from $6.55 with megabus
➠ Florence ↔ Venice, from $6.55 with FlixBus

---
2. Paris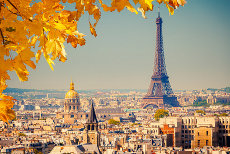 Paris is usually the first idea that comes to mind when people think of romantic destinations and this is not only a result of numerous Woody Allen movies using the French capital as a backdrop to intriguing love plots. A picnic on top of Montmartre, a candlelight dinner with a good view of the Eiffel Tower or a night-time walk along the bank of the river Seine. There's basically nothing you can do in Paris, that is not romantic – except for a trip to the catacombs maybe.
Cheap Bus Connections to Paris
➠ Lyons ↔ Paris, from $4.37 with megabus
➠ London ↔ Paris, from $19.11 with megabus

Valentine's Day Trivia
Sources show that Valentine's Day was already celebrated at European courts in 1400
The custom of sending flowers and other little gifts to the beloved was invented in the UK in the 18th century
In some countries, for example in Slovenia, Valentine's Day marks the beginning of spring
In Finland, Valentine's Day is known as Friend's Day and thus pays a tribute to friendship, not to romantic love
The US Greeting Card Association claims that about 190 million Valentine's cards are sent in the states each year
The average amount of money an American spent on Valentine's gifts in 2013 was $131
3. Barcelona
Since Barcelona is rather known as a colorful and very lively city, it might appear to be the odd one out in this list. However, we still highly recommend going: While tapas bars provide for a good meal to share, numerous clubs allow you to party all night and to celebrate a different kind of Valentine's Day. If you still want a bit of romance, then we suggest a walk along the beach in the early morning hours.
Cheap Bus Connections to Barcelona
➠ Madrid ↔ Barcelona, from $22.93 with Aratesa (Movelia)
➠ Marseille ↔ Barcelona, from $27.30 with OUIBUS

---
4. Vienna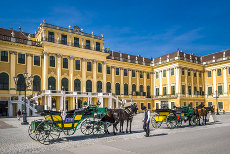 Austria has more to offer than mountains and ski resorts – especially so for couples in love. Vienna should be your destination of choice if you look for old-school pomp. Several castles including the famous Schönbrunn Palace remind visitors of past times, when emperors and empresses ruled Austria.
Cheap Bus Connections to Vienna
➠ Munich ↔ Vienna, from $21.73 with MeinFernbus
➠ Prague ↔ Vienna, from $10.81 with Student Agency

---
5. Prague
Due to its medieval ambience, Prague is the perfect place to go to escape everyday life on Valentine's Day. A boat tour on the Vltava river, a hike up to the castle or a shopping tour in Prague's old town provides for a day full of new experiences. After your sightseeing tour, however, you should not go straight back to your hotel: After all, Prague is notorious for its sizzling nightlife featuring top-notch clubs and cosy jazz bars.
Cheap Bus Connections to Prague
➠ Munich ↔ Prague, from $13.10 with Eurolines Germany
➠ Dresden ↔ Prague, from $9.83 with Eurolines Germany


Share this post: