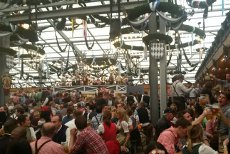 "Servus!" – The Oktoberfest, the world's largest funfair and beer festival, is currently being held in Munich, Bavaria. It lasts more than two weeks, running from late September to the first weekend in October. This year's event started on September 19 with the arrival of the visitors and a parade through Munich, which is to be followed by a series of mass celebrations going on until October 4. On this day the traditional gun salute, which takes place at the Bavaria Monument, will bring an official end to the fair. The Oktoberfest was initially organized in order to celebrate the royal wedding of Crown Prince Ludwig and Princess Therese of Saxe-Hildburghausen on October 12, 1810. It was later transformed into a public festival and has become known all over the world. Today, the Oktoberfest represents an indispensable part of Bavarian culture and more than 6 million tourists are attracted to this unique event each year!
Fortunately, citizens in the United States do not need to travel across the ocean to enjoy some Oktoberfest flair. Since the German immigrants take up the largest number in the US, they made sure to integrate the Oktoberfest tradition into American culture. We have chosen the Top 3 Oktoberfests in the US and help you plan your inexpensive bus trip!
No. 3 Hofbräuhaus in Las Vegas, NV
Time: mid-September to late October
The Hofbräuhaus in Las Vegas is an exact replica of the original one in Munich. It provides tourists with a large beer hall and a tree-lined beer garden full of live music every night. In Las Vegas you have the chance to experience a modern version of the 200-year-old German Oktoberfest. Besides, enjoying some traditional Bratwurst (grilled sausage) and pork shanks along with the Hefeweizen yeast beer will definitely make you feel like a Bavarian! Numerous bus companies in the US such as Greyhound Bus offer connections to Las Vegas at an affordable price. You will see that organizing a bus journey with your friends is a cost-saving option for your trip to Vegas' beer fest!
No. 2 Zinzinnati Oktoberfest in Cincinnati, OH
Time: mid-September to early October
Speaking of the largest Oktoberfest held in the US, the Zinzinnati Oktoberfest in Cincinnati, Ohio attracts 500,000 tourists each year with over 100 food vendors, restaurants and beer gardens It's name derives from the German pronunciation of the name of the host city. In Cincinnati you can also find various large entertainment venues, featuring original German bands, accordion performances and many other amusement activities for young people and families. Make sure to get moving with the Grand Marshall – this year it's the Bengals' former QB Ken Anderson – who will lead the famous Chicken Dance as a Zinzinnati Oktoberfest tradition. Original German beer fest charm integrated into American culture, come to enjoy double fun at Zinzinnati Oktoberfest! Major US bus companies, such as megabus provide numerous connections across the US to Cincinnati with flexible bus schedules and cheap tickets. Just hop on a bus anytime you like and come to visit the largest Oktoberfest in the US.
No. 1 Linde Oktoberfest in Tulsa, OK
Time: mid to late October
Ranked by both USA Today and Bon Appetit magazine as one of the Top 10 Oktoberfests and German food festivals in the world, the Tulsa Oktoberfest in Oklahoma is more than a normal beer festival. The locals created an innovative and popular Oktoberfest event based on the heritage of the original German one. Here you can enjoy not only authentic German beer like Paulaner and Hofbräu beer as well as the traditional German foods, such as roast pork with dumplings or smoked turkey legs, but also you can experience the American beer pong and Wiener dog racing games that are normally not seen at the German Oktoberfest, too. Moreover, if you are coming with your family, there will be numerous carnival rides waiting for your children, making your visit at the Tulsa Oktoberfest satisfying for everyone. Traveling by bus with one of the US bus companies like Trailways to the Tulsa Oktoberfest will be not only affordable but highly convenient as well.
Above are the Top 3 destinations in the US to celebrate the world-famous Oktoberfest. If you are fan of beers and want to participate in an original German festival like the one currently taking place in Munich, we highly recommend you take a trip to one of the above-mentioned destinations. If, however, you want to enjoy the original Bavarian Oktoberfest in Munich, it's not a problem either: Should you happen to be in Europe, CheckMyBus will also help you to find cheap and convenient bus connections to Munich, home of the authentic Oktoberfest.
Share this post: