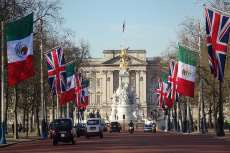 The Invictus Games aren't about triumphalism or patriotism but about union, courage and resilience. Still, Team USA handed a crushing defeat to its British counterpart during the basketball tournament finale to take the gold medal home… again *cough, cough, we told you so, Prince Harry*. The Invictus seek to strengthen the bonds that make our nations great and that's why, instead of making us revel in sweet victory, the latest edition of the games founded by Prince Harry has brought us even closer to our neighbo(u?)rs across the pond.
What better time than now, then, to see what the United Kingdom of Great Britain and Northern Ireland (that's the UK's official name, if you're wondering) has to offer. Our UK CheckMyBus editors recently prepared "The Great English Coach Tour" to celebrate both the Queen's 90th birthday and the 400th anniversary of the death of William Shakespeare and it serves as the perfect excuse to see what the country has to offer. Thanks to its size and short city-to-city distances, England is best discovered by bus; it is absolutely the best way to see the country's green landscapes, not to mention the most affordable and eco-friendliest.
As English as It Gets: The Great English Bus Tour from the checkmybus.co.uk blog
London (Buckingham Palace) – Oxford (University of Oxford) – Stratford-upon-Avon (Shakespeare's Birthplace) – Liverpool (Home of the Beatles) – London (Wembley Stadium)
Discover the most English tourist spots by bus for less than $60
Since there are no bus lines that can take you from America to the UK (yet!), we'll begin and end our tour in London, where most roads lead to. If you already find yourself in Europe, you cannot miss the amazing fares available from other European cities: single tickets from Paris to London can be found at just $10 with Flixbus. Once in London, you can begin your tour of all things English and visit Oxford, Stratford-upon-Avon and Liverpool before you come back to London. All for less than $60.
Stop 1: Royal England – Start your Tour at Buckingham Palace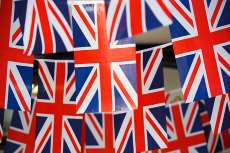 The editors of our UK blog recommend visiting Buckingham Palace first, and we absolutely agree. The changing of the guard attracts millions of tourists every year, but visiting the palace itself has to be one of the highlights of any English tour (right up there with having your first real Full English Breakfast). Another tip: get there by following the Jubilee Greenway from St James's Park; the path is an official walking tour to commemorate the Queen's Diamond Jubilee in 2012. Be sure to look down as there are commemorative plaques on the sidewalks leading to the palace.
Our UK editors recommend:
Only a short stroll away through Hyde Park and Kensington Gardens, is Kensington Palace. This summer there will be an exhibition of the royal dresses worn by the queen during her tenure.
Stop 2: Academic England – Follow J.R.R Tolkien's Hobbit Trail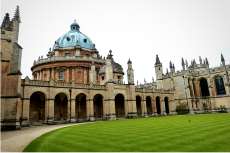 When I think of Oxford, the first image that comes to mind is that of John Ronald Reuel Tolkien smoking his pipe sitting by his beloved black pine on the botanical gardens of Oxford University, surely conjuring images of hobbits, orcs and other fantastical creatures which would later appear in his famed Lord of the Rings trilogy. While the famous tree was felled in 2014 (collective sobs), the university gardens have been a source of inspiration to dozens of illustrious students, among which are the inventor of the World Wide Web Tim Berners-Lee, living legend and scientist Stephen Hawking, Irish writer Oscar Wilde, as well as "Edmund Blackadder" and "Mr. Bean" himself, Rowan Atkinson. You can walk the same streets and have an ale at the same pubs where those who have helped shaped the cultural, scientific and even political landscape of modern England and the world, did.
Our UK editors recommend:
If you're not feeling quite academic just yet, you might want to go to Cambridge. megabus is offering mega fares for just £1.
Buses Oxford ↔ Stratford upon Avon
Stop 3: Shakespeare's England – The Bard's birthplace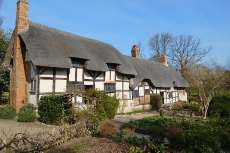 If you are a Shakespeare enthusiast, this is the year to visit the bard's birthplace, Stratford-upon-Avon. 2016 marks the 400th anniversary of the death of one of the most influential writers in the history of the English language and the city is celebrating big. Marvel at the picturesque thatched-roof houses or visit The Royal Shakespeare Company to catch one of the bard's famous plays.
Our UK editors recommend:
Shakespeare's Globe in London is a replica of Shakespeare's famous Globe Theatre, which went up in flames in 1616 before being closed down for good in 1642. You can't miss one of the bard's plays at the Globe during your visit to England!
Buses Stratford upon Avon ↔ Liverpool
Stop 4: John, Paul, George and Ringo's Liverpool – Strawberry Fields Forever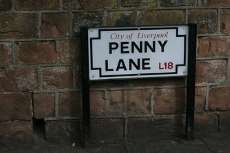 Yes, you can still walk down Penny Lane; there's still nothing to get hung about at Strawberry Field; and you can still twist and shout at the Cavern Club. With all the obligatory puns out of the way, one fact remains: The Beatles are a cornerstone of contemporary English history and Liverpool is where it all started. As such, this old harbor city is a must-see when visiting England. There are walking tours where you'll get to know all the little details about the fab four, such as where Paul met John, where aunt Mimi used to live and where Ringo got band-aids for his blisters (okay, maybe not the latter).
Our UK editors recommend:
Once you've soaked in the past, it's time to discover the present and peek into the future of Liverpool's music scene. Head down to Matthew Street for pubs and bars with Liverpool's new acts showing their craft to the audiences. Who knows? Maybe you'll find the city's new Lonely Hearts Club Band…
Stop 5: All Roads Lead to Wembley – Or Why Football Should Really Be Called Soccer
Our UK editors finish their last tip of "The Great English Tour" by saying: "…the last thing on your agenda should be getting a ticket for a football match at Wembley, the home of football." We don't mean to sound patronizing with a "zee", dear colleagues, but Wembley will be the "home of football" when it hosts the Broncos vs the Cowboys (wink, wink). All jokes aside, Wembley is far more than just a soccer -ok, football- stadium, and it is clear that any visit to England would be incomplete without witnessing more than 90 thousand avid fans making the walls reverberate every time the home team scores a goal. When you come back to London from Liverpool, Wembley has to be the last stop of your "Great English Tour"!
Our UK editors recommend:
A guided tour of the legendary venue in case there are no games scheduled. You'll get to relive the full history of the stadium, from England winning the 1966 World Cup to the 2012 Olympics ceremony.
Share this post: