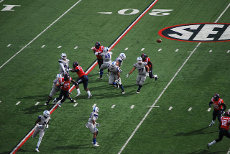 Super Bowl 50 is only a few more days away and you're still undecided about where to watch it? Why not take a trip to the San Francisco Bay Area and discover the atmosphere first-hand. While tickets for the Levi's Stadium in Santa Clara are not only expensive but also very hard to get, the city offers numerous Super Bowl parties for every budget. Simply pick your venue and book your cheap bus ticket to San José now.
Super Bowl Parties for Every Budget
High Budget: VIP Super Bowl Parties
Magazines such as Rolling Stone or Maxim are notorious for throwing lavish Super Bowl parties but since the match between the Caroline Panthers and the Denver Broncos is held in California, the home state of Playboy Magazine, their party is the place to be in 2016. It is held on the Friday before the big game at the AT&T Park in San Francisco. Tickets are about $800, which might seem pricey but if you're into celebrity spotting, then it might be worth the splurge. Last year's attendees included Bradley Cooper and Kanye West. The party also coincides with the launch of the March issue of Playboy magazine, which will be its first non-nude edition. Spend the money on the party, not on the journey: Bus tickets for trips from Los Angeles to San Francisco start at $35.
Medium Budget: All-Inclusive Parties
All-Inclusive parties are not hard to find on Super Bowl Sunday. Numerous bars and restaurants in the San Francisco Bay Area offer parties that include a good selection of Super Bowl appropriate food and an open bar. These parties, however, are not only restricted to the close vicinity of the stadium but can be found in all of the US and even abroad. New York, for instance, is famous for offering a wide array of restaurants, which broadcast the game and provide sustenance. Ticket prices vary but usually range around the $100 mark. If you live in Boston and want to spend Super Sunday in the big apple, there's still megabus tickets for $33 up for grabs.
Low Budget: Pub and Bars
It doesn't have to be an expensive party or open bar to enjoy the Super Bowl. Usually sitting down in a pub is entertainment enough. We still recommend, however, to take a trip to California for the best atmosphere. If you're insecure about simply entering a bar on Super Sunday, then here's some Super Bowl trivia which will definitely help you get a conversation going:
Super Bowl Fun Facts
In 2016, a 30-second-ad costs about $5,000,000 which is Super Bowl record.
The Pokémon Company will be broadcasting a commercial this year to celebrate the 20th anniversary of the franchise.
Pizza delivery services in the US are said to make about one third of their annual profit on Super Bowl Day.
In 2013, parking in close vicinity to the Superdome in New Orleans cost up to $550.
The day after Super Bowl, about 6% more Americans phone in sick at work. The phenomenon is known as "Super Bowlitis".
Share this post: