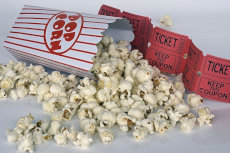 Though often in the backdrop as unsung heroes, buses have often served an important function in unforgettable stories both inside the silver screen and outside. They are an integral part of daily life and will remain so for a long time to come. Check out some out some of the most famous buses in the history of cinema:

The Atomic Bus, 1976
Country: United States
Director: James Frowley
Starring: Joseph Bologna, Stockard Channing y John Bleck
Premise: Scientists design "Cyclops," a bus that will make history by transporting passengers between Denver and New York in record time and without stops. However, when the atomic fuel is poured into the bus everything changes ….

A History of the Bronx, 1993
Country: United States
Director: Robert De Niro
Starring: Robert De Niro, Chazz Palminteri, Lillo Brancato, Francis Capra, Taral Hicks, Kathrine Narducci y Joe Pesci
Premise: A 9-year-old boy witnesses a murder in front of his house in the Bronx. From then on, not only his father (bus driver) will have an influence on his life.

Forrest Gump, 1994
Country: United States
Director: Robert Zemeckis
Starring: Tom Hanks, Robin Wirght, Gary Sinise, Mykelti Williamson, Sally Field, Haley Joel Osment
Premise: The protagonist begins by telling his story to the strangers with whom he shares the bus stop. In fact, some of the most important moments in his life take place on a bus.

The Horror Bus, 2005
Country: Netherlands
Director: Peter Kiujpers
Starring: Tom Jansen, Serge Price, Jim van der Panne, Lisa Smit, Willem Nijholt, Angela Schii y Romiin Conen
Premise: Onnoval has problems with his classmates and decides to write ghost stories about revenge. One day, these fantasies become a reality during the bus trip to the Horror Park.

Night Bus, 2014
Country: United Kingdom
Director: Simon Baker
Starring: Iron Braydz, Wayne Goddard, Kyri Saphiris, Mathew Jure y Alexa Brown
Premise: All scenes take place inside a London night bus. The viewer can witness the encounters and disagreements of the different passenger during any given night.


Share this post: