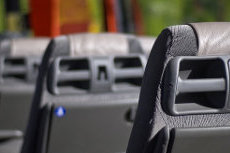 For nearly twenty years, Greyhound buses partnered with Peter Pan throughout the east coast, allowing customers to purchase tickets for either operator from the same gate. However, Peter Pan has announced on its website that as of September 27, the partnership will end and both providers will begin to operate independently of one another again.
The partnership began back in 1998 with the rivalry between the two providers, particularly over the route between Washington, DC and New York. Rather than continue a wage war, the companies joined forces and coordinated routes and schedules. Peter Pan carries approximately six to seven million passengers a year in the northeast, and makes an estimated annual revenue of $78 million.
The regional bus provider is hoping that the separation will give them the opportunity to offer paperless boarding for all of its routes, which wasn't possible with its partnership with Greyhound. Peter Pan also expects its buses to travel more efficiently since they will no longer be required to stop at Greyhound bus stops for all of their routes. This provides the company with much more freedom to determine its own scheduling, and allows Peter Pan to promise service that is on time.
The separation isn't without its costs, however. The bus provider, BoltBus, which is a joint venture of the two companies, will be taken over completely by Greyhound as a part of the terms of separation.
By the end of September, Greyhound and Peter Pan will no longer be selling each other's tickets, so customers will need to book directly with Peter Pan's website, apps or at a Peter Pan ticket counter. This isn't expected to be too much of an inconvenience for passengers since many now book their tickets online through third-party sites.
With both companies operating on their own, it is very likely that the same competition that drove the companies to join up could rise again. Peter Pan already promises competitive fares, and offers a "lowest price guarantee" on its website. The provider also plans to add more buses while continuing to operate in Massachusetts, New Hampshire, Rhode Island, Connecticut, Maryland, New York, New Jersey, Pennsylvania, Delaware and Washington, D.C. However, Greyhound will continue its services in the region as well and will bring in as many as 60 new buses to the Northeast.
Share this post: