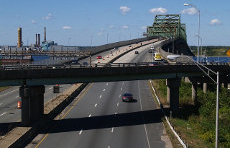 Last month, Peter Pan ended its 19-year partnership with Greyhound to operate independently again. Peter Pan's decision to break away was mostly grounded in the belief the operator could better provide optimal service with its own autonomy. Since the separation, both companies have prepared for competition with one another, hiringmore staff and investing in more routes throughout the Northeast corridor. Consequently, passengers can look forward to added benefits from both providers, such as paperless boarding, a larger selection of routes, increased frequency for existing routes, and competitive fares.
Peter Pan Blazes Ahead
Peter Pan's CEO, Peter Picknelly has expressed the bus operator's commitment to the Northeast corridor, its routes, and the customers in the region that Peter Pan has served for nearly 85 years. Since the separation, the Springfield based company has spent $13 million on new buses, and is subsequently hiring more staff in each of the major cities it serves. As of now, the company has a fleet of 275 buses and over 800 employees, and even more buses will be ordered for the Spring.
While the company's objective is to continue offering the same routes throughout the Northeast it has always provided, Peter Pan is also hoping to add more routes between major cities in the region. New ticket counters and the implementation of paperless boarding are expected to draw in even more passengers by making the booking process more readily available and convenient. Greyhound will not be bowing out of the region however, and will be making efforts to increase its ridership throughout the Northeast as well. Regardless, Picknelly believes that its former partner isn't his company's primary competitor as much as private cars.

Greyhound Steps up its Game
Since the separation, Greyhound has increased its services in the Northeast by creating more routes in the region. Some services that have been expanded upon include more routes from Worcester, with nonstop routes to Hartford and Springfield, routes to Boston, and a one-stop service to New York City. Greyhound has additionally given customers access to e-ticketing, so that passengers can buy tickets online and board the bus by showing their phones. The company has responded that the added routes will cater to increased demand for travel among passengers in Worcester and other cities throughout New England.
What Customers Can Expect
The recent separation of the two companies has resulted in several changes that passengers throughout the Northeast can benefit from. These include:
The Peter Pan Perks system which enables riders to earn free travel
Peter Pan's Lowest Price Guarantee where if a customer finds a lower fare to the same station at a similar time, Peter Pan will credit the passenger's account with the difference.

Paperless tickets from both Peter Pan and Greyhound for easier booking and boarding
Greyhound service from Springfield to Boston, and to New York City via Hartford

More trips from Worcester to Boston (3 to 7) through Greyhound.

3 daily trips from Worcester to Hartford over the week and six over the weekend through Greyhound

4 trips offered between Worcester and Springfield on weekdays and weekends through Greyhound
Share this post: