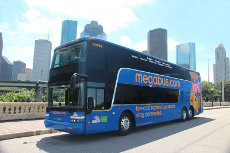 With Labor Day coming up, numerous Americans will be traveling across the country to spend the holiday with their families, to visit friends or simply to enjoy a well-deserved mini-break. When it comes to choosing the mode of transport, more and more US citizens opt for the bus. Companies such as Greyhound, megabus and Trailways offer cheap and convenient city-to-city bus trips, which allows customers to sit back and relax. The Chaddick Institute of Metropolitan Development at DePaul University has conducted a study which predicts that more than 1.14 million passengers are likely to take the Bus during Labor Day weekend 2015.
If the forecast turns out to be accurate, this year's Labor Day would mark the highest number of bus travelers registered in the last decade. A total of 1.14 million passengers would represent a plus of 5 percent compared with last year's Labor Day and would come close to the overall ridership during Independence Day weekend. For July the 4th, the Chaddick Institute has predicted roughly 1.3 million bus travelers and the company Greyhound Bus alone has expected about 500.000 customers. In order to cope with the increased demand, operators will optimize their bus schedules and provide extra services on popular routes, especially in the Midwest and Northeast.
The Chaddick Institute ascribes the increasing attractiveness of bus travel in the US to the heightened level of comfort on motorcoaches. For instance, this summer marks the first year in which customers can make use of GPS tracking devices, such as the Greyhound BusTracker. This feature allows passengers to trace the exact location of their bus. Should a service be delayed, travelers will know that they can stay at home a little longer before heading to the bus station. Moreover, the bus company megabus US recently added ten seats per bus, which can be reserved prior to departure – a service which proves popular with numerous customers. From now on a total of 20 seats can be reserved on every megabus US service.
Heightened comfort and continuously cheap tickets add significantly to the popularity of the bus industry in the US. In parallel to ridership during holidays, the amount of passengers during normal travel periods could recently be increased as well: the Chaddick Institute recorded a plus of 2.1 percent on ordinary travel days highlighting that the bus is on course for further success.
Share this post: