America has slowly turned into a never-ending traffic jam. The number of commuters has been rising steadily and now we spend over 9 billion hours stuck in traffic.
American transportation analysts, INRIX, estimates that Americans collectively wasted $300bn on traffic in 2016.
There is no slowing down, either, with both figures expected to keep rising over the next few years.
So, how can America get rid of its never-ending traffic jams? Read on to find out.

America's big jam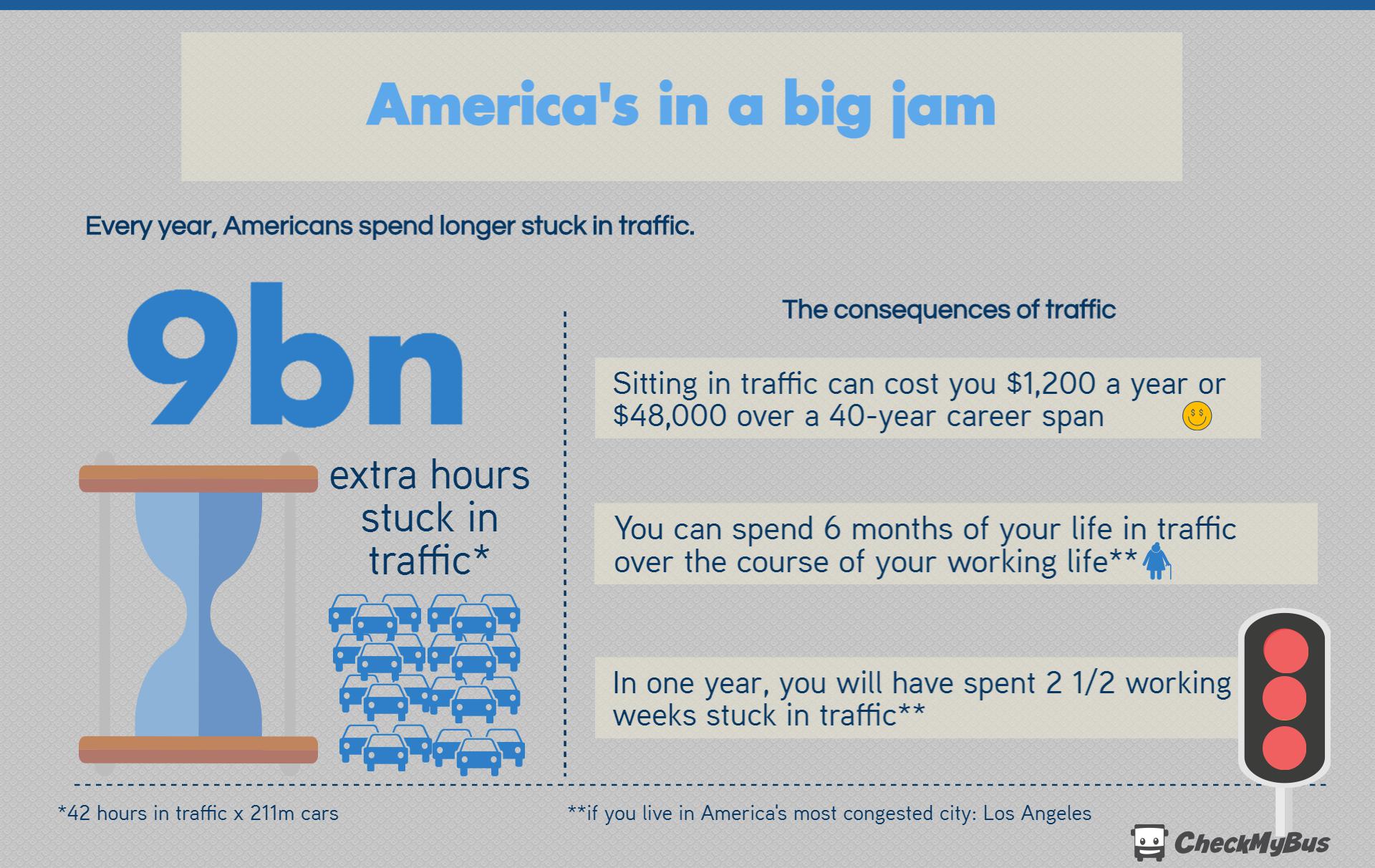 How much money does America waste on traffic every year?
Take the Ultimate Traffic Jam Quiz and find out!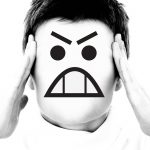 Angelenos have it worst as the city of Los Angeles once again ranked as America's most congested. On average, each driver in Los Angeles spends 104 hours per year stuck in a jam. The worst segment is I-10 Eastbound from Exit 3A (I-405) to Exit 12 (I-110) and costs Angelenos 66 hours a year.
America's absolute traffic nightmare, however, is the I-95 Westbound in New York, from Exit 6A (I-278) to Exit 2 (Trans- Manhattan Expressway) which averages 86 total hours of delay per passenger per year.
You could spend two extra weeks off work with all that time.
The most congested cities in America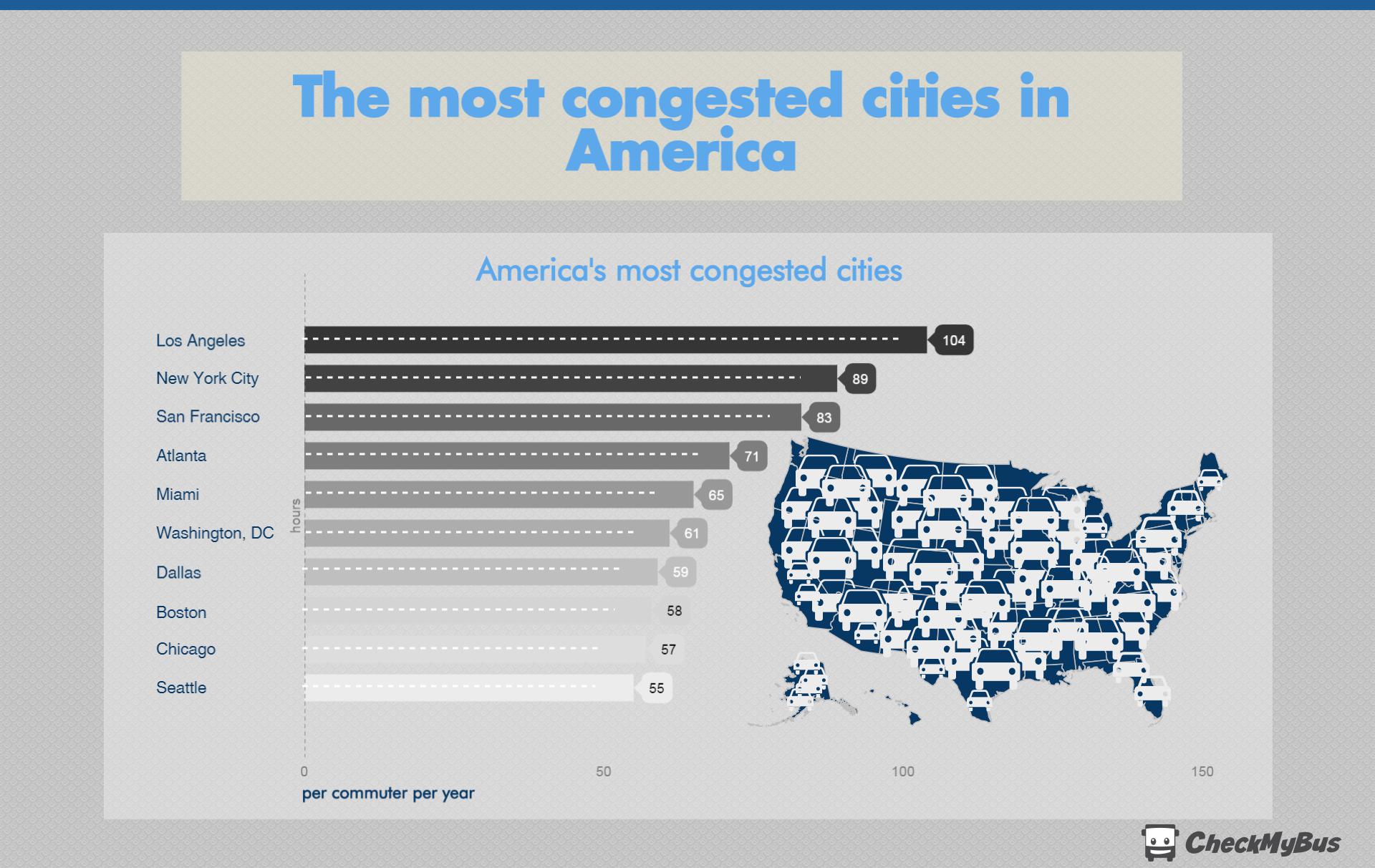 But that's not all, when cars stand idle, they consume fuel and the total costs of sitting in your car when in traffic can amount to $1,200 per year.
To put that into perspective, over a 40-year career, you will have wasted $48,000 just by being stuck in traffic!
So, what is the main cause of traffic? How do cars pile up, little by little until collapse?
We all love looking for outside causes to our mishaps but the answer is much simpler than you think.
As our partners from Bus&Coach put it:
We are not stuck in traffic, we are traffic.
Check out our short video to find out how we can get rid of traffic once and for all
What if Americans left their cars at home?
It might as well sound like a pipe dream but that doesn't make it any less true: the only way to get rid of traffic jams is by leaving your car at home.
Immediate benefits
Leaving your car in the garage will bring immediate benefits, as using other alternative means of travel will save you both time and money, among many other things.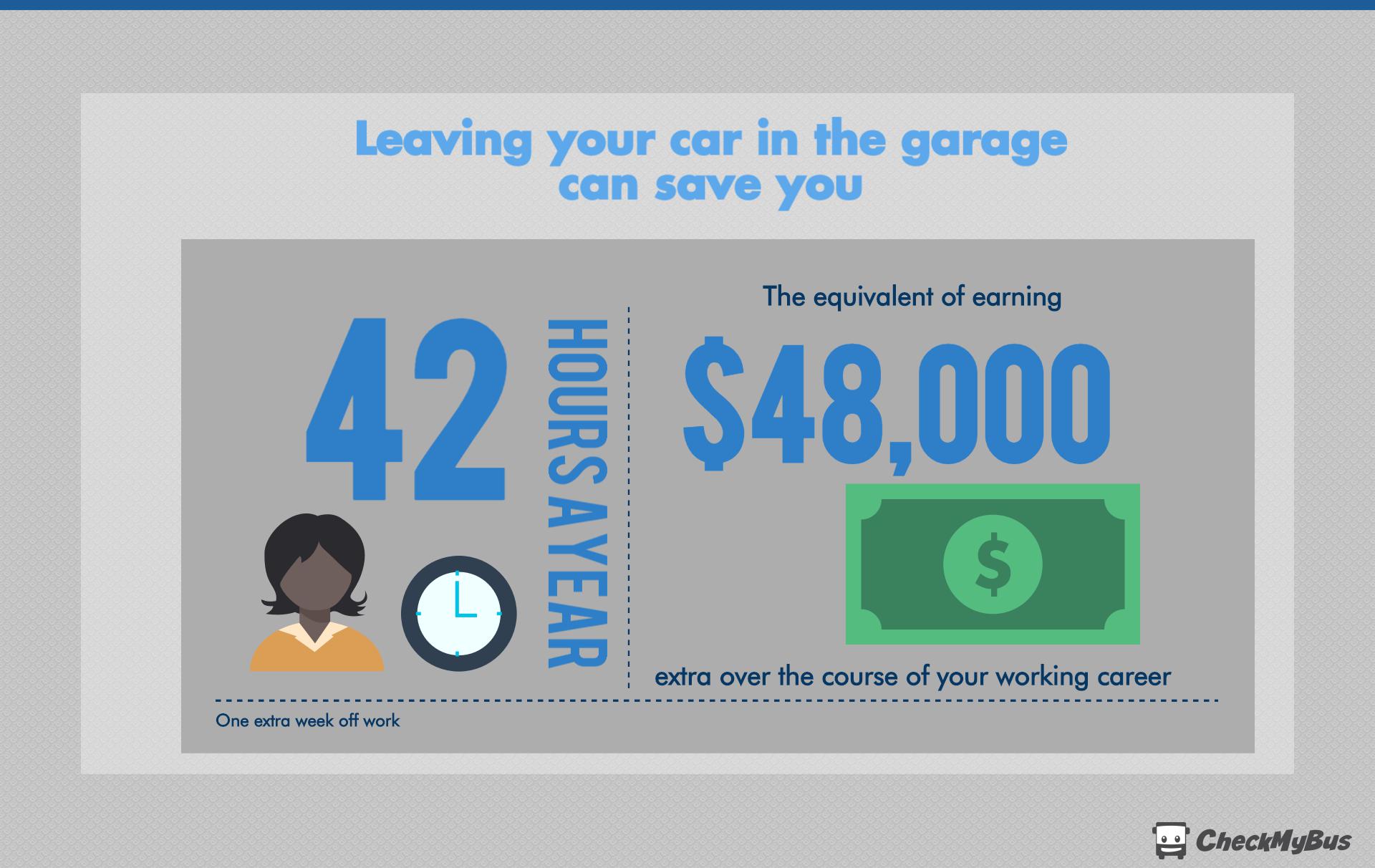 Just by leaving your car in the garage, you can save up to one full week off work (or two and a half if you live in L.A.) and $1,200 per year. Over a forty-year career span you will have saved forty weeks (or almost seven moths) and $48,000.
Collectively, we will save 5 billion hours per year and over $140bn.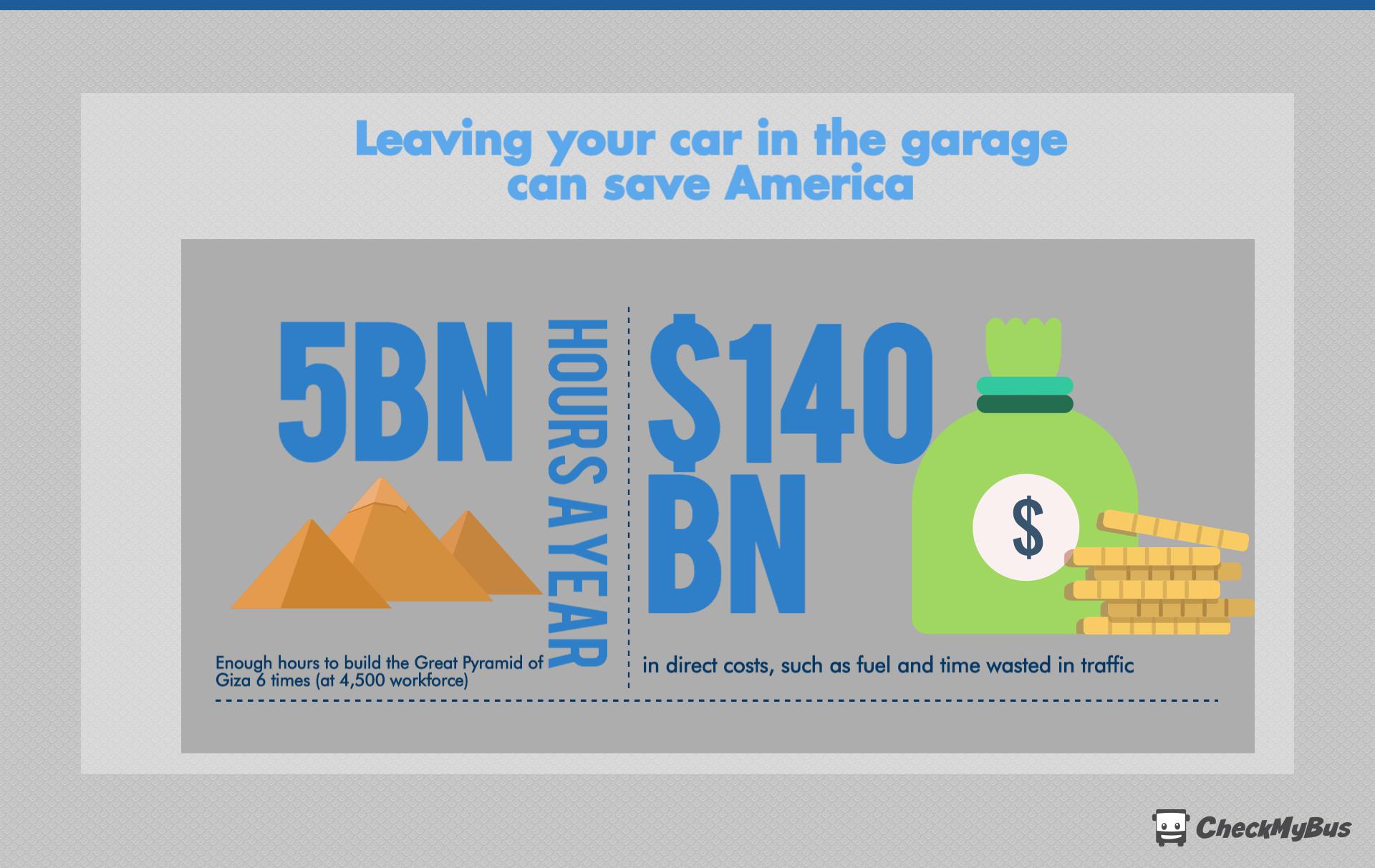 Alternative means of transportation
If we all left our cars at home and instead used public transportation, traffic jams would be a thing of the past.
Buses are the obvious alternative. A regular intercity bus can carry 50 passengers (with extra legroom), taking as many passengers as 47 cars.
If we take the 272 cars that can cover a mile of traffic, each carrying 1.06 commuters, we will have 288 commuters. The number of buses needed to transport all 288 commuters is just 6.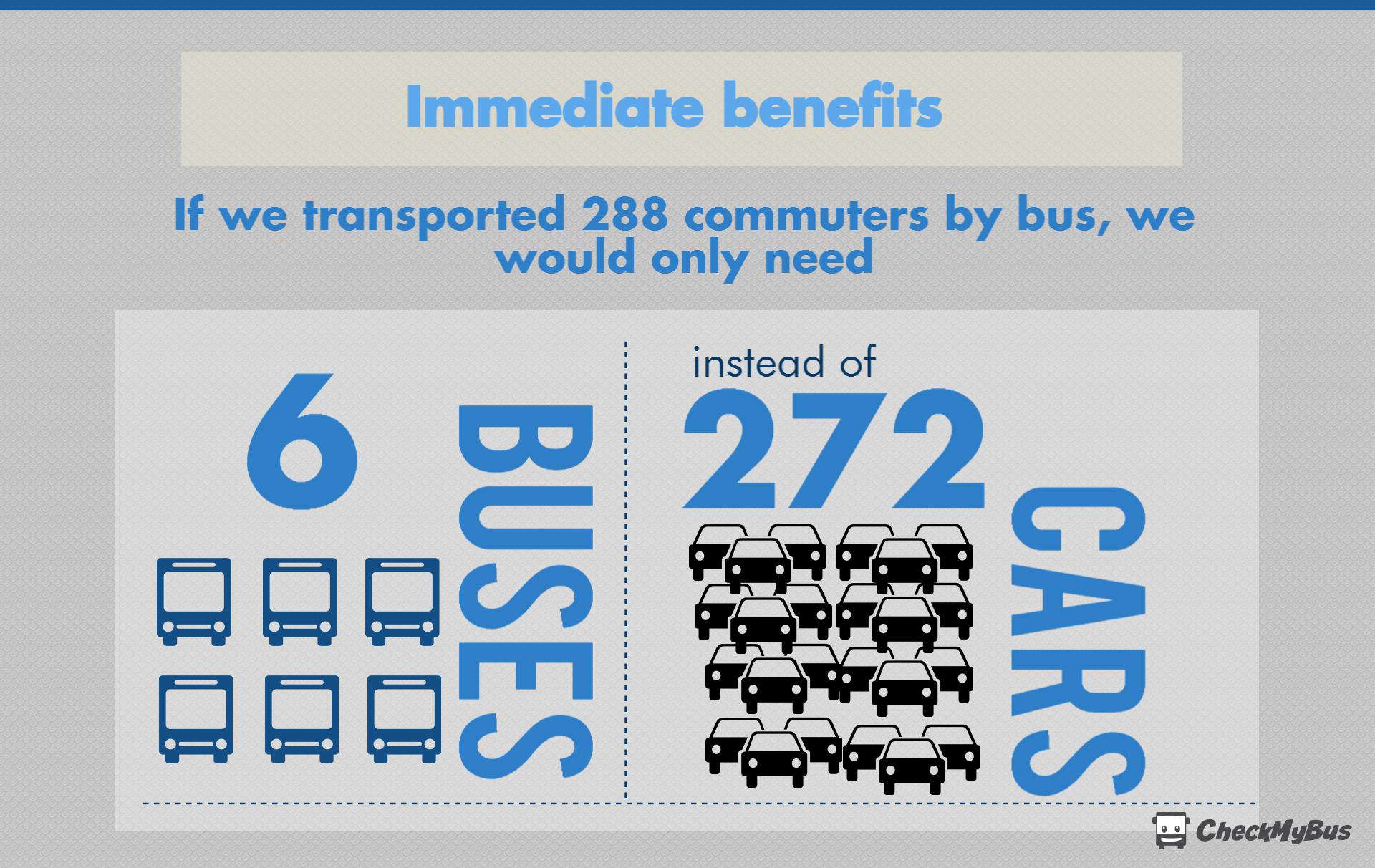 Taking 272 cars off the road has obvious benefits and wouldn't only get rid of traffic, it would also reduce our carbon emissions and put the "free" in "freeway" back where it belongs.
If we all commuted to work by bus there would be no traffic jams.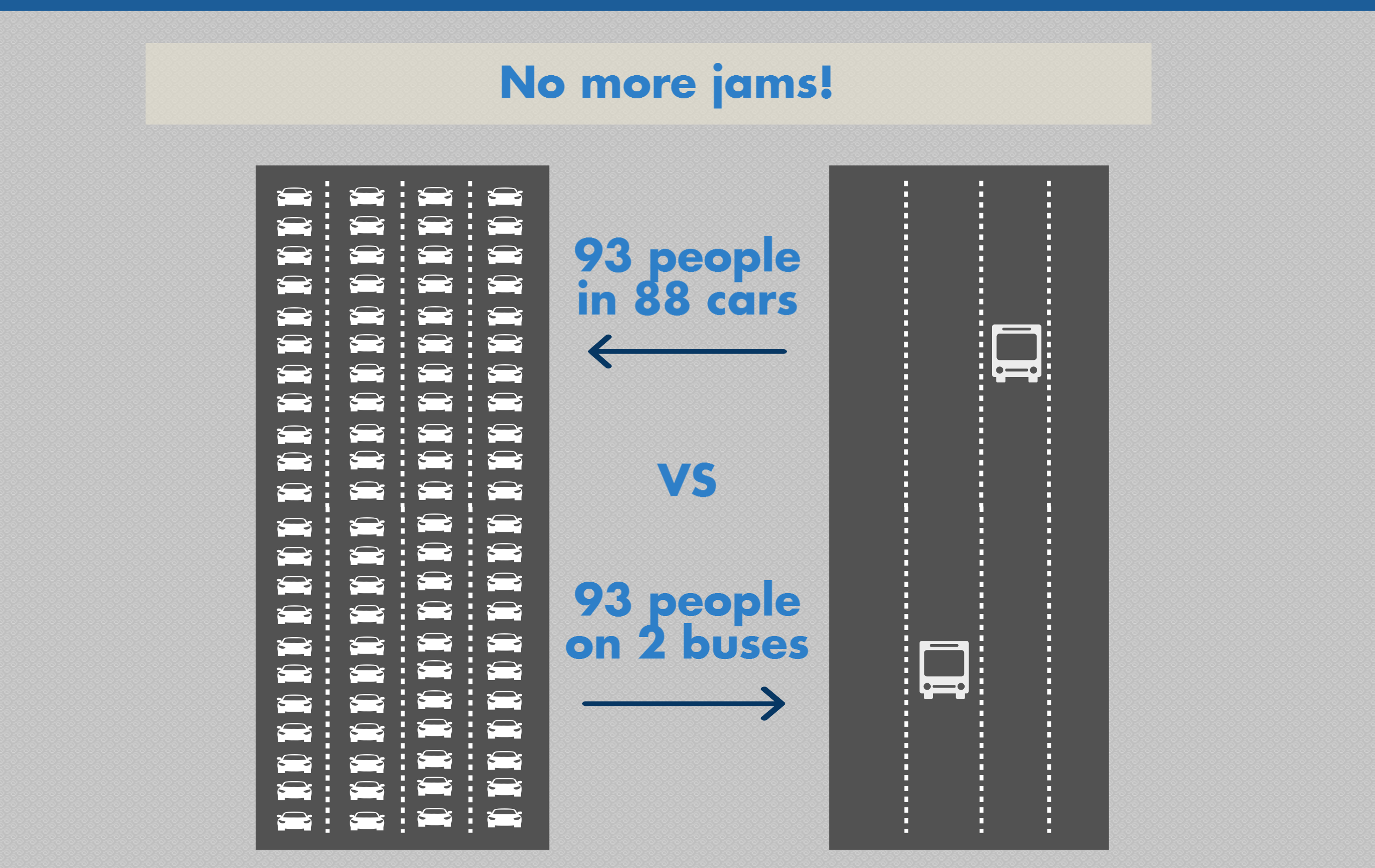 The traffic relief top 3
Buses can carry an average of 50 passengers, as we said before. But that's an average, so there's a little extra room for more.
Mainstream intercity bus operators know this and have tried to find the perfect balance between comfort, price, and mass transportation.
Here our traffic relief top three: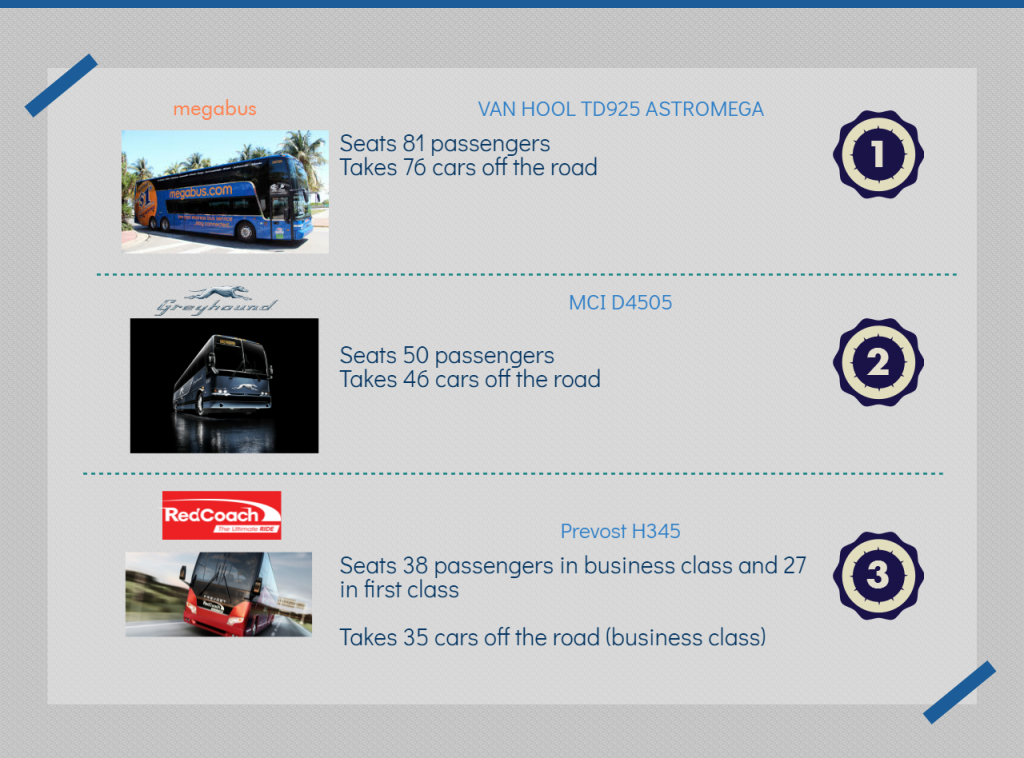 megabus' double deckers can carry 81 passengers, making them the clear traffic relief champion. It's a win-win: more passengers per bus means more tickets sold, means cheaper tickets, means fewer cars on the road.
Greyhound comes in second with their generous 50-seaters, including extra legroom. Taking into account that the MCI D4505 can seat 58 passengers, Greyhound tried to go above and beyond to offer comfort to its customers by removing some seats and provide extra legroom.
Of course, most other operators (Peter Pan, Trailways, etc) can also accommodate at least 50 passengers per bus. However, RedCoach's luxury service means that you'll have almost fully reclining seats in business or first class while seating 38 and 27 passengers respectively, and, at the same time, getting rid of traffic.
So, next time you're stuck in traffic, remember you are causing it. It's up to you to get rid of traffic jams once and for all.
Share this post: