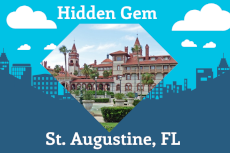 Founded by Spanish settlers in 1565, St. Augustine is the oldest European settlement in the United States that was continuously occupied. The city of St. Augustine is full of historic charm, beautiful buildings and benefits from a nice warm Florida climate. While the peak tourist season may have passed, St. Augustine's September easy season still boasts warm temperatures and less crowded beaches, so you can enjoy more space. As an added benefit, many local attractions and hotels are offering seasonal rates for September as well as lower prices in general. While it may not be as big as Miami or Orlando, St. Augustine has enough charm to warrant a visit of its own.
Travel to St. Augustine
St. Augustine can be reached by bus from cities throughout Florida and Georgia. Travellers coming from further away, can easily get to St. Augustine from cities like Orlando, which have an international airport.
Popular routes include:
Jacksonville to St. Augustine, FL
Tampa, FL to St. Augustine, FL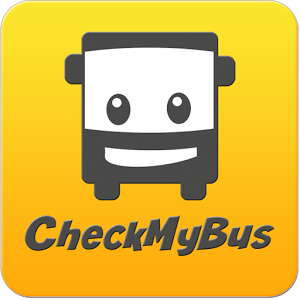 CheckMyBus Tip: While you can get to St. Augustine via intercity buses, once you get there, you can take the Hop-on, Hop-off St. Augustine Trolley Tour, which stops at some of the city's most famous sites, including its beaches, the historic Spanish Quarter and even the Alligator farm! It's a convenient way to get around and is a charming attraction itself with conductors regularly narrating the tour with facts and stories about St. Augustine.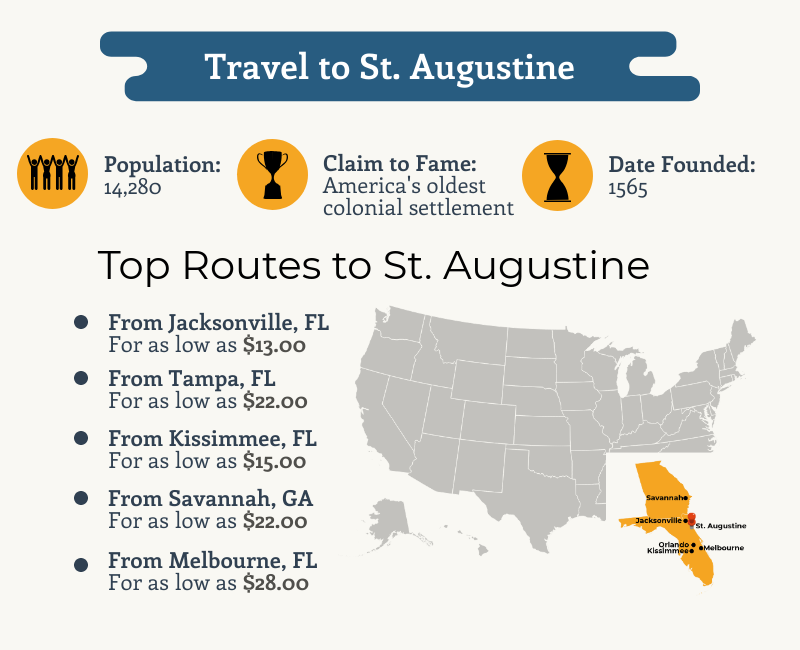 St. Augustine's History: The Oldest European Settlement in the U.S.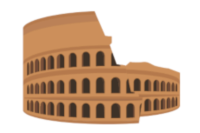 As the oldest European settlement in the United States, St. Augustine offers plenty for history buffs to enjoy. The Castillo de San Marcos is the country's oldest masonry fort still standing and was built between 1672 and 1695. The fort is frequently hosted by re-enactors, who can tell you all about the site's significant role in the history of the region. Every September in St. Augustine is Founders Day, which will be taking place September 8 this year, the same date as the original landing. Reenactors will provide a variety of demonstrations, including firing off canons in the historic Spanish Quarter, which is well worth a visit in its own right as a beautifully preserved area of the town. See how the original Spanish settlers lived by exploring preserved establishments, such as a leatherworker shop, a blacksmith and authentic tavern, with costumed people all around to provide a bit of commentary. Absorb more than 400 years of local history at one of the many St. Augustine Museums. Experience the Golden Age of Piracy at the St. Augustine Pirate & Treasure Museum or stop by the Old Jail Museum for a sense of how the city's sense of law and order has evolved. Check out GetYourGuide for great tour packages to see as many museums as possible!
Explore St. Augustine's Sandy Beaches and Diverse Wildlife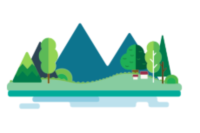 Being in the sunshine state, St. Augustine isn't far away from some beautiful scenery. From the old fort, visitors can enjoy a sublime view of the Mantanzas River, and there is no shortage of beaches to choose from. Crescent Beach, St. Augustine Beach, and Vilano Beach are some of the local beaches that both tourists and locals can enjoy, and during September, the temperatures are still considerably warmer than many parts of the country, while the number of people out and about is less than the summer months. There's plenty of opportunity to observe indigenous wildlife as well. The St. Augustine Alligator Farm is one of the state's oldest running attractions, having opened in 1893. Here you can see 23 different types of crocodilians as well as other reptiles, mammals and birds. The St. Augustine Wild Reserve also offers a look at the region's wildlife, including a chance to see the resident golden tabby tiger, "Sitarra."
Check Out St. Augustine's Numerous Museums, Galleries and Music Events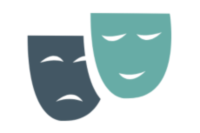 For a small city, St. Augustine is filled with cultural offerings often experienced in larger cities with a number of museums and art galleries to choose from. The Lightner Museum is a spectacle in and of itself, held in three floors of the former Hotel Alcazar from the gilded era. The museum hosts many artifacts, furnishings and costumes and gives visitors a look at the lifestyle of the wealthy elite during the time period. Music Lovers can enjoy the "Sing Out Loud!" music festival free of charge, taking place on weekends from September 1-23 at several venues around the city. The Oldest Store Museum is another must-see when in St. Augustine for the look at an early 20th century shop dating back to the consumer boom.
An Adventure for the Whole Family in St. Augustine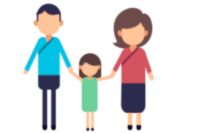 Looking for something fun to do with the kids? Fiesta Falls mini-golf provides a fun time out for the family with eight waterfalls, a 65-foot Spanish Ship and 18 courses. St. Augustine is also home to Marineland Dolphin Adventure, which lets visitors see dolphins up close and even swim with them as well as a chance to view other sea creatures, like eels, sting-rays, octopi, and sea turtles. Ripley's Believe it or Not is always worth a visit as a celebration of the unusual, and even offers a Senior Special, which lets you buy a second ticket for $10 after buying one at regular price. Enjoy a swashbuckling adventure with the Kids Krew Tours, which gives children the chance to wear pirate costumes, handle historical artifacts and learn what life as a pirate was like through a fun interactive tour.
Share this post: