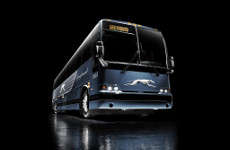 Ever since the swift bus service between cities was established on December 1, 2010, Greyhound Express has installed numerous direct connections between a thousand cities both in the USA and Canada. Its modern bus fleet and superior on-board facilities – such as leather seats with extra-large legroom, Wi-Fi, power outlets and wheelchair lifts – along with its inexpensive ticket prices as low as $1 have attracted over 21 million passengers in only five years.
"Not only are customers able to save time and money, they also have convenient and easy access to major markets with connections to thousands of other destinations across North America. Nobody else has this kind of network," says Andy Kaplinsky, chief commercial officer from Greyhound. Kaplinsky considers the launch of Greyhound Express a hallmark for the company, as it offers millions of passengers exclusive and rapid bus services across the US and Canada.
Greyhound Express buses serve a lot of major cities in the US at the moment, including New York, Boston, Washington DC, Chicago and Orlando. Here at CheckMyBus you can compare how much time a Greyhound Express service takes compared with other bus services.
Some examples: Compare bus connections of Greyhound Express with the regular services
Although the Express service was launched five years ago, Greyhound never ceases to come up with new innovations: The bus company's homepage was redesigned to allow passengers to enjoy a more modern and convenient booking experience. Furthermore, the BusTracker technology was integrated in early 2015, which presents passengers with an accurate timetable so that they can see if there is any delay in their bus schedules. Thanks to BusTracker they can also trace the exact location of their bus during the trip or while waiting at a bus stop. In addition, by partnering with Parking Panda, Greyhound Bus also provides passengers, who drive to their designated bus terminals, with the opportunity to find and reserve the best and cheapest parking space prior to arriving at the bus station. However, other bus companies have updated their services as well: Jefferson Lines has also recently given its website a complete makeover and adopted BusTracker technology. Moreover, it also serves 18 college routes in five states, allowing for more direct student connections between universities and their destinations.
All in all, in an effort to achieve high quality and comfortable bus services for the customers, it is obvious that the major US bus companies start to realize the significant benefits of advanced technologies and higher comfort that could bring to whole industry.
Share this post: