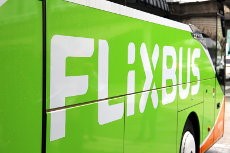 "Next stop: Hollywood!" This could be the next announcement from one of Germany's leading bus providers, Flixbus, as it plans to expand beyond Europe's borders for the first time. A small team is already based in Los Angeles, California to probe the situation. The proposed expansion will be coordinated by Pierre Gourdain, who was previously responsible for the successful establishment of FlixBus in France. As in Europe, the provider plans to focus on marketing, scheduling and booking operations, and aims to work with regional, medium-sized bus companies throughout the country. By next summer, Flixbus is hoping to begin its first routes in the United States.
Founded in Munich back in 2011 under the name GoBus, the bus operator changed its name to FlixBus in 2013. Due to the high demand for cheap and eco-friendly transportation alternatives, the company was able to quickly expand, and by 2015 merged with its biggest competitor, MeinFernBus. By 2016, coaches from both providers operated under the same name, FlixBus, using the company's signature green buses to emphasize the ecological aspect of long-distance bus travel. In the following months and years, FlixBus continued to grow due to the development of new international markets and the acquisition of numerous competitors around Europe. Going into 2018, FlixBus not only announced its intention to open new stops in Europe, but also its plan for its first overseas expansion to the USA.
According to FlixBus, the new competition amongst American long-distance bus companies is going quite well. In addition to megabus, the industry is primarily dominated by the well-established Greyhound Bus Lines, which has been offering bus routes all over the country since the early 20th century. The long-distance bus giant welcomed around 18 million passengers in the past financial year. While this number seems considerable at first glance, it appears comparatively small in relation to America's 323 million inhabitants. This is because long-distance traffic in the US has been so largely dominated by domestic flights, and above all else, travel by car.
Nonetheless, FlixBus is confident in its assertion that now is the right time to join the American market. "Significant changes are currently taking place in the US mobility market – public transportation and sustainable travel are becoming increasingly important. FlixBus wants to be a part of this change and welcomes American passengers to a low-cost and environmentally friendly mobility alternative," explains André Schwämmlein, founder and managing director of FlixBus. FlixBus is also looking to modern and innovative start-ups, such as Lyft and Uber, which were able to conquer the US market at lightning speed. This illustrates that Americans are definitely open to new mobility alternatives.
While FlixBus is a leading provider in many European countries, such as Germany and France, the operator will have to face strong competition in the United States. FlixBus hopes to rank above its competitors in terms of service with clean and comfortable buses and modern conveniences, like free Wi-Fi. These are expected to boost the American bus market.
FlixBus does not require more investor funds for its US expansion and the idea of a potential IPO has been rejected by the company. The provider wants to use the stability of the European market as the basis for its first overseas venture. To avoid being restricted to its core business, FlixBus has already announced plans to open new lines to Scandinavia next year as well as around 180 new destinations throughout Germany, Austria and Switzerland. These will not only include more stops in frequented cities, but completely new destinations in rural areas. Previous gaps in the German route network are to be filled in 2018.
Share this post: