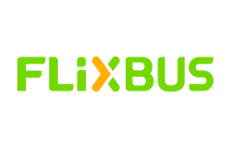 After its first month in the United States, German bus operator FlixBus is already making ground on the market. The company has added over 200 more routes throughout the Southwest this month, connecting cities in northern California, like San Francisco and Sacramento as well as Reno, Nevada. FlixBus has also added more stations in cities already in its network, such as Universal City and Commerce in Los Angeles, allowing further accessibility.
FlixBus Expands its Network with Attractive Promotional Prices

The company's signature green fleet hit the road on May 31, with its first phase of routes in southern California, Nevada and Arizona. Tickets for these initial routes were sold with cheap promotional prices which gave the company a head start against its competitors. The CheckMyBus Market Monitor found that between May and June, FlixBus's ticket prices were 67% cheaper than other companies for the Los Angeles to Las Vegas route, the region's most frequented connection. Competitors, like Greyhound and megabus reacted by lowering their own ticket prices, resulting in an overall price drop of 21% in June for the route.
FlixBus is continuing its competitive pricing scheme with its new bus connections thanks to extremely cheap promotional ticket pricing. For example, for the connection between Reno and Los Angeles, FlixBus is offering $14.99 tickets compared to Greyhound's $64.00 for the route. Other connections, like between San Francisco and the state capital, Sacramento, are much more competitive, with megabus and FlixBus both offering tickets at $4.99 and Greyhound not far behind with $9.00 tickets.
Price Comparisons Between FlixBus and Competitors for New Routes

Connection
FlixBus
megabus
Greyhound
San Francisco – Sacramento
$4.99
$4.99
$9.00
Reno – Los Angeles
$14.99
–
$64.00
Oakland – Fresno
$9.99
–
$22.00
San José – Burbank
$14.98
$14.99
$25.00
Modesto – Los Angeles
$9.99
–
$24.00
Ticket prices checked on July 19 for connections on August 25
FlixBus Aims for a Greener Future
The company prides itself on its eco-friendly policies, such as offering the option to buy "CO2 Compensation" tickets to make voluntary contributions to the National Forest Foundation based on the distance of the trip. With this vision in mind, FlixBus's ultimate goal in the US market is not only to compete with other bus providers, but to completely change the transportation framework in the country to one where the bus is the preferred mode of travel.
FlixBus isn't the only company with its carbon footprint in mind, however. The megabus Green Driver Incentive Program encourages drivers to be more fuel efficient by awarding them green points based on the buses' GreenRoad 360 system which measures fuel efficiency by evaluating driving style, speed, braking, acceleration and lane-handling. These green points are then converted to financial benefits, with the aim of training a new generation of eco-conscious drivers as a step towards greener travel.
The Newest Bus Connections Offered by FlixBus
As FlixBus Continues to expand its bus network and create more competition on routes which were previously unchallenged by local competitors, passengers in the region will be able to look forward to cheaper tickets and better accessibility. Some of the most recent routes from FlixBus are listed below.
City
Available Connections
Bakersfield
Burbank, Fremont, Fresno, Gilroy, Los Angeles, Millbrae,
Modesto, Oakland, Palm Springs, Phoenix, Reno, Sacramento, Salinas, San Diego, San Francisco, San José, Tempe,
Tucson
Fremont
Burbank, Kettleman City, Las Vegas, Los Angeles, San Diego
Fresno
Bakersfield, Burbank, Los Angeles, Modesto, Oakland, Palm Springs, Phoenix, Reno, Sacramento, San Diego, San Francisco, San José, Tempe, Tucson
Gilroy
Bakersfield, Burbank, Fresno, Kettleman City, Las Vegas, Los Angeles, Millbrae, Oakland, Palm Springs, Phoenix, Sacramento, Salinas, San Diego, San Francisco, San José, Tempe, Tucson
Kettleman City
Burbank, Fremont, Gilroy, Henderson, Las Vegas, Los Angeles,
Millbrae, Oakland, Palm Springs, Phoenix, Reno, Sacramento, Salinas, San Diego, San Francisco, San José, Tempe, Tucson
Millbrae
Bakersfield, Burbank, Fresno, Gilroy, Kettleman City, Las Vegas, Los Angeles, Palm Springs, Phoenix, Sacramento, Salinas, San José, Tempe, Tucson
Modesto
Bakersfield, Burbank, Fresno, Kettleman City, Los Angeles,
Oakland, Palm Springs, Phoenix, Reno, Sacramento, San Diego, San Francisco, Tempe, Tucson
Oakland
Bakersfield, Burbank, Fresno, Gilroy, Henderson, Kettleman City, Las Vegas, Los Angeles, Modesto, Palm Springs, Phoenix, Reno, Sacramento, Salinas, San Diego, San José, Tempe, Tucson
Reno
Bakersfield, Burbank, Fresno, Kettleman City, Los Angeles, Modesto, Oakland, Palm Springs, Phoenix, Sacramento, Salinas, San José, Tempe, Tucson
Sacramento
Bakersfield, Burbank, Fresno, Gilroy, Kettleman City, Las Vegas, Los Angeles, Milibrae, Modesto, Oakland, Palm Springs, Phoenix, Reno, Salinas, San Diego, San Francisco, San José, Tempe, Tucson
San Francisco
Bakersfield, Burbank, Fresno, Gilroy, Henderson, Kettleman City, Las Vegas, Los Angeles, Modesto, Palm Springs, Phoenix, Sacramento, Salinas, San Diego, San José, Tempe, Tucson
San José
Bakersfield, Burbank, Fresno, Gilroy, Kettleman City, Las Vegas, Los Angeles, Millbrae, Oakland, Palm Springs, Phoenix, Reno, Sacramento, Salinas, San Diego, San Francisco, Tempe, Tucson
Share this post: