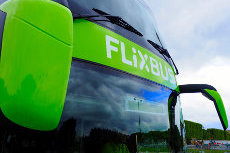 As FlixBus celebrates its fifth anniversary, the company has enjoyed over 100 million passengers, spanning multiple demographics across Europe. With 250,000 daily connections to 1,400 destinations in 26 countries, FlixBus has experienced enormous success as the market leader of continental Europe, and is looking to expand to the United States this year. Despite the fierce competition from American market leader Greyhound and megabus, Flixbus is confident it will successfully enter the market while changing the country's perception of intercity buses. The company is also looking to further its innovative reputation by constantly expanding its services and is now introducing the possibility to reserve seats.
Flixbus Prepares for the American Market
Following Lidl in a trend of German companies competing against domestic markets in the United States, FlixBus is confident about its prospects. In 2016, approximately 62 million bus trips were booked in the United States, which is a rise of 23 perecent since 2010. This shift is likely a result of fluctuating fuel prices, the influx of cheap tickets from megabus, and Greyhound's efforts to modernize its services, including its website and app. Booking a bus ticket is becoming easier than ever before and is often a much cheaper alternative to driving. Still, American buses have long suffered an unflattering public image amidst a market place so dominated by private vehicles. FlixBus founder, André Schwämmlein, is hoping his company can change this image with innovation, affordability and convenience.
New service: FlixBus Introduces Seat Reservations
As part of a test phase, FlixBus has recently been offering the option for people to reserve their desired seat as an additional, chargeable service. Of course, certain seats will cost more than others, particularly top seats on double decker buses that offer panoramic views will cost passengers more than a standard seat. Seats with tables will also incur additional costs. The fee-based seat reservation is currently not compulsory, and if you do not want to secure a particular seat, there's always the option of selecting a seat from the free seat area. FlixBus is also continuing its commitment to having a seat for every passenger, ensuring that no one will have to stand for the duration of their trip.
FlixBus currently offers the extra service on national and international connections in Germany, Austria, France and some Eastern European countries. At the moment, only passengers who book their ticket through the website or in one of the FlixBus agencies can reserve their seat. In the app, the service is not yet available and even when making spontaneous ticket purchases from the bus driver, you cannot insist on a desired seat. The test phase is scheduled for completion in the spring so that the seat reservation is available on every connection in time for the peak holiday season.


Share this post: