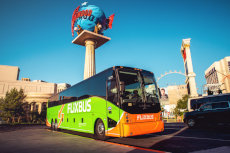 After FlixBus launched its first US routes in May 2018, media coverage in the United States was strong. The American press was optimistic about FlixBus bringing "European travel comfort" across the Atlantic. There, the bus is still regarded as a cheaper and often less than ideal mode of transportation, where passengers have to make significant sacrifices in terms of comfort. The US travel magazine AFAR even goes as far as claiming that the bus was no longer in the US, since stunt legend Evil Knievel jumped on a motorcycle over 14 of them in 1975.
Many experts also emphasize that FlixBus – regarding travel experience – is less comparable with Greyhound and megabus than it is with private taxi services like Uber and Lyft. However there seems to be a clear counter-trend: more and more American long-distance bus providers are banking on luxury equipment and exceptional services.
Limo Liner: Travel with a Glass of Wine
The remote bus provider Limo Liner takes passengers daily from New York City to Boston and relies on the highest professional standards. Apart from the basic equipment, which consists of enough sockets and free Wi-Fi, travelers can look forward to hot towels, thick flowing blankets and fluffy pillows. Meanwhile, a steward ensures that drinks and snacks do not have to be picked up by the driver. Instead, they are brought to your own seat quite comfortably. If you go to Boston or New York in the evenings, you even get a glass of wine for free.
Cabin: The Ritz Carlton on Wheels
Cabin offers overnight routes from Los Angeles to San Francisco, where passengers are accommodated in small capsules. Each has a comfortable bed, soundproof walls, USB ports and individually controlled air conditioning. If you want to work or socialize with other passengers before you sleep, you can use the convenient on-board lounge. Even passengers with difficulty sleeping should be able to enjoy the night on the long-distance bus. On board, there is free water, mixed with the hormone melatonin, available to naturally regulate the human day-and-night rhythm.
FlixBus: Virtual Reality on the Long-distance Bus
Considering this competition, the European market leader FlixBus does not rely on features such as Wi-Fi or USB ports as its primary selling point. Instead, the sing-long-haul service provider in Arizona, Nevada and California emphasizes its quality entertainment options. For example, in a three-month test run, passengers can rent VR glasses that allow them to play a virtual basketball game or experience gravitational waves while driving. There is a total of 50 different games available. The glasses are currently withheld from passengers on the panoramic seats of double-decker buses. If the customer reception is positive, FlixBus can imagine expanding the service – and perhaps bring it to Europe as well.
Incidentally, FlixBus already has a major advantage over luxury buses like Limo Liner and Cabin; while the high level of comfort these companies offer come at fares often more expensive than train tickets, with prices from $79. FlixBus on the other hand offers comparable features for prices comparable with Greyhound. Both bus companies offer tickets from around $5.
Share this post: