The spread of coronavirus in the United States has forced the government to take extraordinary measures to contain it. CheckMyBus is following the situation closely to update its users on what's going on, and the consequences for bus transportation.
+++ Important Information about Transportation Services +++
Due to rapid changes in the situation, various administrations and businesses are producing frequent service updates, timetables and ticketing information. We strongly recommend you to only travel if it's essential and to check the status of your trip in advance.
We suggest passengers to contact the operating companies directly regarding rescheduling tickets, cancellations and refunds.
The American government has been working to charter commercial flights to several countries to help bring back Americans abroad. However, the government is advising people to quickly seek commercial flights home if possible. The US government cannot guarantee that it can bring back all Americans abroad, particularly those in difficult to reach locations. Those unable to find commercial flights back home are advised to register with the State Department's Smart Traveler Enrollment Program, called STEP. For further support, we always recommend keeping up to date with travel advisories and contacting the nearest American embassy.
Many transportation companies are offering reduced services as well as more relaxed cancellation and rebooking policies. FlixBus is suspending its routes in the United States until further notice. Greyhound is reducing the number of routes and closing its stations, instead treating them as bus stops. Other companies, such as megabus are taking extra precautions. Some of these include lowering the capacity of passengers on their buses to decrease the risk of infection, and stocking up on disinfectant wipes.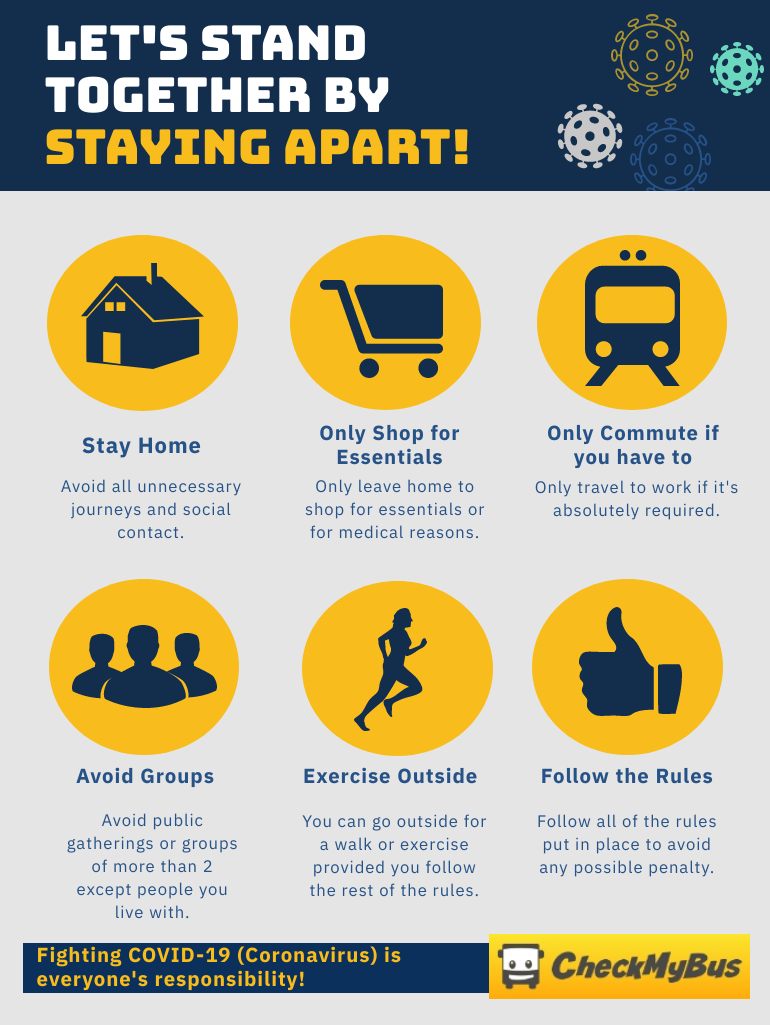 +++ Updates +++
Updated June 26, 2020
US saw its biggest single-day jump in coronavirus cases on Thursday, with 39,972 new infections and 2,425 deaths reported, according to Johns Hopkins University.
Nevada reports highest daily jump of 507 in new cases since pandemic began.
Disneyland employee unions to protest against reopening of the Southern California theme park.
Trump administration asks Supreme Court to invalidate Obamacare.
Japan and Vietnam are taking the first step to resume business air travel with each other, after months of closed borders and halted travel.
40% of residents in coronavirus 'ground zero' ski resort of Tyrol, Austria have developed Covid-19 antibodies.
Updated June 24, 2020
Several US states such as California, Florida, Arizona are reporting thousands of new coronavirus cases each day.
Latin America and the Caribbean have surpassed 100,000 deaths from coronavirus.
Australia has seen its first coronavirus-related death in more than a month, sparking fears of a second wave of infections.
Mexico has now reported nearly 200,000 coronavirus cases.
Paris women's fashion week is to go ahead in September between 28 September and 6 October.
Updated June 22, 2020
37 US service members in Guam tested positive for Covid-19.
Across the American South, officials are raising alarm about an increased number of younger people testing positive for Covid-19.
Latin American coronavirus cases surpass 2 million.
Dubai, one of the world's leading tourist destinations and air hubs will reopen to visitors from 7 July but with strict new rules.
Russia has reported 7,600 new coronavirus cases, pushing its nationwide total to 592,280 – the world's third largest tally.
Fiji plans to create a post-coronavirus travel bubble with New Zealand and Australia.
Updated June 19, 2020
According to Johns Hopkins University, the US recorded at least 2,189,056 cases of coronavirus and 118,421 deaths.
New York City phase 2 of COVID-19 reopening is slated for next week.
Californians will be required to wear face coverings in indoor public places. Oregon announced a similar mandate for seven counties beginning June 24.
Indian officials have reimposed a lockdown in the southern city of Chennai and three neighbouring districts.
Indonesia reported 1,041 new coronavirus infections on Friday, taking its total number of cases to 43,803. So far, 366,581 people have been tested.
A study by Italy's Higher Health Institute shows traces of coronavirus have been found in samples taken from sewage water in Milan and Turin in December.
Updated June 17, 2020
Nevada is "not ready" to enter the next phase of reopening due to a rise in coronavirus infections and hospitalizations.
Mexico and the United States have agreed to extend border restrictions through July 21. The US-Canada border will also remain closed to most travel until July 21.
A South Dakota company expects to start human trials next month for a Covid-19 antibody treatment derived from the plasma of cows.
Beijing has cancelled 70% of commercial flights as part of an efforts to contain a new outbreak that's infected more than 130 people in the past five days.
Taiwan is to cautiously ease some border controls to allow in business travellers from countries it deems low-risk.
HSBC is to restart the process of cutting 35,000 jobs worldwide after putting it on hold because of coronavirus.
Norwegian Air is to operate 76 European routes from its Scandinavian hubs from July.
Updated June 15, 2020
According to Johns Hopkins University, the US recorded at least 2,094,069 cases of coronavirus and 115,732 related deaths.
Dr. Fauci says normalcy may not return until next year following US Covid-19 case spikes.
According to Dr. Anthony Fauci, US ban on travel from Britain will last months. US bans on travellers from the European Union, Brazil, China and Iran may also last for months more, based on the rate of infection.
Beijing reintroduces strict lockdown measures and rolls out mass testing after a fresh cluster of coronavirus cases emerged from the city's largest wholesale food market.
Brazil reports more than 17,000 new coronavirus cases.
Lockdown exposed the scale of the commercial baby business in Ukraine.
Updated June 10, 2020
Arizona is asking its hospitals to activate emergency plans due to Covid-19. Arizona is one of the 19 states with the trend of new coronavirus cases still increasing.
Las Vegas reopened after two months of shutdown with hotels and attractions far busier than expected. According to field reports few visitors were not adhering to public health guidelines.
At least 28 states are not following US Centers for Disease Control and Prevention guidelines on reporting new Covid-19 cases.
An investigation of a major coronavirus outbreak aboard the USS Theodore Roosevelt aircraft carrier may reveal clues as to how Covid-19 affects younger adults.
According to Delhi's Disaster Management Authority, the Indian capital New Delhi could have 550,000 cases of Covid-19 by July 31, if the situation continues unabated.
Taiwan's Central Epidemic Command Center (CECC) has announced that no new cases of Covid-19 have been confirmed in Taiwan today for the 59th consecutive day.
Updated June 9, 2020
Canada reopened its border with the U.S. to allow in immediate family members of Canadian citizens and permanent residents.
The U.S. economy officially entered a recession in February, the National Bureau of Economic Research announced today.
Updated June 8, 2020
According to Johns Hopkins University, the US recorded at least 1,942,363 cases of coronavirus and 110,514 related deaths.
The CDC is closely monitoring the demonstrations across America. CDC director said protestors should be evaluated and tested for the virus. Furthermore, he addressed the use of tear gas and similar agents on protestors can cause people to cough which spreads respiratory viruses.
With no new active Covid-19 cases, New Zealand is lifting almost all its coronavirus restrictions tomorrow.
According to the Tokyo governor, the fate of the Olympic Games in 2021 remains uncertain. It depends on Japan's handling of the coronavirus.
India reopens restaurants, shopping centres and religious places even as the number of coronavirus cases and deaths in the country grows.
Updated June 5, 2020
Novavax, Inc., a Maryland-based biotech company, has landed a major US Department of Defense contract to make its coronavirus vaccine candidate.
NBA scheduled to restart season on July 31 in AstraZeneca signed a deal with Vaccine Alliance Gavi & CEPI that it will make 300 million doses of Covid-19 vaccine candidate from Oxford University scientists by the end of 2020. Bill and Melinda Gates Foundation, along with WHO's Access to Covid-19 Tools Accelerator, will ensure that the vaccine is fairly distributed across the world.
UK Pharma, AstraZeneca made licensing deal with India's Serum Institute to make 1 billion doses of the vaccine available in India, as well as developing countries.
Experts fear Yemen could suffer one of the world's worst coronavirus outbreaks.
Updated June 4, 2020
Emergency room visits for non-Covid cases dropped 42% during the pandemic. The US CDC warns that some people may be putting off emergency care for serious health conditions. Fewer visits for critical conditions could result in complications or even death.
Restaurants in 7 regions across New York can reopen outdoor seating on June 4th.
Boris Johnson to host the Global Vaccine Summit today in London. The summit aims to raise funds to immunise 300 million children against disease in the poorest countries.
Indonesian carrier, Lion Air has announced that all domestic flights are again suspended as of June 5th due to widespread issues with passengers not observing Covid-19 related regulations.
Etihad Airways has announced it will resume carrying transit passengers from 20 cities in Europe, Asia and Australia on June 10th.
Updated June 2, 2020
According to Johns Hopkins University, US has recorded at least 1,811,172 cases of coronavirus and 105,167 related deaths.
Washington, DC, reported a spike in cases, pushing back the its timetable for moving to the second phase of reopening.
Pregnant woman and inmate die from coronavirus in Los Angeles. They are the first known coronavirus-related deaths of each kind in the county.
Singapore, which has been dealing with an outbreak of coronavirus infections among its migrant workers, is building new dormitories with improved standards.
Hong Kong will extend restrictions on foreign visitors by another three months and an eight-person limit on group gatherings by two weeks.
Formula One to start 2020 season with back-to-back races in Austria in July.
Updated May 29, 2020
According to Johns Hopkins University, US has recorded at least 1,721,926 cases of coronavirus and 101,621 relates deaths.
California reported its biggest one-day jump, with 2,617 new cases.
Brazil has the second-highest number of cases globally. Some experts say the toll could quintuple by
French carmaker, Renault slashes 14,600 jobs in order to survive the Corona pandemic.
Updated May 27, 2020
According to CDC, more than 62,000 US health care professionals have had Covid-19.
In new guidance, CDC says antibody tests used to determine if people have been infected in the past with Covid-19 might be wrong up to half the time.
Google plans to reopen some offices in July.
Singapore reports 533 new cases.
Almost 260 cases in South Korea have been linked to the nightclub cluster.
According to WHO, The Americas have emerged as the new epicentre of the coronavirus.
Peru reports more than 5,000 new coronavirus cases.
The port city Kitakyushu, Japan has reported more than a dozen new cases, after going 23 days without any new infections. The mayor warns of a second wave of infection.
Updated May 25, 2020
According to Johns Hopkins University, more than 20,000 new coronavirus cases were reported in the US on Sunday, with another 633 deaths.
The US has placed travel restrictions on Brazil by suspending entry for anyone who has been to Brazil in the previous 14 days.
Corona cases spike in Washington DC, according to data from DC Department of Health.
Japan ends coronavirus state of emergency as it lifts restrictions in last areas including Tokyo.
Rapid Covid-19 saliva test to be available in Europe mid-June.
Updated May 20, 2020
The border between US-Canada will remain closed to nonessential traffic until June 21.
As of today, every US state will soon be partially reopened. The CDC released detailed guidelines for reopening, which uses a three-phase approach.
New York to allow Memorial Day ceremonies with 10 people or less. Vehicle parades will be allowed. The governor said local governments can decide if they want these ceremonies to occur.
Aircraft engine maker Rolls-Royce is cutting at least 9,000 jobs because of the collapse in demand for air travel caused by the coronavirus pandemic.
The Japanese government will likely decide whether to lift the state of emergency in eight remaining prefectures by closely analyzing infection data in Tokyo and Osaka.
Updated May 18, 2020
The United States has recorded 1,486,742 cases of coronavirus, according to Johns Hopkins University and at least 89,564 related deaths.
Amtrak and Greyhound say they will deny boarding to passengers who refuse to wear a mask.
North Dakota announces guidelines for reopening large venues.
State parks in Kentucky will be allowed to reopen on June 1.
TSA (Transport Security Administration) is working on a plan to check temperatures at some American airports.
WHO meets today: More than 100 countries have proposed a draft resolution calling for an independent "evaluation" into the coronavirus pandemic.
Total lockdown imposed in the Chilean capital, Santiago.
Singapore confirmed 305 new coronavirus cases as of 12 p.m. local time today.
The Acropolis in Athens reopened for visitors today after temporarily closing due to the coronavirus outbreak.
Updated May 15, 2020
US House to vote on $3 trillion aid package and historic rules change to allow remote voting
The United States has recorded at least 1,417,889 cases of coronavirus and 85,906 related deaths, according to Johns Hopkins University.
Updated May 13, 2020
New Orleans will start reopening in a very "slow manner" on Saturday. Phase 1 will start at 6 a.m. on Saturday.
Los Angeles County officials said a stay-at-home order will stay in place for months as restrictions are slowly lifted.
New Zealand records no new cases again as Ardern prepares to lift many lockdown restrictions
Hong Kong officials confirmed that two new locally transmitted coronavirus cases have been recorded in the city, for the first time in 22 days.
TUI Group — One of the world's largest tourism businesses warns it may cut 8,000 jobs worldwide to reduce its admin cost by 30%.
The border between Austria and Germany will start to gradually reopen from Friday with the aim of opening it completely by 15 June.
Germany hopes for unrestricted European Union travel in mid-June
Austria does not plan to open its border with Italy for now.
The European Commission has set out guidance for EU countries to resume travel and tourism from this summer onwards. They say their advice aims to give "people confidence to travel again".
Updated May 12, 2020
Russia struggles to contain outbreak of COVID-19 with more confirmed cases than anywhere outside the USA according to Johns Hopkins University figures.
Brussels Airlines announced it will cut its workforce by 25%.
The French government intends to maintain emergency measures, which have been extended through 10 July. This comes after lockdowns were already eased in parts of France.
Updated May 11, 2020
The coronavirus has now infected more than 4 million people and killed more than 227,000 worldwide. In the US  at least 1.3 million people have tested positive and 78,000 have died.
The US marks a record 20.5 million jobs lost in April. 
Vice President Mike Pence's press secretary, Katie Miller, as well as one of Trump's personal aides, and Ivanka Trump's (remote) personal assistant have tested positive for coronavirus . Some members of the White House staff and coronavirus task force such as Dr. Anthony Fauci will self-quarantine for 14 days. Mike Pence is not planning to enter self-quarantine.
This Monday, it is expected that 47 states will be partially opened again after some measures have been eased.
In some good news, health care workers at New York City's Elmhurst Hospital will receive free vacations courtesy of American Airlines and Hyatt Hotels.
In Spain, starting this Monday, more than 50% of the country will advance to Phase 1 in the "de-escalation process" after more measures have been eased. Madrid and Barcelona will not advance to this new de-escalation phase.
Updated May 8, 2020
In the United States, more than 1.25 million cases and over 75,000 COVID-19 related deaths have been recorded.
According to a new estimate, the fatality rate from the novel coronavirus puts it at 1.3%, which would mean that it is deadlier than the seasonal flu, which typically has a 0.1% fatality rate.
Over 3.8 million cases of COVID-19 have been recorded globally, with nearly 270,000 deaths according to data from Johns Hopkins University.
Australian Prime Minister Scott Morrison revealed a three-step plan to reopen the country and aims to have the process completed by July.
Updated May 7, 2020
According to a White House official, the White House coronavirus task force will slowly wind down later in the month. However, new models show the US could see 3,000 people die of the virus each day which would double the nation's deathtoll to 134,000 by August 4.
More than half the country's states have started to reopen. However, many have not met White House guidelines on when to do this. These may need to shut down again.
In the UK, the death toll exceeds 30,000, and remains the highest in Europe. However, the government plans to gradually ease restrictions.
Brazil sees spike in cases with at least 10,503 new cases of coronavirus and 615 new deaths.
The number of coronavirus patients in intensive care goes in steady decline in France.
In Russia, the city of Moscow will relieve some restrictions next week.
Updated May 6, 2020
Governors across the country are slowly letting residents in their states return to normalcy after weeks of shutdowns. As the nation's death toll continues to rise, public health experts warn that relaxing restrictions could cost thousands of lives.
In Russia, the new coronavirus cases rose by 10,559 over the past day according to the country's crisis response center.
In Spain, the prime minister aims to secure enough parliamentary votes today to extend the country's state of emergency for another two weeks.
Tokyo reported 38 cases on Wednesday, marking a fifth straight day of declining numbers from Japan's capital city.
Australia aims to have its economy up and running and protected against COVID-19 by July according to Prime Minister Scott Morrison.
Yesterday, both South Korea and mainland China recorded no new local transmissions.
Updated May 5, 2020
The United States has recorded over 1.1 million cases and at least 68,000 deaths.
According to the Texas Department of Criminal Justice, Texas has reported 1,275 inmates tested positive for COVID-19.
Nike donated 30,000 pairs of shoes, specifically designed for healthcare workers, to hospitals across the United States.
Pakistan and India have reported their biggest single day jumps in cases. Officials in India reported 3,900 new cases in just 24 hours.
In Europe, millions of people are gradually returning to some semblance of life pre-coronavirus as countries across the continent begin to slowly reopen shops and businesses.
Updated May 4, 2020
More than 3.5 million people have been infected with coronavirus worldwide and there are almost 247,000 deaths reported. In the US there are 1.1 million people infected and close to 69,000 deaths registered.
More US airlines will require their passengers to wear face masks. After JetBlue, United Airlines and American Airlines now Delta and Frontier followed suit.
German airline Lufthansa plans to reduce its fleet by around 100 aircraft, leaving the airline with 10,000 excess staff.
The US Food and Drug Administration announced that the experimental drug remdesivir has been approved to treat hospitalized patients with severe Covid-19.
In Italy, the airport operators' association Assaeroporti has said that social distancing on airplanes "is not sustainable" and would "penalize Italy and aggravate the crisis."
France will extend the state of emergency over coronavirus for around two months until July 24th. 
In Spain, adults are now allowed to go out for exercise for the first time in seven weeks. From Monday on, some businesses will start to reopen as the country starts easing the restrictions.
Updated April 30, 2020
California's Governor Gavin Newsom said that the post quarantine school year could be quite different. Changes can include staggering start times, modified recess times and no cafeteria for lunch.
Global Energy has suffered a major blow by the pandemic, with drastically diminished demand throughout all of India, a country of 1.3 billion people and the world's third largest consumer.
In India, nationwide restrictions are set to ease on May 3. The country is preparing by setting up border checkpoints, arranging transportation to bring home stranded workers and creating new non-lockdown guidelines.
In China, destinations like Beijing's Forbidden City are set to open tomorrow for the first time in three months, but new restrictions will put a cap on daily visitors.
Updated April 29, 2020
In the US, health officials from FEMA and HHS have informed lawmakers that states continue to face shortages of personal protective equipment as well as coronavirus testing supplies.
In California, Governor Gavin Newsom revealed that the state aims to reopen schools and some workplaces within the next few weeks. However, he said this will only happen if testing and tracing is improved.
In Australia, a mining magnate secured a deal on behalf of the country's government for 10 million coronavirus tests as well as pathology equipment. This will be a 20-fold increase in Australia's testing capability.
United Airlines and American Airlines will both provide masks to passengers in early May. This is following an announcement from Jet Blue requiring passengers to wear a face covering from May 4.
Greece's tourism minister announced the country will allow travellers to visit over the summer, but social distancing rules will remain in place to keep people safe.
Updated April 28, 2020
In the United States, more than 56,000 people have died. This represents more than a quarter of all deaths worldwide.
According to the World Health Organization, there are concerns about increasing trends in Africa, Eastern Europe, Latin America and parts of Asia.
Pasi Penttinen of the European Centre for Disease Prevention and Control (ECDC) says that a coronavirus vaccine won't be ready until 2021 under the "most optimistic scenarios."
Yoshiro Mori, president of the Tokyo 2020 Olympics, said that if the pandemic is not over by next summer, the games will likely be cancelled.
In Australia, a coronavirus contact tracing app has been downloaded more than 2 million times since being launched on Sunday. COVIDSafe is a voluntary app that's designed to trace people who came into contact with someone with COVID-19.
Updated April 27, 2020
The coronavirus has now infected more than 3 million people worldwide and an over 200,000 deaths have been recorded.
The death toll in the US has reached more than 55,000, as confirmed cases are nearly one million.
Hawaii has seen a 98% decrease in travelers arriving at airports since the state's 14-day quarantine rule was put in place.
Italy will start lifting restrictions starting May 4th. These include the loosening of some travel restrictions as well as increased access to parks, gardens and museums. Starting next it will also allow some businesses such as factories and construction firms to reopen.
Spain is now allowing children under 14 years old to leave their homes for the first time in over six weeks since the lockdown started in the country.
Updated April 24, 2020
United Airlines became the first major US carrier to require all cabin crew to wear a face covering or mask onboard.
New York's Mayor De Blasio announced that the city's restrictions will be relaxed between the end of May and the beginning of school. The reopening process will be done in slow and careful stages.
The African continent registers a 43% jump in reported cases in the last week. The director of the Africa Centers for Disease Control and Prevention, John Nkengasong, stressed the continent has "very, very limited" and "very, very strained" testing capacity on Thursday.
Updated April 23, 2020
Pennsylvania's governor announced his plan to reopen the state in three phases, starting May 8. Similarly the governor of Oklahoma said that businesses in his state can start reopening this week. In Arkansas, the governor plans to issue an incremental plan to open over the next few weeks.
Seven additional big cats at New York's Bronx Zoo have tested positive for Covid-19, according to the Wildlife Conservation Society, the non-profit organization that runs the zoo.
The largest union in Las Vegas that represents casino workers condemn the mayor's call to open these businesses immediately.
Updated April 22, 2020
President Trump laid out his executive order barring new immigration. It only applies to those seeking green cards, will last 60 days and won't affect workers entering the country on a temporary basis.
Governor Jared Polis of Colorado announced the state doesn't need to extend its stay-at-home orders and is set to open next week. However, long-term social distancing measures will still be important.
In Oregon, Governor Kate Brown said that her state "cannot rely on the federal government to help" with testing. She later says the state received about 25% of the personal protective equipment requested.
Updated April 21, 2020
President Trump announced he will temporarily suspend all immigration to the US in response to the outbreak.
The US remains the epicenter of the outbreak with at least 786,00 cases and more than 42,000 related deaths.
The number of cases in New York is falling with fewer patients in hospitals. The state has extended its restrictions to May 15.
According to the UN Conference on Trade and Development, the global economy could lose as much as $2 trillion during the pandemic.
97% of Americans remain under stay-at-home orders, issued by all but seven states. Georgia's Governor Brian Kemp announced his plans to reopen certain businesses in the state as early as Friday. This new caught local officials and mayors in Georgia off guard.
Updated April 20, 2020
The global death toll from the coronavirus has now passed 160,000 people.
The "One World: Together at Home" concert took place on Saturday April 18th. International advocacy group Global Citizen, together with Lady Gaga, announced nearly $128 million in donations to supporting healthcare workers in the fight against the pandemic.
Protesters gathered in several US states Saturday April 18th to voice their opposition to stay-at-home orders issued to slow the spread of the novel coronavirus.
Experts say that testing for coronavirus in the US must increase by more than 3 times to be able to reopen the country.
Germany started to ease its lockdown restrictions, allowing some businesses and shops to reopen as of Monday April 20th. The state of Bavaria has made it compulsory to wear masks in all shops and on public transport.
Spain will extend 'state of alarm' for 15 more days. The planned extension calls for it to end on May 9. As of today the death toll in this country has climbed to more than 20,000.
Turkey has passed Iran for the highest number of confirmed Coronavirus cases in the Middle East with a total of 82,329 confirmed cases.
The death toll due to Coronavirus in the United Kingdom has climbed to more than 15,000.
Updated April 17, 2020
President Trump unveiled new guidelines aimed to help states loosen lockdown measures. The three-phase approach includes a sustained decrease in cases over a period of 14 days and a return to pre-crisis conditions in hospitals.
The United States has reported at least 671,425 cases and 33,286 deaths.
Cathay Pacific Airways lays off hundreds of cabin crew in the United States as demand plummets.
In Wuhan, the reporting on the death toll has been revised upwards by 50%. The new figures show 3,869 instead of the original 2,579.
In Germany, each COVID-19 patient is currently infecting fewer than one other person on average. However, Health Minister Jens Spahn says the country will not be "like it was before," and that the country's reopening will be a step-by-step process.
French President Emmanuel Macron calls for financial solidarity between EU member states. He says a fund should be set up to finance states according to their needs rather than the size of their economies.
Updated April 16, 2020
According to Harvard researchers, the US may need to endure social distancing until as late as 2022 unless a vaccine becomes available.
Dubai-based airline, Emirates began carrying out COVID-19 blood tests on passengers at the airport prior to flights.
Pollution levels across Europe have dropped since coronavirus lockdowns across the continent began according to the European Space Agency (ESA).
The Australian Prime Minister says that the country's coronavirus restrictions will stay in place for at least four more weeks.
In Japan, Prime Minister Shinzo Abe considers expanding the country's ongoing state of emergency, from just Tokyo and other urban areas, to the entire nation.
Updated April 15, 2020
US President Donald Trump will suspend funding for the World Health Organization on account of the company's coverage of the outbreak in China. The United Nations and American Medical Association both condemn this decision.
The number of new cases in the United States is more than 600,000. However, according to a surgery chairperson, more people are leaving New York hospitals than arriving.
The governor of Florida announced the state will receive one million N95 masks. In addition to this, the Florida's Emergency Management Department will also deliver 1.2 million procedure masks, 100,000 face shields, 500,000 gloves, 60,000 containers of hand sanitizer and 35,000 gowns.
Trump acknowledges that governors will have authority to open their states when prepared.
The city of San Francisco will cancel its 50th anniversary of Pride due to coronavirus.
In New Orleans, the mayor urges big festivals to postpone until 2021. This includes the French Quarter Festival, JazzFest and Essence Festival.
The city of Honolulu will require everyone to have their face covered in public businesses.
Despite the aviation industry's crisis, air charter firms have been busy providing shuttle services to help transport travellers home.
Both Italy and Spain will allow partial returns to work. However, the World Health Organisation warns the outbreak continues to grow in other parts of Europe, including the United Kingdom.
Updated April 14, 2020
According to a study from Johns Hopkins University, the number of global cases nears 2 million. There have been 120,000 deaths worldwide.
According to the director of the Center for Disease Control (CDC), the United States is reaching its peak with more than 582,000 cases.
New York Governor Andrew Cuomo said he's looking into a smart plan to reopen the state after the shutdown. He will coordinate this with surrounding states.
In Spain, nearly 300,000 nonessential workers returned to their jobs in the Madrid region on Monday.
The government of India extended its national lockdown until May 3.
The French economy is estimated to shrink by 8% this year according to the French finance minister.
Updated April 9, 2020
The number of coronavirus cases in the United States rose by more than 33,000 in just one day.
According to the US embassy, a special flight organized by the US government to repatriate American citizens from Russia left Moscow this morning.
China, in the process of loosening some of its restrictions, restored 40% of its flights, according to state-run news agency Xinhua.
Korean Air expects to suspend over 70% of its employees for six months.
The French government will extend the country's lockdown beyond the initial 15 April end date.
Meanwhile, the Czech Republic plans to relax some of its restrictions despite having more than 5,000 cases. Other countries in Europe are also planning for life after conronavirus.
Updated April 8, 2020
As global cases pass 1.4 million, nearly 400,000 of these are from the United States, which continues to have the most cases of any country in the world.
In a New York City pier, a navy hospital ship prepares to take in more critical patients overnight according to its medical commanding officer.
Japan entered a state of emergency on Tuesday as seven prefectures, including Tokyo, have seen the virus spreading. The declaration will last until May 6.
The United Kingdom tries to source 18,000 ventilator machines to help combat the crisis. Some will come from the USA despite criticism from US states that they don't have enough of their own to donate.
The Head of France's medical council advises the government to extend the country's lockdown period for several weeks.
The Chinese city of Wuhan, where COVID-19 was first identified, lifted its lockdown after two months of restrictions. The city celebrated this with an impressive display of lights.
Updated April 7, 2020
Miami Beach is requiring both workers and customers to wear face masks.
By the end of the week, the US will have 2 million tests done according to the Surgeon General.
The UK's Prime Minister Boris Johnson is in stable condition and good spirits.
El Salvador plans to extend its nation-wide quarantine, while the World Health Organization says Iran's new cases are 'flattening off.'
China has recorded no new deaths yesterday for the first time since January.
Vietnam donated 550,000 face masks to five countries in Europe to support their fight against COVID-19.
Updated April 6, 2020
There are at least 331,151 cases of coronavirus in the United States, according to Johns Hopkins University's. At least 9,441 people have died in the US from the disease.
The White House announced a new guidance from the US Centers for Disease Control and Prevention. From now on the use of "non-medical cloth based" face coverings is strongly recommended.
Travelers coming into Maine, regardless of their state of residency, must self-quarantine for 14 days to mitigate the spread of COVID-19.
Queen Elizabeth II addressed the coronavirus pandemic and offered reassurance in a rare televised speech on Sunday.
Italy recorded its lowest death rate in two weeks, the Italian Civil Protection Ministry said on Sunday.
British Prime Minister Boris Johnson was admitted to the hospital on Sunday night as a "precautionary step" given that he continues to have persistent symptoms of coronavirus.
The Spanish government has extended the nationwide "state of alarm" introduced on March 14 for a second time, until April 26.
Updated April 3, 2020
Delta Airlines will now offer passengers up to two years to rebook their flights.
New York State will be accepting unused medical equipment to give to hospitals in need. The state has at least 102,863 of the 245,646 cases in the United States.
Updated April 2, 2020
The US has reported more than 216,500 cases, and last week an estimated 6.6 million people filed for unemployment, the highest number of initial claims in history.
The number of global coronavirus cases is quickly approaching the 1 million mark, with a total of 47,000 deaths and 194,000 recoveries.
Other nations like Italy, Germany and Pakistan are extending their lockdowns.
Updated April 1, 2020
The United States now has more than 185,000 confirmed cases. This is about 20 percent of the world's total.
Chinese President Xi Jinping has said that it is still too early to lift all coronavirus restrictions in that region.
Updated March 31, 2020
The United States now has more than 160,000 cases, with more springing up in states throughout the country. After New York, New Jersey, California, Michigan and Massachusetts have the most cases.
Around the world, governments are adopting technologies, such as facial recognition or phone tracking. This will allow to trace infections and keep tabs on the population as lockdowns and quarantines are enforced.
Italy recorded 756 deaths over the past 24 hours, a slight drop in the country's daily toll.
Updated March 30, 2020
The United States has over 140,000 cases, and nearly 40% of are in New York State.
The White House is extending social distancing guidelines until April 30.
Residents from the states of New York, New Jersey and Connecticut have been advised not to travel domestically.
Florida will set up checkpoints for motorists entering the state. They will need to fill out a form with travel history and contact information.
Australia begins to tighten restrictions, not allowing group meetings of more than two people and closing playgrounds, outdoor gyms and skateparks.
Updated March 27, 2020
The United States now has the most confirmed cases of coronavirus in the world, overtaking China and Italy.
The US and Chinese governments are in talks to see how the two countries can work together to fight the virus.
While New York remains the epicenter in the USA, cases have been surging in other parts of the country, including Texas, Michigan and Louisiana.
Updated March 26, 2020
The number of US cases has reached more than 82,000.
The Senate has voted to pass a $2 trillion economic relief package, which will go to the House Friday.
The Japanese government has urged its residents to avoid all non-essential overseas travel.
Germany has decided to welcome Italian patients to its intensive care units.
Updated March 25, 2020
FlixBus has suspended its service in the United States until further notice. The company has announced that affected passegers are to receive a coupon without charging cancellation fees.
Jefferson Lines will update its cleaning procedures. It is closely monitoring the situation through the American Bus Association, Center for Disease Control, and the World Health Organization.
Greyhound will be cutting back its network and reducing its schedules. Greyhound Stations will be closed, but still serviced as bus stops. Services at select stations will be suspended.
Updated March 24, 2020
100 million Americans are now in lockdown as part of 1.5 billion around the world.
Southwest Airlines plans to cancel 1,500 daily flights starting on Friday. Competitors are taking similar measures to offset declines in travel.
The US Embassy in Lima, Peru is currently working with the Peruvian government to help organize flights back for stranded Americans.
China's Hubei province, where the outbreak first appeared, announced it would lift the region's travel restrictions, except for its capital, Wuhan.
In the United Kingdom, the Prime Minister mandated closing most retail stores and banned gatherings for three weeks in an effort to curb the spread of the virus.
The International Olympic Committee decided to postpone Tokyo's summer games to Summer 2021.
Updated March 23, 2020
According to the calculations of the Agence France-Presse (AFP), more than 1 billion people in over 50 countries around the world are staying home because of the pandemic.
Japan will begin to quarantine all travelers visiting from the United States.
The International Olympic Committee is currently deciding what to do for the Tokyo 2020 Olympics. The most probable outcome will be postponing the event.
Updated March 22, 2020
State governments ordered residents from California, Illinois, New York and New Jersey  to stay home. Ohio, Louisiana and Connecticut will join them Monday along with Delaware on Tuesday.
The President approved a disaster declaration for California to bring supplies, medical stations and naval hospital ships to the state. In New York and Washington state, similar declarations have already been issued.
Updated March 20, 2020
US officials prepare to announce a ban on all non-essential travel between the USA and Mexico.
California's governor announced state-wide shelter-in-place order for all California
residents to stay home.
New York has over 40% of coronavirus cases.
Treasury Secretary Steve Mnuchin moves deadline to file taxes from April 15 to July
15.
The US has reported more than 14,000 cases as of today.
Updated March 19, 2020
In the USA, the number of coronavirus cases has risen to more than 8,700, and the death toll rose to nearly 150.
Healthcare professionals estimate that the situation could potentially last as long as 12 or 18 months.
For the first time since the beginning of the outbreak, China reported no new domestic cases.
In Europe, E.U. Commissioner Thierry Breton appealed to the CEO of Netflix to limit HD-streaming to facilitate the many companies and businesses working from home.
Updated March 18, 2020
The United States and

Canada

are closing its border to all nonessential travel to limit the spread of

coronavirus

. Trade will not be affected. 
Updated March 17, 2020
The United states reported 3,349 cases of coronavirus this Sunday evening. By Monday, this number jumped to 4,466 and in total, 87 people had died. The Mayor of New York City announced he will limit all bars, restaurants and cafes to take out or delivery services. In addition to this, New York, New Jersey, Connecticut, Michigan and Wisconsin put a ban on gatherings of 50 or more people.
In Colorado, public health officials have ordered restaurants, bars, gyms, theaters and casinos to shut down for 30 days. Facilities can still sell food and beverages via drive-through or delivery services. Maryland, Kentucky, Louisiana and Indiana issued similar restrictions.
The federal government let out a set of guidelines for the next 15 days, suggesting people avoid groups larger than 10 and to avoid eating or drinking out.
Updated March 13, 2020
Going into today, travel restrictions into the United States will take effect.
Public gatherings and events which draw large crowds, such as the Boston Marathon will be postponed.
School districts and universities are also suspending classes. Sports leagues are also postponing seasons at major stadiums. Broadway and Disney World have announced a momentary halt in activities.
Updated March 12, 2020
After more than 1,000 confirmed cases in the USA and 33 deaths, the White House has announced that many foreign travelers from Europe will be banned from entering for the next 30 days.
The Bureau of Educational and Cultural Affairs (ECA) will be temporarily suspending its programs, including the Fulbright and International Visitor Leadership Programs.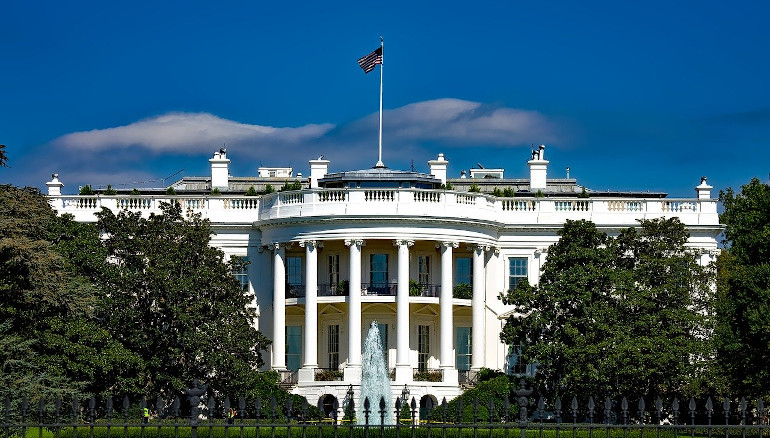 Updated March 10, 2020
The "red zone" has now been expanded to cover all of Italy.
Traveling is strictly prohibited unless there is no demonstrable pressing reason.
Bus companies will cancel their trips in Italy until the beginning of April. Travelers can get more information directly from the bus companies.
Flights and train connections to and from Italy will be canceled.
People can only travel through Austria with a medical certificate.
Updated March 9, 2020
Many bus providers are canceling bus connections to and from northern Italy while offering changes and cancellations free of charges.
In Italy, traveling is currently only possible under certain conditions (e.g. work or health related).
Due to the many controls by the police, delays are to be expected.
Updated March 8, 2020
The situation in Italy is coming to a head. This also has an impact on trips in the northern part of the country. Bus and train journeys to Veneto and Lombardy are still possible, but entry and exit is only allowed for urgent reasons, such as work-related travel.
The police are allowed to conduct random searches on the road and ask people about their reason for travel.
Updated March 4, 2020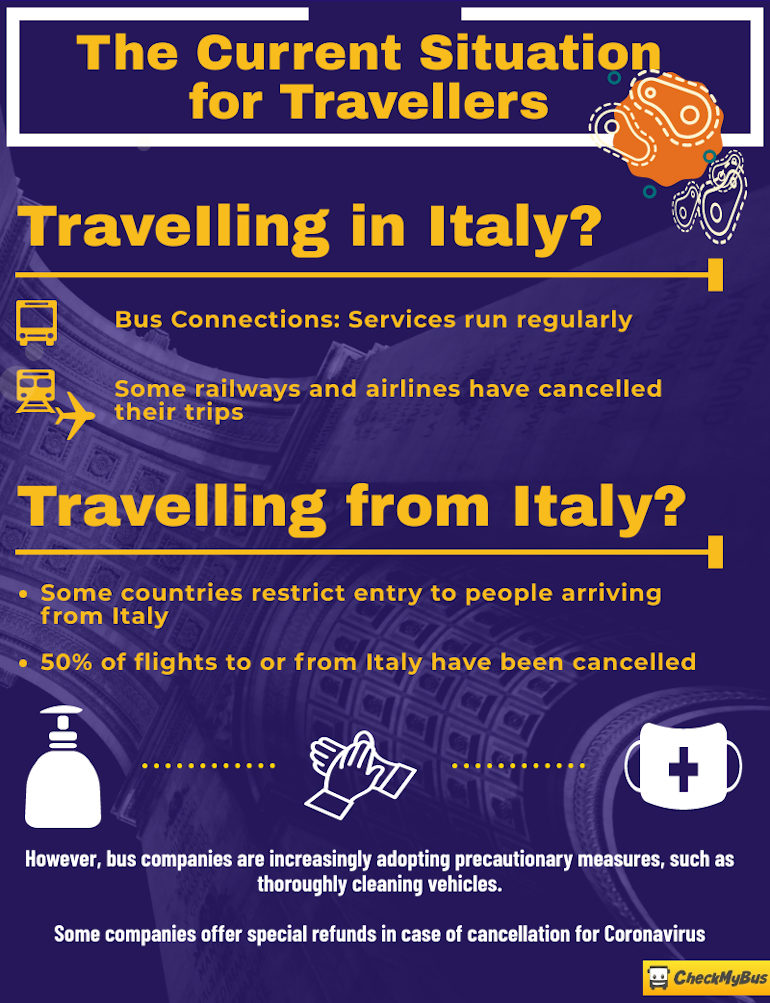 The Italian Ministry of Health plans to expand the regulations. What used to apply only to the north could soon apply to the whole of Italy.
Large events are being cancelled as fewer people will be allowed to enter public places. This is to avoid large groups and to help prevent the virus from spreading further.
Italy is currently examining the expansion of the "red zone."  The government could also include Bergamo in the near future.
Updated March 3, 2020
Ryanair to cancel around 25 percent of flights to Italy. Given the sharp drop in demand, some airlines are forced to cancel flights to Italy in March.
After the Czech Republic, Turkey is now also stopping air traffic to and from Italy.
Bus trips are still taking place. This applies to both local and international trips.
Updated March 2, 2020
The Czech long-distance bus operator RegioJet will stop connecting to and from Italy from March 9th to 15th. This affects the following routes:
Prague – Venice
Prague – Rome
Prague – Milan*
The company will operate the routes as planned until March 8th. How many trips will be available after March 15th largely depends on how the situation has developed up to that point.
Affected customers who have booked a ticket for one of the canceled connections can either rebook or start the trip earlier. Alternatively, travelers can cancel the trip free of charge. There is no cancellation fee for travel until March 31st.
*The route Prague – Milan will run on March 13, but the journey ends in Lucerne. On March 15, the route will also be shortened to the Zurich – Prague.
Updated February 28, 2020
Other travel companies, including numerous airlines, offer free rebooking for flights to Italy.
Basically, travelers do not get any money back in the event of health risks. The situation is different, however, if there is an official travel warning from the Federal Foreign Office or an entry ban. In this case, those affected will get their money back.
Updated February 26, 2020
Venice, Treviso and Verona are already suffering from the effects of the coronavirus.
Due to very low demand, many flights to Milan have already been canceled.
There are currently no restrictions or special arrangements for bus travel.
More and more bus companies are making breathing masks and disinfectants available on board.
Updated February 25, 2020
Many bus companies provide travelers with breathing masks with filters, disinfectants and disposable gloves. Cleaning staff is helping clean and disinfect the vehicles more frequently.
Some bus companies offer free cancellation of travel to affected areas before February 23.
Delays and Cancellations
As of now, many countries have canceled most international travel , if not strictly reduced. Governments have been working to bring their citizens home while urging travelers who need to return to do so as soon as possible.
Similarly, many airlines have also been drastically reducing their connections, making commercial flights more difficult to come by. For example, Southwest Airlines has cut more than 1,000 daily trips.
Due to the drastic decline in demand, many intercity bus companies have been reducing their services, and are operating only for essential travel. Passengers should check revised schedules to make sure the routes they need are still available.
We advise all travelers to arrive prepared, bringing something to eat and especially water with them. If your trip includes connections, we recommend that you pay particular attention and also look for alternative routes.
Travel abroad
Many countries around the world have imposed restrictions around their borders, as well as medical checks to help stop the outbreak. Several governments advise their residents to avoid all international travel.
+++ We advise travelers keep up to date on all relevant travel advisories +++
Posted on 2/24/2020
How should bus and train travelers behave?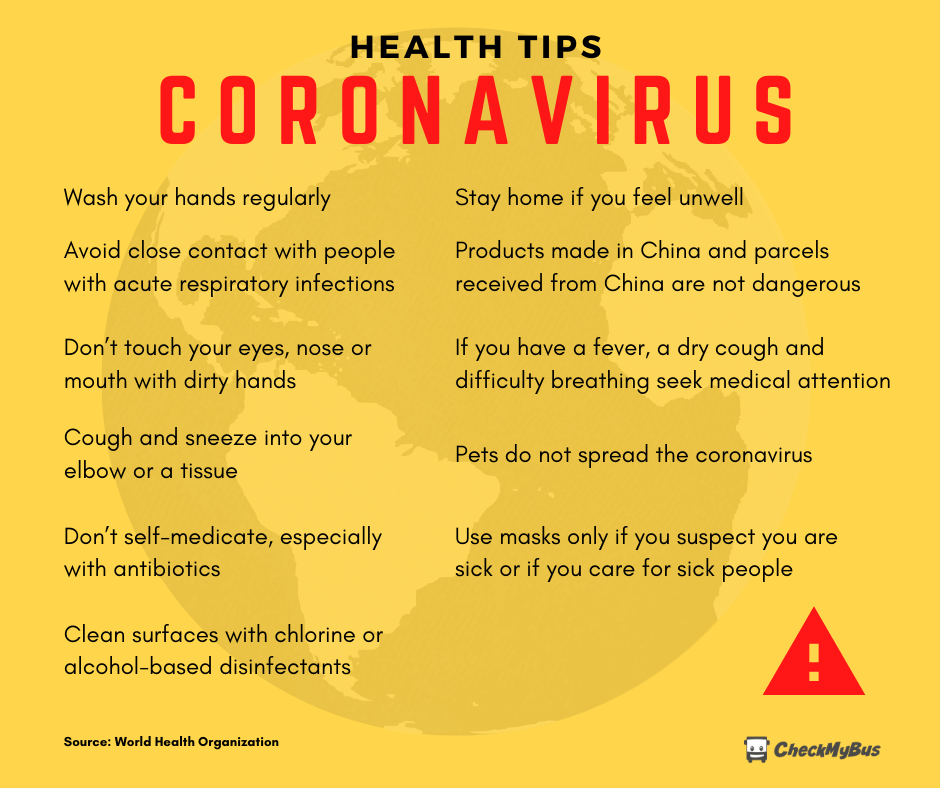 The World Health Organization has recommended basic hygiene measures. Wash your hands, avoid touching your mouth and eyes, cover your mouth when you sneeze and cough. People should also avoid contact with others presenting flu symptoms.
What should I do if I've already booked a trip?
We recommend postponing all journeys that are not strictly necessary. Many coach companies will provide hand sanitizer dispensers and disposable gloves.  Cleaning staff will clean and disinfect buses more frequently.
If you still want to cancel or postpone your trip, many companies already offer the possibility to modify or completely cancel the previously booked ticket. These rebooking and cancellation policies are typically more relaxed and don't require a cancellation fee.
You can find more information on how to cancel your ticket here: CheckMyBus FAQ
More information about the coronavirus
After the spread of the COVID-2019, governments around the world have implemented a series of drastic measures to contain its spread. These include closing schools and offices, suspending demonstrations and other events, and above all limiting free movement.
However, various transportation companies are still operating to serve customers with an essential need to travel. Companies, such as FlixBus have reduced their services, completely suspending them in many countries. Greyhound and megabus continue to run with reduced services.
Share this post: