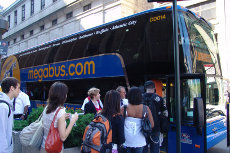 Travelers to and from the Windy City had to be patient in the last few weeks as megabus drivers in Chicago threatened to strike. The main reasons regarding calls for industrial action consisted in the lack of paid sick days and a general imbalance regarding wages. The United Workers of America, a union which represents about 140 megabus drivers operating in Chicago and its surroundings, reported that the bus drivers in question were paid $15 per hour and that their work contracts did not include paid sick leave. In comparison, bus drivers in the northeast earn between $17.85 and $21.50. Furthermore, they are granted four sick days per year by the company.
While the megabus US drivers in Chicago were going ahead in their preparation of a walk-out, the bus company was seeking an agreement with their employees and presented them with a formal proposal. A new contract had been worked out, which included a raise of salary and a fixed number of paid sick days. The three-year-contracts offered by megabus had to be voted on by members of the union and were finally accepted by a two-thirds-majority last week. The approval of the revised work contracts resulted in the aversion of a potential strike, meaning that Chicago's bus travelers could finally look forward to their cheap and convenient bus trips again.
The megabus drivers in Chicago are now looking at a pay raise of about 10 percent and eight sick days per year. Moreover, they were offered a ratification bonus of $250. Stephen Sombrotto, president of the United Workers of America, commented that the revised contracts narrow the gap between the wages of bus drivers in Chicago and those operating in other parts of the US. megabus spokesman, Sean Hughes, is also pleased with the consensual outcome of the disagreement and is looking forward to a swift implementation of the new contract policies.
Share this post: