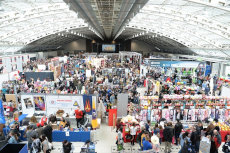 If you're a fan of anime, video games or comics or belong to any kind of fandom, what better way to spend the chilly winter months than to visit some comic and anime conventions! While the largest anime and comic conventions, such as San Diego Comic Con and Anime Boston take place in the warmer months of April and July, there are plenty of cons going on all around the country throughout the year. It's a great way to meet special guests, attend informative panels about your favorite series, book or video game, and meet other people who love the same things you do. Of course, it's the best opportunity to show off your cosplay game! Don't have a costume? That is perfectly ok, because seeing so many characters brought to life makes for a memorable experience as well!
Going to a Convention by Bus? Here are some Quick Tips!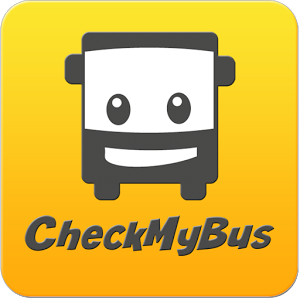 Taking a bus is generally a cheaper option than rail, and doesn't have the extra costs, such as gas prices and parking fees, that driving a car has. Spend less money on getting there, and more at the vendors and on your cosplay!
Consider whether it's a good idea to wear your costume on the bus. Is your cosplay bulky, glittery or possibly threatening to other passengers? Then it's probably best to wait until you arrive to get changed.
Have you bought any weapons or something that could be banned on the bus? Best to check with the regulations of the bus company you're traveling with. Usually, if it's stored in the right kind of container or packaging, it should be ok.
New York Winter Con
Where: New York, NY
When: December 1 -2, 2018
How much: Range of passes from $15.00 for a child Saturday Pass to $40.00 for an adult weekend pass or $100.00 for a V.I.P. Multi-pass and children under five enter for free!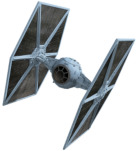 Special Guests: Sean Astin from Lord of the Rings, The Goonies and Stranger Things. Bray Wyatt and Asuka of WWE. Colin Cantwell, the mind behind the starships in Star Wars: A New Hope, and many others!
Celebrate this winter with a traditional con experience with cosplay contests, and vendors from all over with all sorts of wares related to your favorite media. Take in some impressive illustrations and artwork at the Artist Alley and meet industry professionals like Sean Chen, who worked on Iron Man, Wolverine and X-Men comics and Kristen gudsnuk of Henchgirl and Modern Fantasy fame. If you're bringing little ones, then they can take part in the kids costume showcase and lightsaber training sessions.
Bus Connections to New York, NY:
Boston, MA to New York, NY
Philadelphia, PA to New York, NY
Washington DC to New York, NY
Comic Book and More Show
Where: Laurel, MD
When: December 2, 2018
How much: $5.00 for adults, kids under 12 enter for free!
Whether you're a serious comic book or card collector or are just looking to indulge in merchandise form your favorite media, then the Comic Book and More Show has plenty to offer! Vendors from across the mid-Atlantic region will be sharing unique wares, including original artwork, rare comic books and valuable trading cards, from Yu-gi-oh to Magic to Pokémon cards and more!
Steel City Con
Where: Monroeville, Pittsburgh, PA
When: December 7 – 9, 2018
How much: $23.00 for Friday or Sunday Admission, $35 for Saturday Admission or $50.00 for a three-day pass

Special Guests: Jerome Flynn, known as "Bronn" from Game of Thrones, Adam Baldwin from Firefly, Henry Simmons from NYPD Detective and NYPD Blue and Natalia Cardova, known as Elena "Yo-Yo" Rodriguez in addition to many other actors and authors!
Meet the actors and writers from some of your favorite series with photo opportunities, Q&As and autograph signings. Embrace the chance to show off your costume in the cosplay contest or test your pop culture knowledge in a trivia game. Top off your con experience by donating to a worthy cause by attending an artist quick sketch event, where well-known artists create on-the-spot illustrations and con-goers can enter a raffle for $1.00 to take one home. All the proceeds go towards the Pennsylvania chapter of Multiple Sclerosis Society.
Bus Connections to Pittsburgh, PA:
Philadelphia, PA to Pittsburgh, PA
College Park, MD to Pittsburgh, PA
Raleigh Comic Book Show
Where: Raleigh, NC
When: December 9, 2018
How much: Free Admission!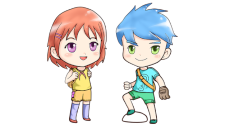 The Raleigh Comic Book Show features some of the best vendors in a five-state area and has been one of North Carolina's premier comic book shows since 1987. Looking to start a comic collection or expand your existing collection? This event is known for multiple giveaways, thousands of comic books to peruse and high-quality vendors!
Bus Connections to Raleigh, NC:
Charlotte, NC to Raleigh, NC
New York, NY to Raleigh, NC
Atlanta, GA to Raleigh, NC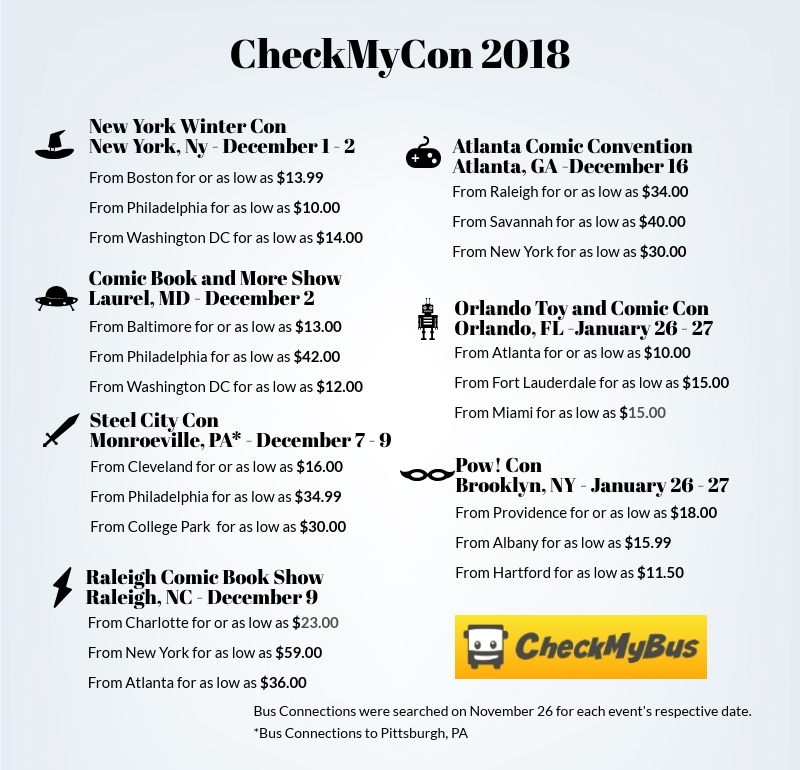 Atlanta Comic Convention
Where: Atlanta, GA
When: December 16, 2018
How much: $5.00 and free parking

Special guest: Craig Hamilton – The artist who worked on Aquaman, Fables, X-Men and Green Lantern and many others
This convention is perfect for the holiday season with free gifts for cosplayers, a raffle to win $5000 worth of merchandise when you fill out the online form and present your entry ticket, and all guests can sign up to bring up to three items home for free! Aside from this, you can browse through over a million comics, vintage and modern toys, beautiful posters, fan art and so much more!
Bus Connections to Atlanta, GA:
Raleigh, NC to Atlanta, GA
Savannah, GA to Atlanta, GA
New York, NY to Atlanta, GA
Orlando Toy and Comic Con
Where: Orlando, FL
When: January 26 – 27, 2019
How much: Tickets are purchased at the door. For more info call 407.402.1336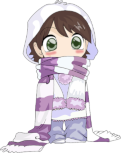 Special Guests: Neal Adams, illustrator at DC comics who has worked on Batman and Green Arrow comics, Ryan Stegman of Marvel Comics, who's worked on She-Hulk, X-23 and Spider-Man, Billy Tucci, illustrator, writer and filmmaker best known for his character, Shi and many others!
Catering to a vast range of interests including, Marvel and DC comics, Magic the Gathering, Kotobukiya, Hot Toys, Sideshow collectibles, Hasbro products, Dark Horse and Gentle Giant, the Orlando Toy and Comic Con is a massive experience! Whether you're looking for swag, show off your cosplay, or find talented artists, the convention is sure to satisfy. The venue takes great care to keep the events fun and costs accessible to families with low admission costs.
Bus Connections to Orlando, FL:
Atlanta, GA to Orlando, FL
Fort Lauderdale, FL to Orlando, FL
Miami, FL to Orlando, FL
Pow! Con
Where: Brooklyn, NY
When: January 26 – 27, 2019
How much: Single Day Pass – $15.00, Two Day Pass – $22.00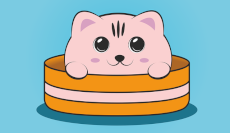 Special Guests: Christopher Khayman Lee and Sandi Sellner of Power Rangers fame, Joel Gertner from ECW, graphic designer Steven Gelenter, and more!
One of New York City's newest pop culture convention events, Pow! Con bands fandoms across a wide range of genres and interests together to take place in multiple events, from Super Smash Bros tournaments to cosplay contests. Whether you're a fan of science fiction, high fantasy, anime or video games, this is the place to be!
Bus Connections to New York, NY:
Providence, RI to New York, NY
Albany, NY to New York, NY
Hartford, CT to New York, NY
Share this post: