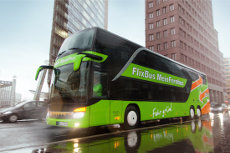 Buses are a common sight on US highways. They introduced another good option to travel from city to city in a comfortable, yet cheap way. Ever since the launch of the first bus routes in the early 1900s, the bus has been grounded in the minds of people. However, open markets for buses are not present everywhere in the world. In Europe, the individual countries frequently regulate public transport by setting up certain limitations for bus providers. This is usually done in order to protect government-funded railway providers. Nevertheless, a recent European trend shows that more and more countries follow America's example by opening their respective markets for low cost bus providers as well.
One of the most successful examples of market liberalization is Germany. The country's legislation opened the market for low cost national bus services in 2013 and since then buses recorded a significant increase in popularity. The target audience in Germany – as in many other parts of Europe – consists of students and younger travelers, who lack money but have a lot of spare time. Following the success of German bus providers, international companies tackled the market as well. The British bus company megabus, which is also very successful in the United States, operates routes to, from and within Germany as well. Another recent example for Europe's newfound interest in low cost bus travel is France. The market was just liberalized last month but has already seen the launch of many national bus routes. Before the Macron Law was passed – a bill dedicated to economic growth – only cross-border connections were provided.
The success of bus companies at an international level shows that there is a high demand for inexpensive travel alternatives. US citizens benefit from the current competition of European bus providers, which leads to especially cheap tickets and renders a Euro trip highly recommendable. Getting from Paris to London or from Amsterdam to Prague is no problem at all and bus tickets can be booked for little money. Thanks to the likes of British megabus, German FlixBus or French OUIBUS, discovering all of Europe is as cheap as never before.
Share this post: