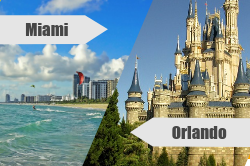 By the time January rolls around, it's normal for people to feel the post-holiday blues, and the cold and dreary weather does little to help. Escaping to a warm and sunny location is often the perfect boost to make it through the rest of the cold season, and keep those spirits up. That's why this month's CheckMyBus connection is from Miami to Orlando. January is also the perfect time to visit the sunshine state to not only escape the freezing temperatures of the northern states, but to also avoid Florida's humid summers. It's a win-win!
Traveling Between Miami and Orlando
The two Floridian cities can be easily reached from each other through a variety of intercity bus providers, such as megabus and Greyhound as well as iLIKEBUS and RedCoach.

Miami to Orlando

Soaking up the Miami Sun
Warm beaches, palm trees and most importantly, temperatures that seldom dip below 65 degrees (18 degrees celsius), Miami is the optimal destination for a winter escape. The Floridian city has a glamorous ambiance as a popular city amongst the rich and famous and boasts some of the most spectacular art deco architecture around.
Miami is extremely diverse and is a melting pot of various cultures, including Cuban, Haitian, Peruvian, and Puerto Rican as well as a touch of Creole. Naturally, the city's cuisine and musical culture reflects this, and a vast variety of quality dishes can be found. January is a wonderful time to visit the city for its annual international chocolate festival. From high-end restaurants to small local bakeries, there are so many options to choose from.
After some obligatory lazy strolls in the sun, the city offers plenty of activities and events to enjoy. On Martin Luther King Day, a parade through nearby Liberty City marches to the memorial park and culminates in a community celebration. People who are looking to get active, but had been deterred by the chilly winter weather will have no excuse in Miami! With a plethora of outdoor activities, there's plenty of choices to choose from including to the city's annual marathon in January! Music enthusiasts can also appreciate the South Beach Jazz Festival, which features three shows over three days.

Outdoor Fun in Orlando
Orlando, Florida is probably most famous for its theme parks, such as Disneyworld and Universal Studios. People come to the city from all over the world to visit the parks and see if the sunshine state lives up to its name. The Central Florida Zoo and Botanical Gardens in nearby Sanford is an ideal spot to see scores of animals from cheetahs to elephants as well as over 800 plant species. During the winter months, visitors can take advantage of shorter lines at the parks and cheaper travel and lodging.
Outdoor lovers will have their pick of options from exploring the Everglade Mountains, visiting the Orlando Tree Trek Adventure Park or taking the Winter Park boat tour to spot plenty of indigenous birds. There's no better place to view the state's famous alligators than Gatorland, which covers approximately 100,000 acres of land. For more peaceful waters, consider the Wekiwa Springs State Park, which has a natural spring for canoeing and swimming.


Share this post: