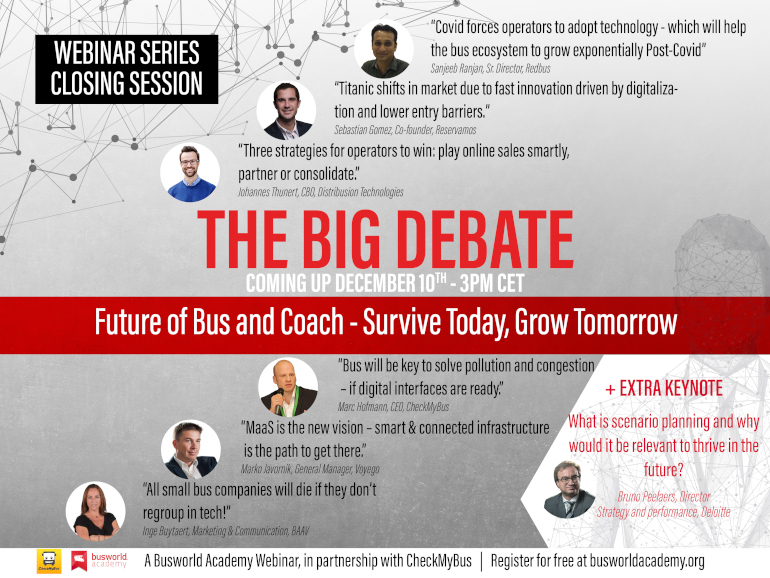 Thursday, December 10 was Part 4 of the CheckMyBus x Busworld Academy webinar series, Coach Industry Comeback: Digital Strategies and Success Stories. Part 4, entitled The Big Debate: The Future of Bus and Coach: Survive Today, Grow Tomorrow, was a 90+ minute webinar featuring a panel discussion. The webinar featured six leading minds in the bus and coach industry, and included an initial presentation on the Future of Bus. Accordingly, the presentation closed on the financial impacts of digitization. Furthermore, these coach industry professionals are in the thick of the COVID crisis. However, they've learned to adapt and excel despite it.
On our panel were the following:
Inge Buytaert, BAAV
Johannes Thunert, Distribusion Technologies
Marc Hofmann, CheckMyBus
Sebastian Gomez, Reservamos
Sanjeeb Ranjan, redBus
Marko Javornik, Voyego – part of Endava
What Are the Future Trends For Bus? | Marc Hofmann, CheckMyBus
Marc Hoffman, CEO of CheckMyBus kicked off Part4 of our webinar series. First, he provided the future macro trends on the future of bus and what it means for today's decisions. Marc discussed the disconnect between the bus industry's benefits for riders, and its lack of overall visibility. He also explored the topic of dynamic bus models and how incorporating different models can help bus companies grow stronger in the years to come. The future of bus also revolves around dynamic networks, on-demand travel, and the ever growing sector of autonomous bus.
The Big Debate: The Future of the Bus and Coach Industry: Survive Today, Thrive Tomorrow
The Big Debate: The Future of Bus was a 60 minute discussion on key bus industry trends and predictions for the future. Moreover, the panel discussion answered many interesting bus questions, including:
How is digitization growing within the bus industry? Is it really here to stay?
Why partner with OTA's or metasearch?
What role does brand play within the bus industry?
What is Scenario Planning and Why is it Relevant to Thrive in the Future? | Bruno Peelaers, Deloitte
Bruno Peelaers, Director of Strategy and Performance at Deloitte, closed out our session with a discussion on Scenario Planning. His discussion included diving into taking measures to ensure continuity in your bus company, and then reflecting on lessons learned to continue to be resilient during your rebuild. Finally, Bruno explained that it is important to have a balance between short term measures and long term investments to remain relevant in the bus industry. 
Full Webinar Recording – Coach Industry Comeback: Digital Strategy and Success Stories Part 4
If you have any questions about our bus market research or you are interested in becoming a CheckMyBus partner, where you'll enjoy benefits such as, premium positioning on all major search engines, worldwide exposure on 21 separate CheckMyBus domains and above-average conversion rates, please get in touch by emailing us at partner@checkmybus.com.