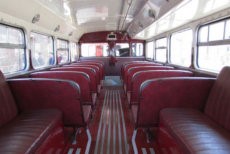 Buses of all types from local buses to intercity buses and school buses, are so present in our day to day lives that they could almost be considered "street furniture." Have you ever wondered how these vehicles came to be? Where they came from, who invented them or when they finally hit the road? We, at CheckMyBus have, and invite you to discover the origins of the first bus company and the industry's subsequent evolution.
Perhaps we are so accustomed to having buses around us, seeing them, and using them day by day, that it can be easy to forget how different our lives could be if Stanislav Braudy had not begun to offer transportation to the customers of his baths in 1826. This was the seed of the idea and soon after, the first public transportation company was born.
Enterprise Générale des Omnibus: The First Bus Company
The company Enterprise Générale des Omnibus was founded by Braudy in Paris in 1828. Only a year later the first public transportation services in London and New York began to operate.

The first motorized bus was developed by Karl Benz in 1895 and on June 11, 1906, the first motorized bus line in France was opened, covering a distance of 5.8 kilometers. Long distance routes were not yet implemented due to logistical difficulties and the fact that the buses were not really comfortable for passengers, especially for such long periods of time.
What is the Origin of the Term "Omnibus"?
At the end of one of the first coach stations in Nantes, was Monsieur Omnès' hat shop, which was called "Omnes Omnibus." Omnes in Latin means "all" and omnibus "for all." This is how the inhabitants of Nantes ended up using the term "Omnibus" to refer to the vehicle.
From the First Diesel Trackers to Electric Buses
The Mach brothers were the first to incorporate diesel engines to buses in 1938. The next major innovation would not come until after World War II, when buses managed to overshadow trams in most cities throughout Spain, France, the United Kingdom and the USA. In 1951, Mercedes Benz combined the rear engine with a more advanced body, which allowed more of the vehicle's internal space to be utilized.

Although diesel engines are still used today, more and more buses are incorporating other forms of energy such as natural gas, electricity and even hydrogen.
Today, new ideas are being conceived and tested all of the time from self-driving buses to flying vehicles. The sky is the limit for how many more innovations will shape the bus industry.
Share this post: