Common bus travel questions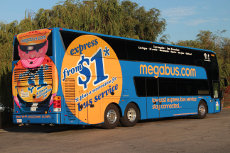 Thanks to the well-established bus routes across America and the efforts of numerous companies, such as Greyhound, megabus and Trailways, bus travel has been made a lot easier than before. Apart from the low price tickets, traveling by bus offers you advantages of taking extra luggage as compared to air or rail, free and fast Wi-Fi on board as well as XXL legroom with reclining seats. Simply enjoy a cheap and comfortable bus trip!
You have any specific questions about traveling by bus in the US? Here is a detailed list of categories that contain answers to the most frequently asked questions:
A. Booking, Changing the Date and Cancelation
D. Children and Students Discounts
E. Senior Passengers and Passengers with Disabilities
A. Booking, Changing the Date and Cancelation
1. How do I use CheckMyBus to book a bus ticket in the US?

CheckMyBus allows you to see bus routes and find a cheap ticket. Simply type in your location and destination city, then compare different deals offered by major US bus companies such as BoltBus, Greyhound and megabus. By clicking "+" you will see all the bus station information, bus route maps and available amenities on board. You will be forwarded to the bus company's home page to effect the payment and receive your bus ticket after clicking "View Deal".

On CheckMyBus you can also find the popular bus routes and top 10 destinations in and outside the US, which give you more ideas about selecting your bus connection.
2. Where can I buy a ticket?

In the US, you can buy a bus ticket in various ways. Online booking is, however, highly recommendable. Almost all the bus companies provide an online booking service. For example, you can simply type in your location and the destination city in the search engine of CheckMyBus to book a ticket online from Jefferson Lines or Trailways.

In the meantime, you can also buy tickets at the local ticket offices, bus terminals and even in 7-11 stores, if you buy tickets from Greyhound for instance. Nevertheless, the tickets are generally more expensive than when you book online.
3. Is the same price charged when booking online, at a ticket office or via telephone booking?

The prices for bus tickets might vary according to the booking process. For instance, some bus companies offer special deals that are available exclusively for online booking. For example, megabus provides bus trips starting at $1, which can only be booked on the internet. By using CheckMyBus, you will find the best priced bus connections offered by different bus companies, which is both time and cost efficient.
4. How can I make a payment?

For online booking, almost every US bus company offers online payment services. You can make a purchase with a valid credit card, including Visa, MasterCard and international credit cards. Unfortunately PayPal services are not available with the majority of companies. The only exception at the moment is Greyhound. After choosing your bus route at CheckMyBus you will be forwarded to your bus company's secure payment page to close the deal.

Please be informed that some bus companies, such as Greyhound or Trailways require a valid photo ID or reservation number before you can pick up the ticket or board the bus.

Besides online payment, you can also buy tickets with cash at the local ticket offices, bus stations or bus stops from some of the providers.
5. Can I change the date or time of my ticket? Does it require any additional payment?

Of course. If you want to travel at a later time or date with the ticket you've purchased you can make some modifications to your reservation. However, most of the US bus companies will charge an additional fee. For example, at Peter Pan Bus the exchange fee is $20. But passengers have to make the changes at the ticket counter/agency 48h prior to departure in cash only. In addition, the original ticket must be presented as well. By contrast, Greyhound and many other companies offer online change of reservation services.
6. Can I cancel the booking and get a refund?

Most of the US bus companies do not accept cancellation of the ticket or offer refund. However, Greyhound has both refundable and non-refundable tickets. Passengers should pay attention to the difference when booking a ticket. Companies like TripperBus and megabus on the contrary, do not provide refund. But you still can change your ticket for a later date or time to travel. In addition, you can check your bus company's terms & conditions to confirm if your ticket is refundable.
7. Can I get a new ticket if I lost mine?

Tickets are very important to board the bus. Please note that if your ticket bought from a ticket office or at a bus station is lost or stolen, most of the times you're required to buy a new one. However, if you delete your E-ticket by mistake and still know your ticket number you should be able to request a new one, which is the case with megabus, for example.
8. How many types of tickets are there?

There is a wide range of ways of buying your bus ticket. For example, there are online tickets that you can choose to pick up at the terminal/agency counter or you can choose to print out at home. In addition, you are able to purchase tickets at a bus station, airport counter, from a bus driver or even in a partnered 7-11 store.

Some tickets, such as the ones of megabus have a reservation number on them, which is essential to get aboard. Other companies, like Trailways, may require you to present your valid photo ID along with the boarding pass before departure.

Even though the single function of a ticket is to get you on board a bus, there might be different requirements. So please make sure that you bring all the necessary documents for boarding the bus, in order to have a trouble-free bus trip.
9. Where can I find special offers or discounts?

Most of the discounts are available when you book a bus ticket online. BoltBus and megabus, for instance, are noted for offering cheap bus trips, thanks to their $1 tickets. Greyhound promotes online fares to encourage online booking. Besides, it also offers discounts to students, veterans and seniors if they have a membership. On top of that, passengers can also frequently find online promo codes and coupons for most of the US bus companies.

You can use CheckMyBus to find out all the coupon and discount information from the various bus companies, resulting in extra convenience for your booking.
B. Luggage, Bikes and Pets
1. How much luggage can I take with me?
All the US bus companies offer free of charge luggage services for passengers. Generally, one medium sized suitcase in the compartment and a small handbag under the seat in front of you or above in the rack is allowed. If your luggage exceeds the maximum capacity, an excess fee will be charged. In general, most of the bus companies accept one suitcase no more than 62 inches (length + width + height) and 50 lbs plus one handbag that is less than 25 lbs. However, you can purchase in advance extra space for your luggage from your bus provider.
2. Can I take a bike with me?
Unfortunately, due to the limited space on a bus, bicycles are not always permitted on board. However, Greyhound and YO!Bus allow you to take one if you can keep it folded and wrapped in a cover or contained in a protection case.
3. Can I take my pet on board with me?
Please note that animals of any kind are generally forbidden to be taken on board with you. The only exception is assistance dogs for passengers with disabilities.
4. What should I do if I lost something on the bus?
We kindly suggest you be careful with your personal belongings on and off board. However, bad luck can occur to anyone. If you happen to discover that you lost an item or your luggage on the bus or at the station, you can resort to the customer service hotline or e-mail of your bus company. Please have your ticket number at hand when calling. You can also make an inquiry at the bus station offices or info desks. However, please be aware that it is your responsibility as a passenger to look out for your luggage. Most of the US bus companies are not liable for lost luggage.

Recommendation: Passengers should always tie a name tag around their personal luggage before travel to reduce the risk that it might be taken by mistake. Secondly, insurance can be purchased in advance to reduce possible damage to the minimum. However, valuable items like jewellery and money are not insured.
5. What if my luggage is lost or damaged?
It is recommendable for you to carefully lock your luggage and put a label tag that includes your name, address and contact number around it before departure.

Most of the US bus companies are only liable for checked luggage (NOT including overweight or unchecked luggage) up to a maximum of $250 per adult ticket and $125 per child ticket. Only clothing and toiletry are to be among the items in your checked luggage. Items of value and cash will not be insured for any amount. Except for that, you can purchase insurance up to $1000 for your luggage.

For lost and damaged luggage, you have to file the claim promptly at the bus terminal, or else the bus companies might not be held responsible for it.
C. Departure and Delay
1. Where does my bus depart?
Detailed bus station information will be provided when you compare the bus connections on CheckMyBus. You will know about the bus schedules, precise address info of your bus stop alongside a route map in assistance. Again, you will find the same information on your bus ticket.For instance, when you depart from the biggest bus terminal of New York: Port Authority, you can resort to the info point to consult from which platform your bus will depart. Besides, please make sure that you arrive at your station at least 1h before departure in order to board the bus on time.
2. When should I arrive at the bus station?
Please be informed that it is crucial to be punctual since a refund or new ticket is normally not available if you miss your scheduled bus. The check-in time differs among the bus companies. Some companies like RedCoach require customers to be at the departure point only 20min earlier. By contrast, Greyhound suggests passengers arrive at the bus terminal 1h prior to departure for luggage check-in and boarding. Therefore, please carefully check your bus company's departure policy after booking a bus.
3. Can I get a refund or a new ticket if I miss the bus?
The rules are very strict among the US bus providers. It is your obligation as a customer to arrive at the station on time. If you happen to miss your scheduled bus, you need to book a new ticket and no refund or new ticket is available. However, you can modify the date or time prior to your departure based on specific situations.
4. What if the service is delayed or canceled?
Bus companies in the US make every effort to deliver prompt service at all times. However, a delay or cancellation of a bus service might occur due to complex traffic situations, such as traffic jams, accidents, or extreme weather conditions like a storms or tornados. Normally, if a bus schedule is canceled or changed due to severe weather, the bus companies will post a notice on their websites in advance and you can also resort to the customer hotline to be informed about the altered bus trip. However, getting a refund on a delayed service is generally not available.
D. Children and Students Discounts
1. Is my child allowed to travel alone by bus?
Yes, but the rules vary among the bus companies. For instance, some companies like Greyhound and Peter Pan Bus accept unaccompanied passengers between the age of 8 and 14 if the following conditions are met:
The ticket can only be bought at the bus terminal with standard adult walk-up fare.
The bus trip must be a direct connection between two stations. No bus transfers are allowed.
The bus trip duration cannot exceed 4-5 hours.
The bus trip must take place during the day.
The bus stations at both ends must be full service agencies or company operated facilities.
The bus terminals at both ends must be open from start till the end of the bus trip.
An Unaccompanied Child Form must be signed by a parent or legal custodian of the child with the information of contact person at the destination station attached.
The contact person must present valid ID with picture in order to pick up the child, or else the child will be sent to the custody of Child Protective Services or to local law enforcement officials in the destination city.
A fee can be charged for unaccompanied child travel.
Please do not forget to have your child's photo ID with you as proof of age, or else your child might be refused to get aboard.
Please be informed that in certain U.S. States such as Illinois, children under 17 years of age are forbidden to buy tickets for bus transportation by law.
2. Is there any discount for children?
Yes. It is normally free of charge for a child under 2 years that is accompanied by an adult, however they are not guaranteed a seat. In addition to that, children from 2 to 11 will receive a discount in a range between 25 % and 40 % on a standard ticket. However, there can be exception: megabus, for instance, does not offer discount for children. Do not forget to have the photo ID of the child with you when purchasing at a ticket office or at departure.
3. Can I bring a baby car seat with me on a bus?
It is strongly recommendable that you bring a baby car seat that fits your child's age and also the seat on board.
4. Can I take a baby stroller on a bus?
Yes, you are allowed to take a baby stroller with you in most of the cases as long as it can be folded and put inside the hold. It is normally free of charge.
5. Is there a discount for students?
A discount for passengers over 12 years of age is generally not available. Nevertheless, Greyhound offers Student Advantage membership for students to save cost. With $20 membership fee per year, students can enjoy 20% off the standard ticket price on each bus trip.
E. Senior Passengers and Passengers with Disabilities
1. Is there any discount for passengers over 62 years of age?
A lot of bus companies in the US provide discounts for senior passengers. For instance, Greyhound, Jefferson Lines and Peter Pan Bus offer 5 % off on a standard walk-up ticket for passengers over 62 years. Please have an appropriate ID with you as proof of age.
2. Is there any discount for passengers with disabilities?
Unfortunately,there is usually no discount for passengers with disabilities.
3. Can I take my wheel chair on board of a coach?
Taking your mobility device, such as a wheel chair, is normally accepted by most of the US bus companies. However, you should book your ticket and inform your bus provider as early as possible in order for them to leave enough space for your wheel chair on board or in the luggage compartment. Besides, the mobility device should not exceed the maximum size set by your provider. In particular, if you travel with BestBus and many other services you'll need to give them a notice 48h in advance in order to save extra space for your wheelchair on board.
F. Amenities on Board
What are major amenities on a bus?
Service is very important during a bus journey due to the fact that it might take hours before reaching your desired destination. Therefore, the US bus companies are committed to delivering high quality service on board to guarantee an enjoyable bus trip. Normally a bus is equipped with a clean restroom, free Wi-Fi, power outlets, air-conditioning, reclining seat, XXL legroom and so forth. Let's take a closer look at these services!
Restroom and Toilet
Clean restrooms can be found on every bus in general. Besides, for long distance or overnight bus trips they will make stops at service stations, too.
Free Wi-Fi
Free Wi-Fi is a must-have feature that you will find on most of the buses. Thanks to this feature you can save some money while enjoying fast internet access.
Power Outlets
Are you worried that your mobile device will run out of battery due to long hours of traveling by bus? Numerous buses like Greyhound and megabus are equipped with power outlets on board to keep your device 100% charged before your destination.
Air-conditioning
No matter if you are traveling in summer or winter, most of the buses have air-conditioning on board, guaranteeing you a cozy temperature on board during your bus trip.
Reclining Seat & XXL Legroom
Most the buses are equipped with wide and soft reclining seats on board with extra legroom to make your bus trip as comfortable as possible. Some seats even have small tables to put your drinks or laptop on to.
DVD Player and XM Radio
You want to watch a movie or listen to radio during your bus trip even without your laptop at hand? Some buses like Jefferson Lines and Trailways offer DVD Players and XM Radios on board for entertainment.
Above are the most frequent questions about bus travel regarding booking a ticket, departure times, the luggage policy, children and student discounts, passengers with disabilities and features on board. We sincerely hope we could answer all your questions and wish you a safe and fun journey!
If you still have any further questions that are not listed above, please visit the CheckMyBus Support Page to leave an enquiry. Our support team will get back to you as soon as possible!
Share this post: